Dr. Mehvash Haider
MBBS, MD
Associate professor, Department of Microbiology
Reg. Number: DMC-49004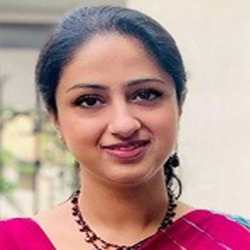 About
Dr Mehvash Haider did her MBBS and MD Microbiology from Jawaharlal Nehru
Medical College, Aligarh. She pursued Senior residency from GB Pant Hospital, New
Delhi. Passions include Infection control and Teaching. She is In charge COVID collection
centre, In Charge TB lab, Reporting Lead Serology Lab, Member RPAC, Member core
committee NABH, Member Curriculum subcommittee, Member Institutional NTBEP
core committee. In her spare time she is a nature enthusiast and enjoys gardening.
Area of Interest
Tuberculosis
Antimicrobial resistance
Hospital Infection control
Educational Qualifications
| Degree | Year | Name of College & University | Registration Number | Date of Registration |
| --- | --- | --- | --- | --- |
| MBBS | 2006 | Aligarh Muslim University | DMC-49004 | 19-08-2015 |
| MD | 2010 | Aligarh Muslim University | DMC-49004 | 15-08-2015 |
Deatils of Teaching Experience
| Designation* | Institution | From | To | Duration |
| --- | --- | --- | --- | --- |
| Associate Professor/ Lecturer | HIMSR, New Delhi | 03-05-2021 | Till Date | |
| Assistant Professor/ Lecturer | HIMSR, New Delhi | 01-01-2014 | 02-05-2021 | 8 Years, 8 Months |
| Senior Resident | GB Pant Hospital | 24-01-2011 | 31-12-2013 | |
| Junior Resident | JN Medical College AMU | 17-08-2010 | 23-01-2011 | 4 Months |
Publications
Meher Rizvi, Mehvash Haider, Richa Gupta, Mohd Azam, Abida Malik, and M U Rabbani. Evaluation of IFN- γ, Inflammatory Marker and Infectious Etiology as Risk Factors for Coronary Artery Disease. Annals of Pathology and Laboratory Medicine, Vol. 5, Issue 1( A8-16), January, 2018
Mehvash Haider, Parul Bansal, Ayan Kumar Das, Mridu Dudeja and Shyamasree Nandy. Prevalence of Metallo Beta Lactamase Production among Bacterial Isolates in Cases of Neonatal Septicemia in HAHC Hospital, Delhi, India. Int.J.Curr.Microbiol.App.Sci (2017) 6(4): 1342-1348.
Haider M, Rizvi M, Malik A, Azam M, Rabbani MU. Role of CMV & Interferon-γ in Myocardial infarction, Angina and Hypertension. Bangladesh Journal of Medical Science October'15, Vol. 14 (No. 04):339-345.
Banerjee P, Jaggi T, Haider M, Mishra B, and Thakur A. Prevalence of Carbapenemases and Metallo ß lactamases in Clinical isolates of Enterobacter cloacae. Journal of Clinical and Diagnostic Research. Nov 2014, Vol 8(11): DMO1-DMO2.
Jasmin Halim Hussain , Poonam Sood Loomba, Tavleen Jaggi, Mehvash Haider, Priyanka Banerjee, Bibhabati Mishra, Vinita Dogra. Aspergillus flavus endocarditis: a case report. DHR International Journal Of Medical Sciences (DHR-IJMS)2014;5(2): 79-82.
Haider M, Kumar V. Scolex of Ecchinococcus granulosus. Image of the Month. Journal Of Medical Microbiology Case reports March 2014.
Haider M, Rizvi M, Fatima N, Shukla I, Malik A. Necessity of detection of ESBL, Amp C and MBL in Gram negative bacteria isolated from clinical specimens. Muller J of Medical Research 2014; 5(1): 23-28.
Haider M, Sharma A, Dogra V, Mishra B. Isospora spp. in Chronic diarrhoea:A Case report. Journal of Pharmacy and Bioallied Sciences 2013, volume 5, Issue 4, pg 327-328.
Haider M, Banerjee P, Jaggi T, Husain J, Mishra B, Thakur A, Dogra V, Loomba P. Post-operative sinus formation due to Mycobacterium abscessus: A Case report. Indian J Tuberc 2013; 60: 177-179
Banerjee P, Haider M, Trehan V, Mishra B, Thakur A, Dogra V, et al. Cryptococcus laurentii Fungemia. Indian J Med Microbiol. 2013 Jan; 31(1):75–7.
Venugopal V, Haider M. First case report of acute hemorrhagic leukoencephalitis following Plasmodium vivax infection. Indian J Med Microbiol. 2013 Jan; 31(1):79–81.
A Bhargava, B Mishra, A Thakur, V Dogra, P Loomba, M Jain, S Gupta, P Banerje, M Haider. Acinetobacter meningitis in post neurosurgical patients: epidemiology, antimicrobial resistance, treatment options and risk factors that predict the outcome. Canadian Journal of Infection Control; Fall2012, Vol. 27 Issue 3, p153
Haider M, Rizvi M, Malik A, Azam M, Rabbani MU. Acute and chronic Chlamydia pneumoniae infection and inflammatory markers in coronary artery disease patients. J Infect Dev Ctries. 2011 Aug;5(8):580–6.
Fellowship
ESCMID observership at AMC, Amsterdam 2016
Membership of Academic Bodies Societies
European society of Clinical microbiology and infectious diseases - 119585
Life member Delhi Indian Academy of Medical Microbiologists- 497
Life member Hospital Infection Society of India -L300
Life member Delhi IAMM - 497
Workshops/ CMEs/ Conference Organised
National CME: Uniting to create leaders to end tuberculosis-27/03/18
Seminar: Fight antibiotic resistance: It's in your hands- 12/05/17
CME: Elimination of Hepatitis: A Global Perspective- 17/12/16
Symposium: Chikungunya and emerging concern-27/09/16
Symposium: Hand Hygiene Practices- 11/05/16
Seminar: Fight the bite reloaded"-27/10/ 15
Symposium : Global Hand washing day -05/05/15
Workshop on clinical research and bioethics 24/2/2015
Workshops/ CMEs/ Conference Attended
25th26th Feb 2017, Zonal (North Zone) Task Force Workshop, RNTCP, State TB Cell and National Health Mission, Himachal Pradesh with CTD
25th March 2017 IAMM- Delhi Chapter AIIMS, New Delhi
3rd June 2017 HISI- Rapid diagnostic avenues- essential component of AMS Indraprastha Apollo Hospitals
12th-15th Dec 2017 SGPGIHICON 2017- National CME cum workshop Hospital infection control practices & Antibiotic stewardship program Dept of Micro & HICC,SGPGI
27th March 2018 World TB day Dept of Micro, HIMSR
10th April 2018 CBNAAT training NDTBC , New Delhi
4th May 2018 Peds sepsis 2018 Chacha Nehru Bal Chikitsalya
15 May 2018 CME on Immunization updates Dept of Community Medicine, HIMSR
7th July 2018 Consensus building on preventing Intravascular device related infections HISI, Indraprastha Apollo hospital
9-11july, 12 July 2018 Revised basic course workshop AETCOM module MCI Regional centre: Hamdard Institute of Medical Sciences & Research
13th October 2018 CME : Multidrug Resistant organisms: challenges and Solutions Indian Spinal injuries centre, New Delhi
27,28th Oct 2018 International conference on Antibiotic stewardship and Infectious diseases Amrita Institute of Medical Sciences, WHO and Imperial college of London, Kochi
18, 19th Dec 2018 Training on HAI Surveillance and Infection Control JNPA Trauma centre, AIIMS, New Delhi
6th April 2019 IAMM- Delhi chaptor Max Healthcare , Saket, New delhi
1-3rd May 2019 CISP workshop (MAMC) HIMSR, Jamia Hamdard
22nd January 2020 Infection control workshop Max super speciality hospital, Saket-Delhi
18-21 April 2020 30th ECCMID (Cancelled due to COVID Pandemic) Paris
28-30th May 2020 1st IAMM Delhi Chaptor meet Live webinars-Coffee with COVID-19 experts- FAQs on COVID
9th June 2020 New Normal in COVID-19 ensuring HCW safety and patient safety- online webinar BD
2-4th July 2020 Combating with the millennium pandemic- COVID-19 ASM Webinar by AIIMS and SHUATS
1-2 Oct 2021 Advanced workshop on Hospital Infection Control HICP Unit, Dept of Microbiology, JIPMER
26th March 2022 CME on COVID-19 SGPGI, Lucknow