Dr Abhinav Goyal
MD Pharmacology
Senior resident, Department of Pharmacology
Reg. Number: HMC-012147
abhinavgoyal825@gmail.com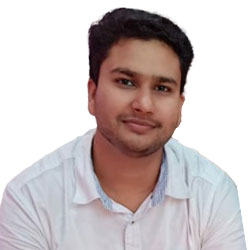 About
I have Advanced abilities in Microsoft PowerPoint, Excel and Word operations.
I am well verse with creating project templates, tables, charts, and graphs, effects, animations and motion graphics in PowerPoint
I am competent in Excel proficiencies and I have fundament knowledge of SPSS
I am competent in causality assessment of ADR's and communication of ADRs to CDSCO via Vigiflow.
Good in controlling multiple projects at the same time.
Area of Interest
Pharmacology, Internal medicine, Pharmacovigilance etc.
Educational Qualifications
| Degree | Year | Name of College & University | Registration Number | Date of Registration |
| --- | --- | --- | --- | --- |
| MBBS | 2015 | Pt. BD Sharma PGIMS, Rohtak | HMC-012147 | 31-07-2017 |
| MD Pharmacology | 2022 | BPS Govt. Medical College For Women, Khanpur Kalan, Sonepat | HMC-012147 | 31-07-2017 |
Deatils of Teaching Experience
| Designation* | Institution | From | To | Duration |
| --- | --- | --- | --- | --- |
| Senior Resident | HIMSR, New Delhi | 18-08-2022 | Till Date | |
| Junior Resident | BPS Govt. Medical College For Women, Khanpur Kalan, Sonepat | 2019 | 2022 | 3 Years |
Publications
Original Research Article - A COMPARISON OF EFFECTS OF DEXMEDETOMIDINE VERSUS MIDAZOLAM-FENTANYL ON POST-OPERATIVE RECOVERY, SEDATION, ANALGESIA AND HEMODYNAMIC PARAMETERS IN PATIENTS UNDERGOING MIDDLE EAR SURGERY UNDER LOCAL ANESTHESIA
Original Research Article - A prospective randomized single-blind study comparing alprazolam versus clonidine and pregabalin as preanaesthetic medication in patients undergoing elective lower limb surgeries Asian Journal of Pharmaceutical and clinical Research Citation: Dr. Mohd Fazal Ahmed Makki, Dr. Seema Rani, Dr. Sanjeev Kumar, Dr. Pranav Bansal, Dr. Rahul Saini, Dr. Abhinav Goyal
SAFETY MONITORING OF COVID-19 VACCINE: IN A TERTIARY CARE HOSPITAL IN HARYANA International journal of pharmacy and pharmaceutical science Research citation :ARVIND NARWAT*, MITALI DUA, ABHINAV GOYAL
A comparison of effects of dexmedetomidine versus midazolam-fentanyl on post-operative recovery, sedation, analgesia and hemodynamic parameters in patients undergoing middle ear surgery under local anesthesia
Original Research Article - Impact on psychomotor functions by sedative agents used during day care surgeries : A randomized controlled double blind study of Dexmedetomidine versus Midazolam- Fentanyl Journal: Biomedical and Pharmacology Journal Citation: Dr. Abhinav Goyal, Dr. Garima Bhutani, Dr. Meena Singh, Dr. Naveen Sharma, Dr. Seema Rani, Dr. Rahul Saini, Dr. Mohd Fazal Ahmed Makki
Original Research Article - A prospective randomized single-blind study comparing alprazolam versus clonidine and pregabalin as preanaesthetic medication in patients undergoing elective lower limb surgeriesChanging microbiological picture and sensitivity in otolaryngology in developing world Journal: Asian Journal of Pharmaceutical and clinical Research Citation: Dr. Mohd Fazal Ahmed Makki, Dr. Seema Rani, Dr. Sanjeev Kumar, Dr. Pranav Bansal, Dr. Rahul Saini, Dr. Abhinav Goyal
Research Work & Projects
Fellowship in Internal Medicine
ICMR NvCCP prescribing skills course
To compare the effect of dexmedetomidine versus Midazolam and Fentanyl combination on post-operative psychomotor functions and recovery in patients after middle ear surgeries done under local anesthesia
Workshops/ CMEs/ Conference Attended
PHARMAMRITACON: Conference 8th September 2020 Pharmacotherapy in COVID-19 (Oral Presentation) Online, Kochi
ISRPT-Webicon 2020: Evidence Based Medicine: Potential treatment targets for COVID-19 10th October 2020 Convalescent plasma therapy for treatment of Covid-19: A systematic review of current literature. (Poster Presentation) Online, TMU, Moradabad, UP
Ethics in Clinical Research Webinar 05 November, 2020 Ethical Perspectives in Planning and Conducting Clinical Trials for Cell and Gene Therapies Online, NBM Workshop
National online conference on Challenges in implementation of CBME 6 th & 7 th November 2020 Self-directed learning using technology in medical education (Oral Presentation) Online, SRMC, Chennai
3rd Canvas of Clinical Pharmacology Workshop 2021 1st to 5th March Clinical Pharmacology, Workshop Online, Seth GS Medical College & KEM
3rd Canvas of Clinical Pharmacology Workshop 2021
Teaching Assignment
| Course | Date | Time | Topic Competency | Teaching Methodology |
| --- | --- | --- | --- | --- |
| | | | | |