Dr. Akansha Bhardwaj
MBBS, MD PSYCHIATRY
Senior resident, Department of Psychiatry
Reg. Number: DMC/R/22183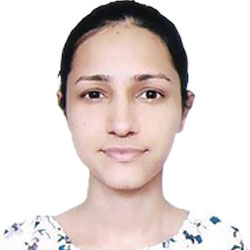 About
I have an overall experience of 9 years in medical field and 3 years of experience in Psychiatry. I have received training in various areas such as Adult, Child, Geriatric as well as Consultation Liaison Psychiatry.
Currently I am involved with the OPD and In-patient services as well as teaching responsibilities of Medical and paramedical students. I believe in being an empathetic therapist as well as communicator and to provide patients with the information regarding their health and allow them time to clear their doubts. I believe in team work and healthy discussions with fellow colleagues
Having a deep interest in my branch, I am determined to give positive contribution to my field and provide as much as benefits to my patients.
Area of Interest
General adult psychiatry
Consultation Liaison Psychiatry
Teaching
Child Psychiatry
Educational Qualifications
| Degree | Year | Name of College & University | Registration Number | Date of Registration |
| --- | --- | --- | --- | --- |
| MD Psychiatry | 2022 | Pt. B.D. Sharma, University of Health Sciences, Rohtak | DMC/R/22183 | 12-07-2022 |
| MBBS | 2017 | BPS Govt Medical College for Women, Sonipat; University of Health Sciences, Rohtak | DMC/R/22183 | 26-02-2019 |
Deatils of Teaching Experience
| Designation* | Institution | From | To | Duration |
| --- | --- | --- | --- | --- |
| Senior Resident | HIMSR, New Delhi | 01-08-2022 | Till date | |
| Post PG Voluntary Extension | Pt. B.D. Sharma, University of Health Sciences, Rohtak | 16-16-2022 | 11-07-2022 | 1 Months |
| Junior Resident | Pt. B.D. Sharma, University of Health Sciences, Rohtak | 06-05-2019 | 05-05-2022 | 3 Years |
Publications
2020 Jagriti Yadav, Akansha Bhardwaj, Priti Singh & Rajiv Gupta. Severe Tramadol dependence in a female without any concomitant substance use, Journal of Substance Use.
2020 Hitesh Khurana, Shipra Singh, Sakshi Bhardwaj, Ravi Parkash, Akansha Bhardwaj, Shivani Deshwal, Neha Aggarwal, Isha Batra. Mental Health Aspects of the Geriatric Population: Focus on COVID-19 Outbreak. Ann Indian Psychiatry.
2021 Jagriti Yadav, Akansha Bhardwaj, Purushottam Jangid, Priti Singh & Rajiv Gupta. A case series of noncatatonic mutism with poor response to conventional treatment approach. Ann Indian Psychiatry.
2021 Akansha Bhardwaj, Sidharth Arya, Sunila Rathee & Rajiv Gupta. Elderly male with late- onset heroin dependence, Journal of Geriatric Mental Health
2021 Akansha Bhardwaj, Jagriti Yadav, Sidharth Arya & Rajiv Gupta. Mephentermine Misuse: An Impending Crisis among Sportspersons, Journal of Psychoactive Drugs.
2021 Akansha Bhardwaj, Jagriti Yadav, Priti Singh, Rajiv Gupta. "They're Not My Children" –A case series of Capgras syndrome in depression, a rare occurrence, and a missed diagnosis. Arch Med Health Sci.
2022 Adwitiya Ray, Akansha Bhardwaj, Yogender Kumar Malik, Shipra Singh, Rajiv Gupta. Artificial intelligence and Psychiatry, Asian Journal of Psychiatry.
2022 Dimple Gupta, Akansha Bhardwaj, Rashmi Prakash, Nimmi A Jose. Fluvoxamine induced Tics: A Rare Phenomenon. Arch Med Health Sci.
2023 Akansha Bhardwaj, Rashmi Prakash, Dimple Gupta, Nimmi A Jose. Pancytopenia in Carbamazepine Therapy: A Rare and Serious Entity with Simple Prevention. International Journal of applied and basic medical research. (accepted)
2023 Akansha Bhardwaj, Dimple Gupta, Rashmi Prakash, Nimmi A Jose. "Is Paroxetine is causing me Nightmares?" Annals of Indian Psychiatry(accepted)
2023 Dimple Gupta, Akansha Bhardwaj, Abhinav Ankur, Chirag Ambaliya. Psychosis and its linear outcomes: Huntington Disease. Annals of Indian Psychiatry.(accepted)
Awards
Awarded first rank in Postgraduation MD Psychiatry examination (PGIMS Rohtak)
Membership of Academic Bodies Societies
Indian Psychiatric Society (IPS)
Member of Society for Rural Mental Health (SRMH)
Invited Talks and Lectures
15th -17th October 2021: Patients undergoing MECT procedure after COVID 19 2nd wave: An experience from a tertiary care hospital in North India. 6th Annual National Conference, Society for Rural Mental Health (SRMH)
12th -13th December 2020: Sociodemographic Characteristics and Life Events in Late Life Depression. International Medical Sciences Academy Conference IMSACON- 2020 Rohtak.
10th -11th October 2022: Association of Social and Physical Factors with Late Life Depression. 7th Annual National Conference, Society for Rural Mental Health (SRMH)
Presented Poster: 10th October 2020. Mephentermine Misuse: An Impending Crisis. 5th Annual National Conference, Society for Rural Mental Health (SRMH)
Presented Poster:10th October 2020. Capgras syndrome in depression- A Rare Occurance. 5th Annual National Conference, Society for Rural Mental Health (SRMH)
Workshops/ CMEs/ Conference Attended
24 th -25 th December 2022. Delhi Psychiatric Society Annual Conference 2022.
10th -11th September 2022. 7th Annual National Conference, Society for Rural Mental Health (SRMH).
9th September 2022. Pre- Conference Workshop-Suicide Risk Assessment. 7th Annual National Conference, Society for Rural Mental Health (SRMH).
15th -17th October 2021. 6th Annual National Conference, Society for Rural Mental Health (SRMH).
24th -26th June 2021. Psychiatry PG Virtual Mock Practical Exams- Indian Psychiatry Society.
12th -13th December 2020. International Medical Sciences Academy Conference IMSACON- 2020 Rohtak.
29th November 2020. Annual Mid- Term CME of IPS- NZ 2020.
21st November 2020. 33rd ECNP (European College of Neuropsychopharmacology) Congress Virtual Highlights Session, India.
18th October 2020. 20th Post Graduate Development Program under the aegis of Indian Psychiatric Society- North Zone.
10th October 2020.5th Annual National Conference, Society for Rural Mental Health (SRMH)
9th September 2020. Online Panel Discussion "Working Together to Prevent Suicide"- Community And Preventive Psychiatric Services.
15th August 2020. National Midterm CME of IAGMH (Webinar).
8th August 2020. Healthy Ageing 2020 International Conference- GeriCaRe (Geriatric Care and Research Organisation)