Dr. Aparna Chakravarty
MBBS, MD
Associate professor, Department of Paediatrics
Reg. Number: DMC-27823
aparnachakravarty74@gmail.com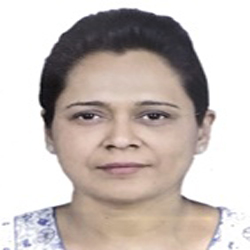 About
Has more than 18 years of experience in the field of pediatrics and is competent in all neonatal and pediatric case management. Has started the Pediatric Intensive Care Unit (PICU) in 2017 at HAHC Hospital and is currently leading the team. Has worked in state-of-the-art hospitals in the country (AIIMS Delhi, Max Hospital Delhi) and abroad (SickKids, Toronto) before embarking on an academic teaching career at HIMSR, Delhi. Is very passionate about teaching and considers oneself a lifelong learner. Completed a 2 years fellowship program in infectious diseases from University of Toronto and now pursuing MSc Infectious Diseases Distance Learning from University of London. Actively involved in collaborative Multi-centric Vaccine Clinical Trial and Research. Believes in hardwork, sincerity and good communication skills and tries to practise these in daily activities. Likes to travel and read as leisure activities and is an aggressive dog lover.
Area of Interest
Infectious diseases
Immunology and Vaccine Research
Pediatric Intensive Care and Nutrition.
Educational Qualifications
| Degree | Year | Name of College & University | Registration Number | Date of Registration |
| --- | --- | --- | --- | --- |
| MD | 2005 | Guwahati Medical College Guahati University | DMC- 27823 | 26-07-2005 |
| MBBS | 1998 | Guwahati Medical College Guahati University | DMC- 27823 | 26-07-2005 |
Deatils of Teaching Experience
| Designation* | Institution | From | To | Duration |
| --- | --- | --- | --- | --- |
| Associate Professor | HIMSR, New Delhi | 02-06-2020 | Till Date | |
| Assistant Professor | HIMSR, New Delhi | 01-04-2015 | 01-06-2020 | 5 years 3 months |
| Senior Resident | AIIMS Delhi | 01-01-2006 | 01-01-2009 | 3 years |
Publications
Bharti Pathak, Aparna Chakravarty, Anuja Krishnan, High viral load positively correlates with thrombocytopenia and elevated haematocrit in dengue infected paediatric patients, Journal of Infection and Public Health, 2021, ISSN 1876-0341,
Afreen Khan, MD, Aparna Chakravarty, MD, Abhinav Jain, MD, Rekha Harish, MD, Rizwan Naqishbandi, MBBS, Twisha Ishani, MBBS, Clinical Spectrum of Neurological Manifestations in Pediatric COVID-19 Illness: A Case Series, Journal of Tropical Pediatrics, Volume 67, Issue 3, June 2021, fmab059,
Why Antibiotic Invisibility Day is Better than Invisible Antibiotic Future? PR Menon, A Chakravarty Indian Pediatrics 53(4),290
Low utility of pediatric isolator blood culture system for detection of fungemia in children: a 10-year review A Campigotto, SE Richardson, M Sebert, EME TeKippe, A Chakravarty, … Journal of Clinical Microbiology 54(9), 2284-2287
Synergy of Antimicrobial Stewardship and Infection Prevention and Control A Chakravarty, C Singha Critical Care Pediatrics, 41
Seasonal Outbreak of Dengue Fever in Northern India-A Clinical Perspective and Predicting Length of Hospital Stay A Chakravarty, A Krishnan. International Journal of Tropical Disease & Health 32(3): 1-8, 2018; (RESEARCH ARTICLE)
Pediatric Appropriate Evaluation Protocol for India (PAEP-India): Tool for Assessing Appropriateness of Pediatric Hospitalization MK Das, NK Arora, R Poluru, A Seth, A Aggarwal, AP Dubey, P Goyal… Indian Pediatrics 55 (12), 1041-1045
Outcome analysis of a newly setup pediatric intensive care unit in a teaching hospital of northern India A Chakravarty, J Mohapatra, R Garg, S Kumar. International Journal of Contemporary Pediatrics 2019 6(5): 2147-2151(RESEARCH ARTICLE)
Chakravarty, A., Harish, R., Naqishbandi, R.. Lane-Hamilton Syndrome With Respiratory Failure: A Case Report. International Journal of Clinical Pediatrics, North America, 9, jul. 2020.
Kakalia S, Chakravarty A, Manson D, Lam R, Waters V, Kitai I. Choosing Wisely: Computed Tomography in the Diagnosis of Adolescents With Intrathoracic Tuberculosis. J Pediatric Infect Dis Soc. 2020 Nov 27:piaa134. doi: 10.1093/jpids/piaa134. Epub ahead of print. PMID: 33245122.
Afreen Khan, Aparna Chakravarty, Jagannath Mohapatra. Unusual cardiac manifestation of Hepatitis A virus infection in children – A case report. Indian J Child Health [Internet]. 2021Jan.11 7(12):500-2
Khan A, Chakravarty A, Mahapatra J. Impact of COVID-19 pandemic on childhood immunization in a tertiary health-care center. Indian J Community Med 2021; 46:
Bireshwar Sinha, Temsunaro Rongsen-Chandola, Nidhi Goyal, Alok Arya, Chandra Mohan Kumar, Aparna Chakravarty, Mohammed Aslam, Deepak More, SEFI tier 1 collaborators, Incidence of Enteric Fever in a Pediatric Cohort in North India: Comparison with Estimates from 20 Years Earlier, The Journal of Infectious Diseases, Volume 224, Issue Supplement_5, 15 November 2021, Pages S558–S567, https://doi.org/10.1093/infdis/jiab046
Surveillance for Enteric Fever in India (SEFI) Collaborators, The Journal of Infectious Diseases, Volume 224, Issue Supplement_5, 15 November 2021, Pages S625–S627, https://doi.org/10.1093/infdis/jiab527
Khan A, Chakravarty A, Naqishbandi R, et al Atypical presentation of acquired tracheo-oesophageal fistula in an adolescent girl with pulmonary tuberculosis BMJ Case Reports CP 2022;15:e242384.
Book: Chapter 29 Pyoderma, Cellulitis, Necrotising fasciitis. Evidence-Based Practices in Management of Pediatric Infectious Diseases. Evangel Publisher 2022
Book: Chapter 18- Dysfunction of Sensory Integration.IAP-IYCF Essentials of Maternal, Infant, Young Child and Adolescent Nutrition. Tree Life Media, 2022
Research Work & Projects
PRIMARY INVESTIGATOR-2 – Uncovering the genetics of novel Salmonella typhi strains from delayed responders to treatment (ICMR Proposal Id- 2020-2800)
PRIMARY INVESTIGATOR- An open label, randomized, active controlled, multi-centric Phase II/III study in Indian toddlers and infants to assess the immunogenicity and safety of SIIPL HEXASIILTM (DTwP-HepB-Hib) + Poliovac (IPV) vaccines, administered as separate injections (SII-wHEXA-IN/02)
CO-INVESTIGATOR- A Phase 3, Randomized, Double-blind study to evaluate the immunogenicity, Safety and Tolerability of Serum Institute of India's 10 Valent Pneumococcal Conjugate Vaccine (PNEUMOSIL) in Healthy Indian Infants (PCV-10-004)-
C0-INVESTIGATOR- A Seamless Phase II/III, Double-blind, Multi-centre, Randomized Clinical Trial to Evaluate Immunogenecity and Safety of BBV87, an Inactivated Chikungunya Virus Vaccine in Healthy Subjects 12-65 Years of Age
PI- Antibiotic Use in Bronchiolitis- A Prospective Study in a Teaching Institute in Northern India
PI- A Multicentric Study on Knowledge, Attitude and Practice about Antimicrobial Stewardship of Indian Medical Students.
Co-PI Dengue project (Protective and pathogenic immunity in dengue virus infection with Jamia Hamdard- Institute of Molecular Medicine
Fellowship
Fellowship Pediatric Infectious Diseases, SickKids, University of Toronto, Canada
Membership of Academic Bodies Societies
Life Member of Indian Academy of Pediatrics (IAP)
Life Member of Infectious disease chapter of IAP
Life Member of Indian Society of Pediatrics and Adolescent Endocrinology (ISPAE)
Life Member of IYCF chapter of IAP
Member of European Society of Pediatric Infectious Disease (ESPID)
Invited Talks and Lectures
Poster presentation "Intrathoracic TB in adolescents" ID Week 2012 SanDiego
Faculty Paediatric Conference of North India, 22-24 December, Delhi 2017
E-Poster Presentation 36th Annual Meeting of European Society of Paediatric Infectious Diseases (ESPID), Sweden May 28-Jun 2nd 2018.
Poster presentation International Symposium on Infectious Diseases. Jamia Hamdard Delhi and Regional Centre for Biotechnology, Faridabad 12-14 November 2018
Fever with rash Pediatric CME Rainbow Children's Hospital Malviya Nagar, March 2019
Workshops/ CMEs/ Conference Organised
Co-ordinator/ Quiz Master for IAP 30th UG Quiz College round at HIMSR,2017
Workshops/ CMEs/ Conference Attended
Essential Vaccinology Course EVAC Feb 2017 Sohna, Gurgaon
CME on Clinical Research, HIMSR, 16th May 2017
2nd Indian Pediatrics Workshop on Research Methodology, Delhi 3rd - 5th November,2017
Paediatric Conference of North India, 22-24 December, Delhi 2017
CME on Immunization Update, HIMSR, Delhi 15th May 2018
CME on PedsSepsis 2018, 4th May, CNBC, Delhi
36th Annual Meeting of European Society of Paediatric Infectious Diseases (ESPID), Sweden May 28-Jun 2nd 2018.
3rd National Pediatric TB Update, 15th July 2018, NITRD, Delhi
Mid-term CME on Pediatric gastroenteroIogy ISPGHAN Sept 2018, Gurgaon
International Symposium on Infectious Diseases. Jamia Hamdard Delhi and Regional Centre for Biotechnology, Faridabad 12-14 November 2018
North India Pediatric Infectious Disease Conference 12th and 13th January 2019
Standardised Xray Interpretation Workshop (INCLEN-JHU led INSPIRE study) 3-5 May 2019
ICMR/NIE Basic Course of Biomedical Research November 2020
Revised Basic Workshop in Medical Education Technologies April 6-8, 2021
Programme on implementation of NABH 5th Edition Standards for Hospitals June 1-3, 2021