Dr. Degavath Ganesh
MBBS, MS ORTHOPAEDICS
Senior resident, Department of Orthopedics
Reg. Number: DMC-247559
ganesh.nayak6429@gmail.com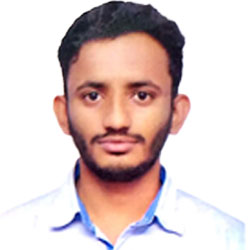 About
I am fresh MS Orthopaedics Graduate (2019-2022) from prestigious Jawahar lal Nehru Medical College, A.M.U., Aligarh
I have extensively trained in handling patients with good skillset which include all types of diagnostics, clinical evaluation and procedures like fracture reduction and fixation along with surgical procedures and intubation procedures.
Passionate about patient care and teaching. Interest in specialising in arthroplasty procedures and pediatric orthopedic procedures.
Area of Interest
Interest in specialising in Arthroplasty procedures
Pediatric orthopedic procedures.
Educational Qualifications
| Degree | Year | Name of College & University | Registration Number | Date of Registration |
| --- | --- | --- | --- | --- |
| MBBS | 2018 | Narayana Medical College And Hospital, Dr. NTR University of Health Sciences | APMC/FMR/101654 | 03-07-2018 |
| MS ORTHOPAEDICS | 2022 | Jawahar Lal Nehru Medical College And Hospital, Aligarh Muslim University | DMC-247559 | 18-08-2022 |
Deatils of Teaching Experience
| Designation* | Institution | From | To | Duration |
| --- | --- | --- | --- | --- |
| | Jawahar Lal Nehru Medical College And Hospital & Aligarh Muslim University | 02-05-2019 | 02-05-2022 | 3 Years |
Publications
Popliteal pseudoaneurysm secondary to osteochondroma of femur:- Case report
Research Work & Projects
Conducted a research titled "A COMPARATIVE STUDY OF INTERNAL FIXATION WITH TENS VS K- WIRE FOR FEMORAL DIAPHYSEAL FRACTURES IN CHILDREN''
Workshops/ CMEs/ Conference Attended
Participated as a delegate in CME AND HANDS ON WORKSHOP ON PELVIS ACETABULAR FRACTURES conducted at Department of Orthopaedic Surgery J.N. Medical College A.M.U, Aligarh on July 28, 2019.
Participated as a delegate in CME on CLUBFOOT AND CEREBRAL PALSY conducted at Department of Orthopaedic surgery J.N Medical College A.M.U, Aligarh on December 6, 2019.
Participated as a Delegate at IOACON 2021 held at the Dr. Shyama Prasad Mukherjee Indoor Stadium, Goa,India from 21st to 25th December,2021
Has attended and participated as a Delegate in the PG Teaching Course at IOACON 2021 held on 21st December, 2021
Has attended and participated as a Delegate in the Arthroplasty course at IOACON 2021 held on 21st December, 2021
Has attended and participated as a Delegate in the Dr. K.T. Dholakia Continuing Medical (Orthopaedic)Education Programme, IOACON 2021 held at the Dr. Shyama Prasad Mukherjee Indoor Stadium, Goa, India on 22nd December, 2021
Has attended and participated as a Delegate in A UNIQUE AND EXCLUSIVE OPPORTUNITY FOR POST GRADUATES TO SHOWCASE THEIR ORIGINAL RESEARCH in UPOA E- PGCON on 22 & 23 january 2022