Dr. Devki Nandan
MBBS, MD, Fellowship in Perinatology (Australia),
Professor & HOD, Department of Paediatrics
Reg. Number: DMC-6450
devkinandan2002@gmail.com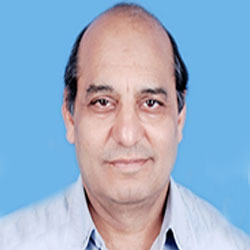 About
Dr. Devki Nandan has been working as  Prof.& Head of Department of Pediatrics from July 2022. He completed MBBS(1982) MD, Pediatrics(1993) from SN medical college Agra, junior residency in 1984 from Safdarjung Hospital then joined central health service in July 1984 ,posted  under Delhi administration(DDU Hospital) as medical officer through UPSC & posted in Pediatrics, DDU Hospital New Delhi as chief Medical Officer (PG teacher for DNB from 1993 to 1998).Subsequently  Joined PGIMER DR. RML Hospital in 1998 as Pediatrician through UPSC. (PG Teacher for Delhi University1998-2005), Assistant Professor (2005-2010)  PGIMER Dr. RML Hospital and  Promoted to the post of Senior Pediatrician & Associate Professor (2010-2013). Further promoted to Consultant(SAG)  and Professor (2013-2020) in ABVIMS, DR. RML Hospital. On 17/02/2021, joined as Professor (Paediatrics) at ESIC Medical College Faridabad under Ministry of Labour, Govt. of India & relieved  in July 2022.His total teaching experience is 28 yrs & total Professional experience is 40 yrs.
Acted as guide for 17 PG thesis of PGs. in Dr. RMLH.
Educational Qualifications
| Degree | Year | Name of College & University | Registration Number | Date of Registration |
| --- | --- | --- | --- | --- |
| MD | 1993 | S N Medical College, Agra | DMC 6450 | 29-02-2000 |
| MBBS | 1982 | S N Medical College, Agra | DMC 6450 | 31-07-2000 |
Deatils of Teaching Experience
| Designation* | Institution | From | To | Duration |
| --- | --- | --- | --- | --- |
| Professor & HOD | HIMSR, New Delhi | 21-07-2022 | Till Date | |
| Professor | ESIC Medical college & Hospital, Faridabad, Under ministry of labour, GOI | 05-02-2021 | 21-07-2022 | 1 Year 6 Months |
| Professor & Consultant & HOD | DR RML Hospital & ABVIMS, New Delhi | 2013 | 2020 | 7 Years |
| Associate Professor & Senior Specialist | DR RML Hospital & PGIMER | 2010 | 2013 | 3 Years |
| Assistant Professor& Senior Specialist | DR RML Hospital & PGIMER | 2005 | 2010 | 5 Years |
| Paediatrician (Specialist) (PG Teacher), Delhi University | DR RML Hospital & PGIMER | 1998 | 2005 | 7 Years |
| Chief Medical Officer & PG Teacher for DNB & Joined Central health service( CHS) as MO | DDU Hospital, Govt. of NCT New Delhi Admin./DDU Hospital New Delhi | 1993 | 1998 | 5 Years |
Publications
Nandan D,Mittal H,SharmaA,Srivastava K:Thinking beyond infections in children with recurrent/persistent-pneumonia.-Tropical-Doctor2021;-0(0);1-5
Verlani J, Agarwal Singh D.P, Nandan D, Singh R A Biotine-Thiamine Responsive Basal Ganglia Disease Presented as intractable Seizure in a 1 month -Old Infant. J pediatr Neurol 2021; 19; 132-135 doi.org/10.1055/s-0040-1716346. corresponding author: Devki Nandan
Tsanglao WR1, Nandan D1, Chandelia S1, Arya NK1, Sharma A1 Filarial tropical pulmonary eosinophilia: a condition masquerading asthma, a series of 12 cases. J Asthma. 2019 Jul;56(7):791-798.(can be considered study-2 as corresponding author)
Kansal P, Nandan D, Agarwal S, Patharia N, Arya N.Correlation of induced sputum eosinophil levels with clinical parameters in mild and moderatepersistent asthma in children aged 7-18 years. J Asthma. 2017 Jul 11:1-6
Kumar M, Nandan D, Tsanglao W, Sahoo C, Ranjan B. Tropical Pulmonary Eosinophilia with Eosinophilic Leukemoid Reaction. International Journal of Pediatrics. 2016;4(3):1579-1581.
Kapoor K, Saha A, Dubey NK, Nandan D, Jillowa S. Hypercalcemic crisis in the pediatric emergency department. Pediatr Nephrol. 2015 Nov;30(11):1939-1940.
Nag VK, Nandan D, Bhardwaj M. Kimura's disease presenting with inguinal lymphadenopathy in an 11-year old girl: A case report. Trop Doct. 2015 Jan; 45(1)
Nandan D, Nag VK, Chatterjee A, Dewan T. Prolonged cholestatic jaundice with very high bilirubin level due to hepatitis E infection. Int J Basic Appl Sci. 2014; 3(2):99-100.
Nandan D, Nag VK, Chatterjee A, Dewan T. Congenital pulmonary tuberculosis with bilateral multiple choroid tubercles- A rare case report. Am J Respir Crit Care Med. 2014; 189(1).
Nandan D, Shukla A, Vargheese S. Incarcerated congenital diaphragmatic hernia mimicking intrathoracic mass. Int J Inno Appl Stud. 2014 Aug; 7(2): 480-482
Nandan D, Bhatt GC, Dewan V, Yadav TP, Singh S. Isolated tuberculous liver abscess in a 3-year-old immunocompetent child. Pediatr Int Child Health. 2013 Aug; 33(3):187-189.
Bhatt GC, Nandan D, Singh S. Isolated tuberculous liver abscess in immunocompetent children - Report of two cases. Pathog Glob Health. 2013 Jan; 107(1):35-37
Bhatt GC, Nandan D, Sen A. Fever of unknown origin: A case of post obstructive pneumonia complicating mature teratoma. Ann Med Health Sci Res. 2013 Jul; 3(3):461-463.
Nandan D, Bhatt GC, Pongener I, Dewan V. Complete right lung agenesis with dextrocardia: An unusual cause of respiratory distress. J Clin Imaging Sci. 2012; 2:81
Bhatt GC, Nandan D. Salmonella typhi presenting as acute glomerulonephritis in twin siblings. Trop Doct. 2012 Oct;42(4):235-236
Bhatt GC, Nandan D, Dewan V, Dey S. Plasmodium vivax presenting as acute glomerulonephritis in a 3-year-old child. Trop Doct. 2012 Jan;42(1):63.
17. Gupta VK, Dewan V, Nandan D, Kumar P, Bahl D, Kaur N.Neonatal acute syphilitic meningitis: A case report. Journal of paediatrics Neurology.2008;6(1):57-60
Nandan D, Venkatesan K, Katoch K, Dayal RS. Serum beta glucuronidase levels in children with leprosy. Lepr Rev. 2007 sep;78(3):243-247.(orinal study-4 as 1st author)
19.Shilpa Khanna Arora,Devki Nandan, Anu Sharma, Pronita Banerjee& Dhirendra Pratap Singh.Predictors of severe dengue amonst children as per the revised WHO classification. J Vector Borne Dis2021;58:329-334( original study-5 as Corresponding author
Devki Nandan, Manju Nimesh, Sushil Kumar, Lucky Manik, Sudershan, Nandini Duggal. Serum procalcitonin as an early inflammatory marker in pediatric ventilator- associated pneumonia: A prospective observational study. Journal of Pediatric Critical Care2021;8(5):229-234 (Original Study-6)
Bidhuri N, Kumar V, Singh R, Singh DP, Agarwal S, Nandan D. Diaphragmatic palsy in a 10 month old boy with Infantile Tremor Syndrome causing respiratory failure with full response to vitamin B12 therapy.Pediatric and International Child health 2020 sep;40(4):248-250 22
AgarwalS,SinghR,SinghDP,GuptaA,NandanD,Direct antibody test negative autoimmune hemolytic anemia with pulmonary tuberculosis:A Diagnostic challenge.Asian J Transfus sci 2021(accepted for publication)
Singh DP, Agarwal S, Singh R, Nandan D, Gupta A. Therapeutic Plasma Exchange in Parvovirus B19-induced Acute Hepatic Failure. Indian J Crit Care Med 2020; 24(5): 361-362
Nandan D, Agarwal S, Bidhuri N, Shrivastava K, Nanda P, Lata S. Role of Intrapleural Urokinase in Empyema Thoracis. Indian J Pediatr 2019 Dec;86(12):1099-1104 (original study-7 as 1st author)
Chandelia S, Kishore S, Nandan D. Successful Ventilation of Acute Respiratory Distress Syndrome Complicated by Pneumothorax Using Airway Pressure Release Ventilation: A Case Report. Indian J Crit Care Med. 2019 Sep; 23(9): 437–438
Chandelia S, Kishore S, Yadav AK, Pratap DK, Patharia N, Nandan D, Sarita Jilowa. Ultrasound appearance of lungs in patients with Ventilator Associated Pneumonia. Indian J Trauma Em Pediatr. 2019 Sept; 11(3):71-76.doi.org/10.21088/ijtep.2348.9987.11319.2(original study8)
Chandelia S, Kishore S, Nandan D. Diagnosis of Psoas Hematoma using Point of Care Ultrasound in Pediatric ICU: A Case Report. Indian J Trauma Em Pediatr. 2019 Apr; 11(2).doi.org/1021088/ijtep.2348.9987.112194
Chandelia, S. Jilowa, S. Kishore, S. Nandan, D. Normal Trans-Bulbar Optic Nerve Sheath Diameter In Indian Children And Its Determinants Pediatric Critical Care Medicine: 2018 June; 19 (6S): p 205
Chandelia, S. Nandan, D. Sonographic Appearance Of Pre-Epiglottic Cyst Causing Stridor- A Case Report Pediatric Critical Care Medicine: 2018 June; 19 ( 6S): p49.doi:10.1097/01.pcc.0000537461.21746.48
Singh DP, Yadav AK, Chandelia S, Nandan D. Comparison of neutral and lowered shoulder position on successful right subclavian vein Catheterisation in children: An Interim Analysis of a randomized controlled trial. Journal of Pediatric Critical Care. 2018 Nov 1;5(8):68.doi:10.21304/2018.0506.00453
Puliyel J, Naik P, Puliyel A, Agarwal K, Lal V, Kansal N, Nandan D, Tripathi V, Tyagi P, Singh SK, Srivastava R, Sharma U, Sreenivas V. Evaluation of the Protection Provided by Hepatitis B Vaccination in India. Indian J Pediatr. 2018 Jul; 85(7):510-516.(Multicentric trial original study-9 from my center I was only author from RML Hospital)
Chatterjee A, Nandan D, Mittal HG, Agarwal P, Bhatt A. Health Related Quality of Life in Children and Caregivers with Controlled versus UncontrolledAsthma. Indian J Pediatr. 2017 Sep 6. doi: 10.1007/s12098-017-2442(can be considered study-10)
Wonashi R. Tsanglao, Nandan D, Chandelia S, Bhardwaj M. Chronic Hypersensitivity Pneumonia due to Pigeon Breeders' Disease. Indian Pediatr. 2017 Jan; 54:55-57.
Singh A, Nandan D, Deewan V, Shankar J. Comparison of clinical effects of beclomethasone dipropionate & budesonide in treatment of children with mild persistent asthma: A double-blind, randomized, controlled study. Indian J Med Res. 2016;144:250-257.(original study-11 as corresponding author)
Nandan D, Kansal P, Patharia N, Goyal P. Induced sputum nitrite levels correlate with clinical asthma parameters in children aged 7-18 years with mild to moderate persistent asthma. Journal of Laboratory Physicians. 2016;8(2):90.(original study- 12as corresponding author)
Nag VK, Nandan D, Singh S, Arora SK, Tsanglao W, Arya N. Pulmonary tuberculosis a predominant cause of childhood bronchiectasis in india. J commun dis. 2015;47(1):1-5.(original study-13 as corresponding author)
Kumar M, Nandan D, Arora S K, Tsanglao W R, Sahoo C K. Severe thrombocytopenia with bleeding secondary to acute viral hepatitis-A. J Commun Dis. 2015;47(2):27-29.
Das RR, Sami A, Seth R, Nandan D, Kabra S, Suri V. Thoracic neuroblastoma presenting as recurrent empyema. Natl Med J India. 2014 Mar-Apr;27(2):84-85
Nandan D, Nag VK, Trivedi N, Singh S. X-linked hyper-IgM syndrome with bronchiectasis. J lab physicians. 2014 July; 6(2):114-116.
Nag VK, Nandan D, Chatterjee A, Bhardwaj M. Peripheral primitive neuroectodermal tumor presenting with superior vena cava syndrome. J Assoc Physicians India. 2014 Jan;2(2):81-83.
Nag VK, Nandan D, Chatterjee A. 12 Weeks Old Male Baby with Severe Thrombocytopenia – A Rare Complication of Epstein- Barr Virus Infection. J Comm Dis. 2013 Nov; 45(3&4):203-205.
Pongener I, Nandan D, Bhatt GC, Dewan V. Hydrocephalus due to aqueductal stenosis in a case of mumps meningoencephalitis: A rare complication. J Pediatric Neurosci. 2013 Aug; 8(2):179-180.
Nandan D, Jahan A, Dewan V, Singh S, Buxi G. Pure Red Cell aplasia in a three-months-old infant possibly secondary to cytomegalo virus infection. Indian J Hematol Blood Transfus. 2014 Sep; 30(Suppl 1):30-32.
Nandan D, Jhavar L, Dewan V, Bhatt GC, Kaur N. A case of empyema thoracic due to Salmonella typhi in eighteen-month-old child: An unusual cause. J Lab Physicians. 2012 July: 45-47
Mishra D, Gupta VK, Nandan D, Nehal D. Congenital intrauterine infection like syndrome of microcephaly, intracranial calcification and CNS disease. Indian Pediatr.2002 sep;39(9):866-869.
Nandan D, Tsanglao WR. Sinusitis. In: Kabra SK, Lodha R, Jat KR, Sankar J, editors .Case based reviews in pediatric Pulmonology. 1st ed. Delhi: Jaypee; 2016 (3)1
Awards
With Best Employee (Among Faculty) of year 2016-17,ABVIMS,DrRML Hospital.
My Paper Selected for Award for Consultant category as presenter:Respicon 2019 ( IAP pune) National Conference .
Commendation Roll for awareness lecture on HIV conducted on World Population day on 11 july 2005 at IRB campus Kavaratti.
(My PG, Dr Shamitha R. (ABVIMS & RMLH)) with Dr. PN Taneja in annual Function of Delhi Indian Academy of Paediatrics 12th December 2021. I was a thesis guide for this paper. My PG Dr.Sumanth&Dr. Preeti also done oral presentation in this conference on 12 December 2019 in Hotel shangri La connaght place new Delhi.
2nd place for Poster presentation done by my PG Dr Kavita Srivastava (My PG) at Delhi RESPICON 2019.This was moderated by me. 6.3rd place for Poster presentation done by Dr Ranjani Upadhyay (My Resident) at Delhi RESPICON 2019.This was moderated by me.
Awards :Dr Anusha my PG selected IAP Delhi divisional & north zone went national round in National conference Pedicon 2018 . I was her thesis guide. 8. Award: First place in IAP. Respiratory chapter National Award for Young Paediatrician Respicon 2016: PG: Parchi Kansal .i was thesis guide for this research paper.
A paper of Dr. Kaveri Pandit (My PG) was selected for IJP award in AIIMS in Pediatrics in July 2019. I was her thesis guide for this paper.
Membership of Academic Bodies Societies
Indian Academy of Paediatrics (Life Member) IAP.
Delhi Chapter.
Respiratory chapter India.
Paediatric Respiratory Society.
National Neonatal Forum India
NNF Delhi.
American Thoracis Society from 2014 to 2018!
Workshops/ CMEs/ Conference Organised
As a expert panel for ILD in children (12th Jan 2020, Indore Pedicon) expert panel For ILD in children on 12th Jan 2020, Indore Pedicon.
Act as a master trainer in 2019 for childhood pneumonia management under MOHFW Govt. India, taught theory at Hotel Lalit to the trainers (participants from all over india) and Practical training Dr.RML Hospital, New Delhi
Chair person for 3rd international conference for childhood allergies (SGRH, Delhi). From 8 to 10 march 2019.
Faculty for bronchoscopy workshop at Pedicon (6th Feb, 2019).
Chairperson at NDPC 2019 24th march Delhi.
Chairperson at KSCH CME in pediatrics 2019, organized by Department of pediatrics at Swarna Jayanti Auditorium LHMC & Kalawati Saran children's hospital, New Delhi from 23rd to 24th February 2019 as a faculty.
Unusual case (Biotin Thiamine Metabolic dysfunction syndrome) was presented by my resident in Indian Academy of Pediatrics, Delhi on 21/02/2019. I was moderator for this case.
Faculty in "Bronchoscopy" Workshop on 3rd January 2018 at 55thNational conference of Indian Academy of Pediatrics (PEDICON 2018).
Presented a case by my resident of Capillary hepatica in annual IAP meet Hospital in Feb 2018 I was a moderator
Judge for Sarla Vaishnava Award of IAP Delhi on 16 December, 2018.
Chairperson for session on Chest X-ray and lung ultrasound in office practice at IAP North Delhi on 18 March, 2018 at Crown Plaza, Delhi.
Poster paper National Award on 19th - 20th nov 2016 (IAP respicon) Poster Paper National Award on 19th - 20th Nov 2016 (IAP respicon).
Faculty at workshop on neonatal and pediatric cardiology in sept 2007 at Dr. RML Hospital
Faculty for workshop of pediatric bronchoscopy on 6th - 7th Sep 2016, Gurgaon. Hospital.
Faculty for 6th international neonatal nursing conference from 15th - 18th sept 2007
Poster paper presentation on congenital TB in ATS 2014, San Diego, California USA on 16th may 2014.
Participated in "Basic & Advanced: pediatric bronchoscopy Workshop/Pulmonology CME-2014 as a faculty at gurgaon fortis hospital
Trainer on management of DF/DHF/DSS organized by SDMC Delhi
Poster paper presentation on hyper IgM SYNDROME IN RESPICON 2013 Hyderabad.
Poster paper presentation on tubercular empyema thoracic suspected Polyresistance in Pedicon 2013.
Poster paper presentation on unusual case of CDH in Respicon 8th- 9th nov. 2013 (Hyderabad).
Poster paper presentation on hepatitis E infection as prolonged cholestasis at Pedicon 2013.
Poster paper presentation on pure red cell aplasia in Pedicon 2012 on 18th Jan at Gurgaon.
Poster paper presentation on salmonella typhi empyema in Pedicon 2012 at18th Jan in Gurgaon.
Poster paper presentation on National conference IAP resp chapter on 26th-28th Oct 2012 .(Chandigarh).
Faculty for 6 th international Neonatal nursing conference on 15 september 2007.
Lecture on public awareness on asthma in Lakshdweep on29 july 2005/
Poster Paper presentation on Outcome Predictors in Pediatric Head Trauma in Annual conference of Neurological society of India. On 12 December 2003.
Workshops/ CMEs/ Conference Attended
NNF Gujrat chapter on 24 october 2020.AIIMS 2020 PICU ON 22-23 FEB.
Respicon 2019 at Pune 11-13 october 2019
Respicon 2018 at Indore on 23rd -25 th Nov.2018.
AIIMS Pulmocrit 2018 on 31st-1st April 2018
National Pediatric TB update on 15 July 2018at New Delhi
Ventilation workshop 6-7 may 2017. Certificate course on Pediatric Pulmonology from 24th-30 April .
Workshop on Basic of scientific writing on 18/12/2017.
National conference PICU On 2-5 nov,2017.Respicon 2017 at bangalore on on 27 october .
Pedicon2017 at bangalore on 18-22 january
RESPICON 2016 at Delhi
Respicon 2015 at Mumbai from 12-13 december
Pedicon 2015 from 22-25 Jan. at Hotel Ashok New Delhi
AIIMS module 2 bronchoscopy on 12-13 oct.2014.
AttendedCME on neonatal at Appolo hospital on 31st March 2002
Advances in Asthma vp chest institute Delhi on 22-24 Feb,2002
Respicon2013 on 8th -10th Nov.Hyderabad
Respicon 2012 on 26-28 october 2012 at chandigarh.
Attended Genetics on 15-16 December 2007 at SGRH New Delhi
Pedicon 2012 & Also attended Workshop.at Gurugram,
RESPICON 2012 at Chandigarh
PEDICON2011 at Jaipur. On 19 jan.2011
Respicon 2009 at Kottyam kerala on 12-13 september 2009. PICU at chandigarh on 2/2/2008 t0 3/2/2008
National conference of PCC on 2nd December 2007.at SGRH.Neonatal Ventilation on 28=29 july 2007. At SGRH, CME on AUTISM on 20th March 2007
NNF CME Delhi on 14-15 april at New delhi
Silver Neocon 2005 at Indore On 1-5 th December 2005
Neonatal HOT topics on 11th September 2005at Appollo center'.
CME On Neonatology on 4-6 Feb.2005 at AIIMS
PEDICON2003 at Mumbai 2-5 th jan 2003.
National CME in Neonatology on 11-12 oct.2003
Multidisciplinary CME held on 29-30 march at AIIMS
Pediatric TB on 28 April 2002 new Delhi
NNF Annual conference at Kochi Kerala on19-22nd December 2002
SAARC on reduction of Childhood neuro morbidity on 7-11 August 2002
Pedicon patna on 8 th febto 11 feb.2001Patna,Persistant Pediatric
Problem on 23 rd July 2000 at Mata chanan devi hospital new Delhi
Pediconon 27-30 jan.2000 at Hyderabad.
WHO National training on 9 th Nov.2000 at RML Hospital.
National conference of Pediatric infectious disease on9 oct,1999 at India habitat centre
Many Public awareness Programme on Radio & also on TV
Attended training for HIV on 21 June1999.under NACO
Update on Pediatric gastro. On 26 nov.1998 New Delhi
Pedicon on8th jan,1998. At chochin
National polio surveillance project 1998 at RML Hospital
Pediatric Cardiology Update 1997 at MAMC. New Delhi
Attended update on polytrauma on 7 th sep.1997 GB Pant hospital n.Delhi.
Attended Indo-US Seminar on PCCM at sunderlal jain New Delhi
Training of ANM ON 30/01/1995 at DDUhospital New Delhi.Indo-us conference on Pediatric Pulmonology& TB new Delhi on 11-12 Feb. 1995
Indo US seminar on PCCM on 14-15 jan, Delhi
Immunisation Update on 7 th may 1994,organized by IAP West. In New Delhi.
Attended update on Pediatric gastroenterology. On 5 th -7 th feb,1993,organized by MCI& American association of Physician.