Dr Farhat Fatima
MBBS
Junior resident, Department of Pathology
Reg. Number: DMC-20147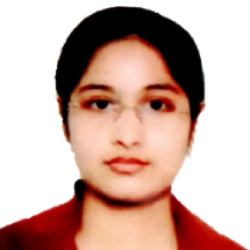 About
Dr Farhat Fatima, a graduate from HIMSR, Jamia Hamdard, New-Delhi. Currently pursuing Post graduation in pathology from HIMSR.
Educational Qualifications
| Degree | Year | Name of College & University | Registration Number | Date of Registration |
| --- | --- | --- | --- | --- |
| MBBS | 2018 | HIMSR, New Delhi | DMC-20174 | 18-05-2018 |
Research Work & Projects
Evaluation of the utility of IAC Standardised Yokohama System for reporting Fine needle aspiration cytology of Breast lesions.
Awards
First prize in Poster making competition for World Anti- Tobacco Day on 31st may 2013, HIMSR, New Delhi.
First prize in Poster and Essay writing competition for International Yoga Day on 21st June 2016, HIMSR, New Delhi.
Membership of Academic Bodies Societies
Workshops/ CMEs/ Conference Attended
Delegate in "B-Kon 2021 " Online CME on Diagnostic Dilemmas in Platelet and Coagulation disorders on 10th April 2021.
Workshop on Muscle Biopsy Pathology attended as delegate by International Academy of pathology-Indian division (IAP-ID) on 24th -25th April 2021(virtual).
MELAP Diagnostic week virtual meet on "Serological meet in GIT diseases, CBC parameters case based study approach on 17th January 2021.
Workshop on Epicollect-5 and Zotero on 23rd January 2021 at HIMSR Delhi.
Enrolled in Basic course in Biomedical Research cycle-3 (August-Dec 2020)
Delegate in World Antimicrobial awareness week in CME on "Rational use of Antimicrobials" on 24th Nov 2020 in HIMSR, Delhi.