Dr. Karthika P.
MD Community Medicine
Senior resident, Department of Community Medicine
Reg. Number: DMC-105237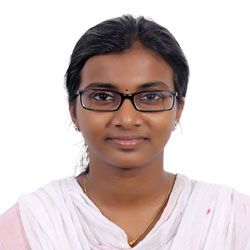 About
I have completed my MD from Jawaharlal Nehru Medical College , Aligarh Muslim University and have joined as a Senior Resident at HIMSR. I believe that preventive medicine plays an important role in combating diseases and achieving health for all. I am interested in field surveys, research and teaching.
Area of Interest
Maternal and Child health
Adolescent Health
Health Programs and policies
Educational Qualifications
| Degree | Year | Name of College & University | Registration Number | Date of Registration |
| --- | --- | --- | --- | --- |
| MBBS | 2016 | Government Medical College Kozhikode, Kerala University Of Health Sciences | DMC-64623 | 04-12-2017 |
| MD | 2022 | Jawaharlal Nehru Medical College, Aligarh MUSLIM UNIVERSITY | DMC-64623 | 04-12-2017 |
Deatils of Teaching Experience
| Designation* | Institution | From | To | Duration |
| --- | --- | --- | --- | --- |
| Senior Resident | HIMSR, New Delhi | 28-07-2022 | Till Date | |
| Junior Resident | J.N.M.C.H, Aligarh Muslim University , Aligarh | 22-05-2019 | 21-05-2022 | 3 Years |
Research Work & Projects
Thesis : Effect of health education on menstrual hygiene management, an interventional study among adolescent school girls of Aligarh (2022)
Awards
Third Prize for Oral Presentations Title : Facilities provided by the school authorities for menstrual hygiene management at school- a cross-sectional study among adolescent school girls of Aligarh
Membership of Academic Bodies Societies
Workshops/ CMEs/ Conference Attended
National Conference of Epidemiological Foundation of India, EFICON, Rishikesh 2020
23rd NZIAPSMCON held at SHKM Govt Medical College, Nalhar, Nuh (Mewat), Haryana 2019
AIIMS-DHR Operational Research Workshop series, organized by CCM, AIIMS, New Delhi
Workshop on Communication Skills In Medical Ethics, organized By Medical Education Unit, JNMC, AMU, Aligarh
Workshop on Effective research protocol writing by National Institute of Medical Statistics-ICMR
Workshop on effective medical thesis writing by National Institute of Medical Statistics- ICMR
Workshop on online learning and assessment by Medical Education Unit, Aligarh Muslim University
Pre-conference workshop on research paper writing at 23rd Annual Conference of IAPSM UP-UK
Basic course in Biomedical research by ICMR
Master class on period education by Menstrupedia