Dr. Neetu Choudhary
MD Community Medicine
Senior resident, Department of Community Medicine
Reg. Number: DMC-18847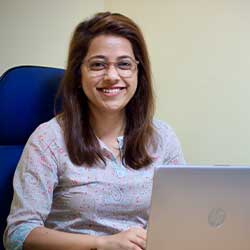 About
I am interested in preventive aspects of the non-communicable and communicable diseases. The adolescent, ANC, PNC and neonates are the age group categories in which I am keen to work for prevention of the health disease burden.
I believe that with the organization of the field activities, creating awareness about disease patterns and research projects with focus on preventive aspects of diseases are necessity for public health practitioners and being a neglected area, it requires creating awareness for the same as no treatment is complete without discussing the preventive aspects.
I have interest in academics and I'm passionate about teaching.
Educational Qualifications
| Degree | Year | Name of College & University | Registration Number | Date of Registration |
| --- | --- | --- | --- | --- |
| MBBS | 2017 | HIMSR, New Delhi | DMC-18847 | 04-02-2017 |
| MD | 2022 | BVD(TU)MC | DMC-18847 | 04-02-2017 |
Deatils of Teaching Experience
| Designation* | Institution | From | To | Duration |
| --- | --- | --- | --- | --- |
| Senior Resident | HIMS, New Delhi | | | |
| PG Resident | BVD(TU)MC | 01-05-2019 | 15-05-2022 | 3 Years |
Publications
Knowledge, Attitude and Practice about COVID Vaccination among the beneficiaries attending the COVID vaccine OPD: a cross sectional study BVMJ
Screening of cervical cancer using Smart scope at field practice area of Rural Health Training Centre (RHTC) of a private Medical College, Pune – a cross-sectional study In the process (Medical Journal of Dr.D.Y.Patil)
Research Work & Projects
Domestic violence against married women: a community based cross sectional study in urban slums of Pune
Screening of cervical cancer using Smart scope at field practice area of Rural Health Training Centre (RHTC) of a private Medical College, Pune – a cross-sectional study
Knowledge, Attitude and Practice about COVID Vaccination among the beneficiaries attending the COVID vaccine OPD: a cross sectional study
Audit of TB free claims by Satara District (Sub National Certification)
Rapid assessment of COVID-19 pandemic response and preparedness for future surge in cases in Satara.
Implementation of tummy time guideline in hospital
Awards
Best paper in miscellaneous category, IAPSMUPUKCON 2022, Kannauj Title: Domestic violence against married women: a community based cross sectional study in Urban slums of Pune
Workshops/ CMEs/ Conference Attended
HTACON 2019
IAPSM AND IPHACON MARCH 2020
NTRD-CTD-NTF
RESCON 2020
POSHANCON 2020
Towards TB free India
IAPSM AND IPHACON MARCH 2022