Dr. Neha Bhardwaj
MBBS
PG resident, Department of Obstetrics and Gynecology
Reg. Number: DMC- 14490
nehabhardwajlhmc@gmail.com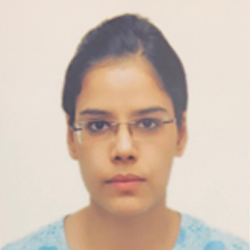 About
I am currently pursuing masters in Obstetrics and Gynaecology at Hamdard Institute of Medical Sciences and Research. I have done my graduation from Lady Hardinge Medical College, New Delhi.
I joined HIMSR in May 2020 and since then it has been an amazing journey of learning new skills every day.
I enjoy painting, debating, traveling and playing table tennis.
 I have been on health panel for a Delhi based NGO from past 5years.
Area of Interest
Infertility, Maternal and Fetal Medicine
Educational Qualifications
| Degree | Year | Name of College & University | Registration Number | Date of Registration |
| --- | --- | --- | --- | --- |
| MBBS | 2016 | Lady Hardinge Medical College New Delhi | DMC-14490 | |
Research Work & Projects
"Update on Role of Antenatal Corticosteroid" published in Pan Asian Journal of Obstetrics and Gynaecology
"Effect of Coronavirus-19 on maternal and perinatal outcome : A case control study in Obstetric Medicine ( SAGE )
I have worked as a team member in Project Revive headed by Dr.Charles Viva, head of Interplast UK in 2016 which involved undertaking 100 free reconstructive surgeries on victims of burns and acid attacks.
Topic of thesis- Ambient air pollution and Pregnancy outcomes Supervisor- Dr .Neha Gupta
Awards
Participated in Poster making competition on World Menstrual Hygiene Day 2021 held on 27th May 2021 organised by Society of Menstrual Disorder and Hygiene Management
Secured 2nd position in e-poster on World's Patient Safety Day held on 18th September 2021 organised by Department of Anaesthesiology , HIMSR, Jamia Hamdard
Participated in JAM session on World's Patient Safety Day held on 18th September 2021 organised by Department of Anaesthesiology , HIMSR, Jamia Hamdard
Completed training on "Advanced Cardiac Life Support" - as per AHA guidelines, 2020 held on 19-20th April 2022
Panelist in webinar on OSCE in Gynaecology on 5th September 2021 by PG FORCE (FOGSI)
Panelist in Surgical anatomy and Basic steps of hysterectomy - NBEMS Obstetrics and Gynaecolgy Webinar on 10th March 2022
Anchored in CME cum Hands on Workshop "Obstetrics Skills in Obstetrics and Gynaecology" organised by Department of Obstetrics and Gynaecology on 7th May 2022, HIMSR, Jamia Hamdard
Completed online and offline course on COVID 19 as per iGOT (DIKSHA) on 15th January 2022
Completed Basic Course in Biomedical Research by ICMR (NIE)- As mandated by National Medical Commission in July 2022
Secured 3rd Prize in Quiz Competition on "Contraception and safe abortion" held on 23rd July 2022 by NARCHI in LHMC on 23rd July 2022
Presented e-poster presentation in 42nd Annual Virtual AOGD Conference held from 30th October - 1st November 2020
Workshops/ CMEs/ Conference Attended
Attended 42nd Annual Virtual AOGD Conference ( 30th October - 1st November 2020)
Attended Hands on Workshop "Obstetrics Skills : Tips and Tricks" organised by Department of Obstetrics and Gynaecology on 30th October 2021, HIMSR, Jamia Hamdard
Attended 2nd Annual Conference - THE NOEISIS 2.0 - under the aegis of Practical Obstetrics Committee FOGSI on 11th and 12th September 2021
Attended CME cum workshop on Medical Certification of Cause of Death on July 3, 2021 organised by Medical Education Unit in HIMSR, Jamia Hamdard
Attended CME cum Hands on Workshop "Obstetrics Skills in Obstetrics and Gynaecology" organised by Department of Obstetrics and Gynaecology on 7th May 2022, HIMSR, Jamia Hamdard
Attended Fertivision 2021 Workshop on Basics and Advances on Hysteroscopy in ART organised by AIIMS Delhi ( Indian Fertility Society) on 5th December 2021
Attended FOGSI Conference - OBGY- Charting difficult territories on 11th June 2022 organised by AOGD and DGF
Attended 23rd Practical Course and CME organised by Department of Obstetrics and Gynaecology , Maulana Azad Medical College , New Delhi from 12th to 14th March 2021
Attended 24th Practical Course and CME organised by Department of Obstetrics and Gynaecology , Maulana Azad Medical College , New Delhi from 5th to 7th August 2022
Attended CME on Spotlight on Family Planning - Regaining Momentum organised by NARCHI in LHMC on 23rd July 2022