Dr. Neha Sinha
MBBS
PG resident, Department of Anaesthesia
Reg. Number: DMC-25506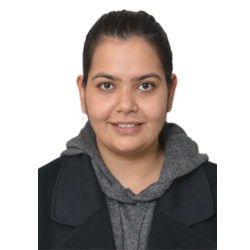 About
Dr. Neha Sinha resident of Muzaffarpur, Bihar is currently a 1st year PG Resident in the Department of Anaesthesiology, HIMSR and HAHC Hospital.
She completed MBBS from SSR Medical College, Mauritius in December 2016 and qualified FMGE in June 2017. Cleared NEET PG exam in the 1st attempt in the year 2020 with a score of 534 and opted to pursue Post Graduation in MD Anaesthesiology.
Dr Sinha is creative, hard-working and sincere with work and has good work ethics.
She is an active participant in literacy, cultural and social activities and has participated in various Theatre and Street plays, educational skits for various Cultural events and won prizes for the same. Gifted with good Public Speaking and writing skill, Dr. Sinha has also participated in various health talks and health awareness programs.
She actively participates in clinical, research and Mortality Meeting of the hospital and is a sincere participant of the departmental academic activities.
At HIMSR she participated in the CME for World Patient Safety Day, won 3rd prize in Poster presentation on Healthcare worker safety is a priority for patient safety. She was an integral part of the organizing team for CME on World Patient Safety Day.
She is currently doing a thesis on "Comparison of Blockbuster Laryngeal Mask Airway, King Vision videolaryngoscope and Flexible fibreoptic scope in patients with simulated immobilized cervical spine: A Randomised Controlled Trial."
This study will help us to determine whether new ILMA (Blockbuster) and King Vision video laryngoscope can be used as an alternative to gold standard Flexible Fibreoptic Bronchoscopy in patients with cervical immobilization in terms of intubation time, success rate and complications.
Educational Qualifications
| Degree | Year | Name of College & University | Registration Number | Date of Registration |
| --- | --- | --- | --- | --- |
| MBBS | 2016 | SSR Medical College, University of Mauritius | DMC-25506 | |