Dr.Prabhpreet Singh
MBBS
PG resident, Department of Radio-Diagnosis
Reg. Number: DMC-
drsinghprabhpreet@gmail.com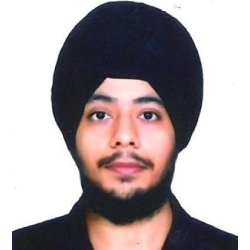 About
I, Prabhpreet Singh, a 1st year postgraduate student in the department of RadioDiagnosis, HIMSR, New Delhi. I feel extremely fortunate to be a part of this esteemed and renowned institution.
I belong to Delhi and also did my schooling from here. I completed my MBBS from Mumbai. I have always believed in a holistic approach to studies and thus right from my graduation days, I was an active member of the student body and represented my college at various competitions along with organizing various medical events. This was accompanied by a decent academic record consisting of distinctions in various subjects.
Joining HIMSR has been a very providential and promising step in my life, as I always have had a keen interest in the field of radiology. The amount of exposure and academic assistance is incredible. Research work is always encouraged. I am confounded and humbled to get such a meritorious faculty who are always at the helm for our overall development and absolute attention for our studies. Blessed to be a part of this eminent organization.
Area of Interest
General Radiology
Basic Intervention in Radiology
Educational Qualifications
| Degree | Year | Name of College & University | Registration Number | Date of Registration |
| --- | --- | --- | --- | --- |
| MBBS | 2020 | D.Y. Patil Medical College, Navi Mumbai | MMC-2020032633 | |
Research Work & Projects
Thesis – Topic – "Elastography as an adjunctive tool to TIRADS in characterisation of thyroid nodules with cytological correlation" – Hospital based prospective study.
Supervisor – Dr. B.B Thukral
Co-supervisor – Dr. Abhinav Jain
Awards
Presented Scientific Paper at Global Radiology Conclave 2020.
Presented Radiology Poster at AOCR Malaysia 2021.
Distinction holder in various subjects at MBBS level.
Won prizes and accolades at several intercollegiate and state competitions for medical debates, panel discussions and quizzes.
Part of college team in numerous medical quiz competitions and college programs.
Student Brand Ambassador for Elsevier Publications.
Selected 'Student Editor' by PlexusMD.
Designated as Academic Head/Scientific Head in the college student council.
Appointed Class Representative for two years.
2nd Prize in Poster Competition held by Department of Anaesthesia, HIMSR on occasion of World Patient Safety Day in September 2020.
Workshops/ CMEs/ Conference Attended
Workshop on Efficient, Quality, and Assured Data capture using a mobile phone organised by Department of Community Medicine, HIMSR.
IRIA Global Radiology Conclave 2020.
RSNA Scientific Assembly & Annual Meeting 2020.