Dr. Pranjali Bansal
MBBS , MD Psychiatry
Senior resident, Department of Psychiatry
Reg. Number: DMC-10494
pranjali.bansal@gmail.com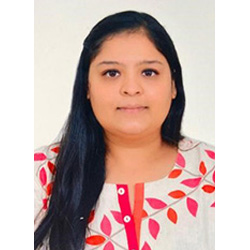 About
I have an experience of total 6 years in psychiatry. I have been exposed to various areas including geriatric and child psychiatry.
Well trained for documentation of patient related information, execution of procedures like ECT, educating the patient and family, and providing excellent levels of care.
Teaching MBBS, Msc (nursing), para clinical staff, occupation therapy students ( BOT, MOT) and general public.
I believe in giving maximum benefit to the patient and their families.
Area of Interest
Schizophrenia
Substance addiction
General adult psychiatry
Educational Qualifications
| Degree | Year | Name of College & University | Registration Number | Date of Registration |
| --- | --- | --- | --- | --- |
| MD/MS | 2018 | Ramachandra Medical College & Research Institute, Chennai | DMC-10494 | 01-08-2019 |
| MBBS | 2013 | Bharati Vidyapeeth Medical College, Pune | DMC-10494 | 01-08-2019 |
Deatils of Teaching Experience
| Designation* | Institution | From | To | Duration |
| --- | --- | --- | --- | --- |
| Senior Resident | HIMSR, New Delhi | 08-08-2018 | Till Date | |
| Junior Resident | Ramachandra Medical College & Research Institute | 15-04-2017 | 15-04-2018 | 1 Year |
| Junior Resident | Ramachandra Medical College & Research Institute | 10-04-2016 | 09-04-2017 | 1 Year |
| Junior Resident | Ramachandra Medical College & Research Institute | 01-04-2015 | 02-04-2016 | 1 Year |
Research Work & Projects
Poster Presentation on "Disulfiram induced Mania", at Annual National Conference of Indian Psychiatric Society (ANCIPS-2016)
Presented a paper on "Internet Addiction and Psychiatric Co morbidities in young adults" at conference of Indian Psychiatric Society – South Zone Branch (IPSOCON 2017)
Symposium on " Gaming Disorder- Types of games and their psychological effects" at XXI Annual Conference of the International Society of Addiction Medicine –(ISAM 2019)
Membership of Academic Bodies Societies
Indian Psychiatric Society
Workshops/ CMEs/ Conference Organised
Workshops/ CMEs/ Conference Attended
18TH-19TH August 2015 SRMC , Chennai Research seminar and workshop
26th October 2015 SRMC , Chennai Soft skill workshop
21st-24th January 2016 People's world, Bhopal ANCIPS
26th -27th February 2016 Chennai SNEHA- Suicide Update
6th-7th August 2016 Coimbatore TANPSYCON
21st September 2016 SRMC, Chennai Debate on world Alzheimer's Day
14th-16th October 2016 Chennai Organised IPSOCON 2016
10th-11th June 2017 Hyderabad Psychotherapy and Psychopharmacology in clinical practice (CME)
8th September 2017 SRMC, Chennai Debate on world suicide prevention day
24th October 2017 Wayand Participated in CME
27th-29th October 2017 Wayanad Presented paper in IPSOCON 2017