Dr. Priyanka Singh
MBBS, DNB, MNAMS, FIPM (AIIMS), CCEPC
Assistant professor, Department of Anaesthesia
Reg. Number: DMC-7043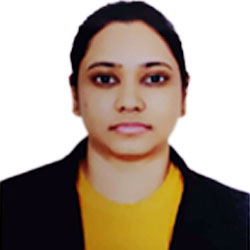 About
Dr Priyanka Singh has completed her medical education from prestigious colleges of Delhi
and gained her teaching experience from various medical colleges of Delhi. She has post PG
experience of more than 6 years in the field of anaesthesiology, critical care & pain medicine,
where she was actively involved in teaching post graduate student and in research work.
Special interest in chronic pain management, postoperative pain management, acute pain
services and managing paediatric & neurosurgery cases.
Area of Interest
Pain & Palliative care
Paediatric Anaesthesia
Airway Management
Educational Qualifications
| Degree | Year | Name of College & University | Registration Number | Date of Registration |
| --- | --- | --- | --- | --- |
| MBBS | 2010 | LADY HARDING MEDICAL COLLEGE, DELHI | DMC-7043 | 24-02-2011 |
| DNB | 2016 | NDMC MEDICAL COLLEGE & HINDURAO HOSPITAL, DELHI. NBE | DMC-7043 | 24-02-2011 |
| FIPM | 2022 | AIIMS, DELHI | DMC-7043 | 24-02-2011 |
Deatils of Teaching Experience
| Designation* | Institution | From | To | Duration |
| --- | --- | --- | --- | --- |
| Assistant Professor | HIMSR, NewDelhi | 31-01-2023 | Present | |
| Fellowship | AIIMS Delhi | 18-01-2022 | 17-01-2023 | 1 Year |
| Assistant Professor | ABVIMS & DR RML HOSPITAL, DELHI | 08-12-2020 | 07-12-2021 | 1 Years |
| Assistant Professor | NDMC MEDICAL COLLEGE, DELHI | 20-05-2020 | 15-11-2020 | 6 Months |
| Senior Resident | ABVIMS & DR RML HOSPITAL | 20-01-2017 | 18-04-2020 | 3 Years 3 Months |
| Senior Resident | NEHRU BAL CHIKITSAL | 18-08-2016 | 16-01-2017 | 5 Months |
Publications
Singh P, Kapur A, Gupta SK. Comparative evaluation of low-dose levobupivacaine and ropivacaine in patients undergoing inguinal herniorrhaphy under walking spinal anaesthesia as daycare surgery. Bali J Anaesthesiol 2019;3:111-117
Singh P, Kohli J, Kaur M D. Anesthetic management of urinary bladder paraganglioma. Bali J Anaesthesiol 2020;4:75-7
Chungkrang D, Kaur M, Singh P. Comparison of the effects of epidural clonidine and fentanyl on spinal anaesthesia in lower abdominal and lower limb surgeries – a randomised controlled study from Delhi, India. J Evolution Med Dent Sci 2021;10(22):1698-1702.
Gupta P, Singh P, Pawar M. Management of predicted difficult airway in a 6 days old neonate with burns over scalp and face. Pediatric Anesthesia and Critical Care Journal 2016;4(1):9-12
Sharma S, Agarwal A, Chand T, Singh P, Saxena A. Comparison of Analgesic Efficacy of Transversus Abdominis Plane Block with IlioinguinalIliohypogastricNerveBlockinLowerAbdominalSurgeriesunderSpinalAnesthesia:A Double Blind Randomized Study.IndianJAnesthAnalg.2019;6(6Part-II):2194-2200
Kakkar A, Singh P, Kaur MD, Kumar A. Opsoclonus-myoclonus syndrome in a COVID-19 positive pregnant patient – A rare case report. J Indian Coll Anaesth 2022;1:25-6
Rambabu, Singh P. Amoebic Liver Abscess and Inferior Vena Cava Thrombosis – A Rare Case Report. Journal, Indian Academy of Clinical Medicine JIACM 2020; 21(1-2): 92-93
Research Work & Projects
TRAINING PROGRAMME FOR CERTIFICATE COURSE FOR HEALTH ASSISTANT (GGSIPU)
APPEC 2021(Anaesthesia post graduate pre examination course)- participated as faculty
RECENT ADVANCES IN ANAESTHESIA 2021- participated as faculty
BLS & CCLS INSTRUCTOR certified by Indian Resuscitation Council (IRC)
BASIC COURSE IN BIOMEDICAL RESEARCH (MANDATED BY NMC)
Fellowship
MEMBER OF NATIONAL ACADEMY OF MEDICAL SCIENCES (MNAMS)
INDIAN DIPLOMA OF REGIONAL ANAESTHESIA (IDRA)
FELLOWSHIP IN PAIN MENAGEMENT (AESCULAP ACADEMY DARADIA)
FELLOWSHIP IN PAIN MEDICINE-AIIMS DELHI
CERTIFICATE COURSE OF ESSENTIALS OF PALLIATIVE CARE- IAPC, AIIMS
Awards
PRIZE- IInd prize in Paper presentation in ISACON Delhi chapter 2015
Membership of Academic Bodies Societies
ISA- P226
ICA- 626
ISSP- 2647
INDIAN ASSOCIATION OF PALLIATIVE CARE (IAPC)
Workshops/ CMEs/ Conference Attended
Paper presentation in DNACON 2019
Poster presentation- ISACON- Delhi 2020
YUVA ISACON 2020
Poster presentation- ISACON 2021
ICACON- 2021