Dr (Prof) Amit Sharma
MBBS, MD (Forensic Medicine)
Professor & HOD, Department of Forensic Medicine and Toxicology
Reg. Number: DMC/R-1008
hod.fmedicine@himsr.co.in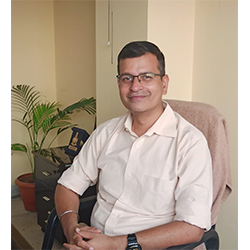 About
Dr (Prof) Amit Sharma pursued MBBS & MD in Forensic Medicine working as professor & Head in the Department of Forensic Medicine in HIMSR, New Delhi
Area of Interest
Toxicology
Medical Jurisprudence
Educational Qualifications
| Degree | Year | Name of College & University | Registration Number | Date of Registration |
| --- | --- | --- | --- | --- |
| MD (Forensic Medicine) | 2007 | Maulana Azad Medical College, Delhi University | DMC/R-1008 | 17-01-2021 |
| MBBS | 2001 | University college of Medical Sciences, Delhi University | DMC/R-1008 | 17-01-2003 |
Deatils of Teaching Experience
| Designation* | Institution | From | To | Duration |
| --- | --- | --- | --- | --- |
| Professor | HIMSR, New Delhi | 29-02-2019 | Till Date | |
| Associate Professor | HIMSR, New Delhi | 14-11-2014 | 28-02-2019 | 4 Years 3 Monhs |
| Assistant Professor | HIMSR, New Delhi | 07-02-2011 | 13-11-2014 | 3 Years 9 Months |
| Assistant Professor | Saveetha Medical College, Chennai | 06-10-2010 | 06-02-2011 | 4 Months |
| Senior Resident | Maulana Azad Medical College, Delhi University | 03-08-2007 | 02-08-2010 | 3 Years |
| Demonstrator | Maulana Azad Medical College, Delhi University | 25-05-2004 | 25-01- 2007 | 3 years |
Publications
Rani, M., Rohit, Sharma, A. and Dikshit, P.C. Injuries by Bull Horns: Patterns And Prevention Protocols. Anil Aggrawal's Internet Journal of Forensic Medicine and Toxicology [serial online], 2010; 11 (1): about 26 p. Print ISSN: 0972-8066.
Sharma A. understanding the problem of undescended testes with a case report. Intl J Med Toxicol & Leg Med. 2010; 12(3): 32-35.
Sharma A. Acute Myocardial Infarction related to blunt Thoracic Trauma: Review of literature with two case reports. J Indian Acad Forensic Med,2010; 32(2). 165-67.
Sharma, A, Dikshit, P C, Aggrawal, A, Mandal A K. A Postmortem Study of histopathological findings to determine the age of abrasion and laceration. Journal of Forensic Medicine & Toxicology Vol. 27 No. 1, Jan-June 2011: p 43-47.
Sharma A, Khanna SK, Aggrawal A, Mandal AK. A HISTOPATHOLOGICAL STUDY TO DETERMINE THE AGE OF CONTUSION. J Punjab Acad Forensic Med Toxicol 2011; 10(1): 17-19.
Sharma A. Acute Copper sulphate poisoning: A case report and review of literature. Indian Journal of Forensic Medicine and Toxicology. 2010; 4(2)
Sharma A, Rani A, Barwa J. Traumatic Asphyxial Deaths Due to an Uncontrolled Crowd at Railway station- 2 case reports. J Indian Acad Forensic Med, 2010;32(3): 254-56.
Sharma A, Prasad K, Rani A. Fatal acute Carbon Monoxide poisoning: 2 case reports. International Journal of Medical Toxicology and Legal Medicine. 2010; 13(2): 27-30.
Sharma A., Ragavana S. Social Networking and Medical Professionalism. J Med Sci Research. 2011; 1 (2): 69-70.
Sharma A. Rickshaw scarf strangulation. Med Leg J, 2015 83: 109-10. Print ISSN: 0025-8172; Online ISSN: 2042-1834
Ozair F F, Jamshed N , Sharma A , Aggarwal P. Ethical issues in electronic health records: A general overview. Perspectives in Clinical Research 2015; 6 (2): 73-6. ISSN: 2229-3485
Sharma A, Baluja Z. Therapeutic Effects of Glycine Max (Soybean): A Summary. International Journal of Research in Pharmacy and Biosciences.2015; 2: 22-7.
Sharma A. Carbon monoxide poisoning in our homes – report of two survivors from North India. Med Leg J. 2016; 84(2):87-89.
P.C. Dikshit, Amit Sharma, Shahina. Profile of medico legal cases in Hamdard institute of medical institute and associate hospital New Delhi. IJFMP. 2016; 9 (4):215-18.
Amit Sharma, Shahina, P.C. Dikshit. Case Scenario Based Teaching in Forensic Medicine to Improve Student Learning. IJFMP. 2017; 10 (2):67-72.
Shahina, Amit Sharma. A retrospective study of pattern of external injuries in road traffic accidents- at HAH Centenary hospital, New Delhi. IJFMP. 2018; 11 (2):61-63.
Awards
First Prize in Poster presentation titled Forensic prospects of Next Generation Sequencing technology in 6th International conference on Legal Medicine, Medical Negligence & Litigation in Medical Practice, held at Khajuraho from 26-28 Feb 2015.
Membership of Academic Bodies Societies
Editorial Board Member of Austin Journal of Forensic Science and Criminology
Editorial Board Member of Indian Journal of Forensic Medicine and Pathology (IJFMP)' ISSN : 0974-3383.
Editorial Board Member of Indian Journal of Medical and Health Sciences (IJMHS) ISSN 2347-9981.
Member of Indian Academy of Forensic Medicine.
Member of Karnataka Medico-legal Association
Workshops/ CMEs/ Conference Organised
Organizing Secretary of CME on Medico-Legal issues organized by Department of Forensic Medicine, HIMSR, on 2nd May, 2013.
Member of organizing committee ISARCON 2015 organized by department of medical Biochemistry, HIMSR from 29th-31st Oct, 2015