Dr Sayika Hameed
MBBS
Demonstrator, Department of Pathology
Reg. Number: DMC-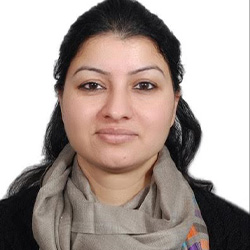 About
Dr Sayika Hameed , currently doing MD pathology in HIMSR New Delhi. Joined the department in May 2018. Did MBBS from Rostov State Medical University Russia. Apart from academic activities has got special interest in social work for upliftment of poor students. Used to give free tution classes before joining MD. Has presented three posters during her tenure as postgraduate at national level in reputed colleges of country like MAMC Delhi , Army Hospital (R&R) New Delhi and VMMC , Safderjung hospital, New Delhi . She has keen interest in Thyroid cytopathology and Oncopathology.
Area of Interest
Thyroid Cytopathology.
Oncopathology.
Educational Qualifications
| Degree | Year | Name of College & University | Registration Number | Date of Registration |
| --- | --- | --- | --- | --- |
| MBBS | 2008 | Rostov state medical university Russia | MCI/ 11-40709 | |
Deatils of Teaching Experience
| Designation* | Institution | From | To | Duration |
| --- | --- | --- | --- | --- |
| | | | | |
Research Work & Projects
Cytological evaluation of thyroid aspirates using " The 2017 Bethesda system for reporting thyroid cytopathology" with histological follow up.
Fellowship
Poster presentation on "Cytodiagnosis of Crystallizing Galactocele –An Unusual Report of two Cases at VII Annual conference of Delhi chapter of Indian Academy of Cytologists, 2018 at Army hospital (Research and Referral), New Delhi Cantt.
Poster presentation on Heterotopic gastric mucosa in the proximal oesophagus manifesting as upper gastrointestinal bleeding at DAPCON 2019 organized by Maulana Azad Medical College, New Delhi.
Poster presentation on "Cervical granuloma in a postmenopausal female: an uncommon cause of cervical growth " at VIII Annual conference of Delhi chapter of Indian Academy of Cytologists, 2019 at VMMC & Safdarjung hospital, New Delhi.
Membership of Academic Bodies Societies
Indian Association of Cytology.
Workshops/ CMEs/ Conference Attended
Symposium and live microscopy session on Peripheral blood & Bone marrow morphology at SGPGI, Lucknow on 8th September, 2018.
Workshop on "Cytological approach to Lymphnode lesions" at MAMC, New Delhi on 23rd February, 2019.
CME on Grossing at Tata Memorial Hospital, Mumbai on 24-25th May, 2019.