Dr Zeba Khanam
M.S.(Obstetrics and Gynaecology)
Assistant professor, Department of Obstetrics and Gynecology
Reg. Number: DMC/66426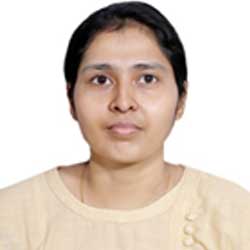 Educational Qualifications
| Degree | Year | Name of College & University | Registration Number | Date of Registration |
| --- | --- | --- | --- | --- |
| M.B.B.S | 2013 | S.N.M.C Agra, Dr BRAU, Agra | UPMC 65215 | 27-02-2013 |
| M.S.(Obstetrics and Gynaecology) | 2016 | VMMC & Safdarjung Hospital, New Delhi | DMC 66426 | 06-04-2016 |
Deatils of Teaching Experience
| Designation* | Institution | From | To | Duration |
| --- | --- | --- | --- | --- |
| Assistant Professor | HIMSR & HAHC Hospital, New Delhi | 27/06/2022 | Till Date | |
| Senior Resident | V.M.M.C & Safdarjung Hospital, New Delhi | 25/09/2019--22/08/2016 | 12/05/2022--03/01/2017 | 3 Years |
| Assistant divisional medical officer, Indian Railways | Indian Railways | 23/10/2017 | 25/11/2018 | 13 Months |
Publications
Sharma A, Suri J, Khanam Z, Pandey D, Bachani S, Sharma A. Prediction of complications of pre-eclampsia using the fullPIERS high risk predictive model. Int J Gynaecol Obstet. 2023 Jun 16.
Anwar A, Maan G, Nigam A, Khanam Z. Laparoscopic approach in postpartum pyoperitoneum: A guide to early rehabilitation. Trop Doct. 2023 Jun 26:494755231185367.
Pandey D, Bharti R, Dabral A, Khanam Z. Impact of WHO Labor Care Guide on reducing cesarean sections at a tertiary center: an open-label randomized controlled trial. AJOG Glob Rep. 2022 Jul 20;2(3):100075.
Suri J, Khanam Z. Pruritus in Pregnancy. In: Goyal P, Malhotra N, editors. Algorithms in Management of High- Risk Pregnancy Vol 1. New Delhi: Evangel Publishing; 2021.p. 132-39.
Pandey D, Khanam Z. Urinary Tract Infections in Pregnancy. In: Mehta S, Grover A, editors. Infections and Pregnancy. Singapore: Springer. 2022.
Bharti R, Khanam Z, Mittal P. Feto-pelvic Disproportion Assessment and Management. In: Sekaran SK, Patel M, Suman A, Nagrath A, Malhotra N, Malhotra J, Seth S, editors. FOGSI's Update in Obstetrics & Gynaecology Vol 2. New Delhi: Evangel publishing; 2022. p. 96-105.
Mittal P, Suri J, Khanam Z. ClinicalKey Now. HELLP Syndrome. [Internet]. New Delhi; Elsevier; [updated 2022 August 22; cited on 2023 February 23]. Available from: cd- staging.clinicalkey.com/now/in/content/76-s2.0- in_en_hellp_syndrome
Khanam Z, Mittal P, Suri J. Does the Addition of Serum PAPP-A and β-hCG Improve the Predictive Value of Uterine Artery Pulsatility Index for Preeclampsia at 11-14 Weeks of Gestation? A Prospective Observational Study. J Obstet Gynaecol India. 2021 Jun;71(3):226-234. doi: 10.1007/s13224-020-01420-7. Epub 2021 Jan 21. PMID: 34408341; PMCID: PMC8310817. (First and corresponding author)
Khanam Z, Purwar R, Kumari A. A large hematometra after cervical carcinoma in-situ - A case report and review of literature. New Indian Journal of OBGYN. (accepted 10/10/2021). (First and corresponding author)
Suri J, Khanam Z. Prognosticating feto-maternal ICU outcomes. Indian Journal of Critical Care Medicine. 2021;25(Suppl 3):S206–S222. (Co-author)
Pandey D, Khanam Z, Bharti R, .Unusual Leiomyoma presentations and management. Journal of South Asian Federation of Obstetrics and Gynaecology. 2022;14(3):227–232.
Purwar R, Malik S, Khanam Z, Mishra A. Progression of the first stage of labour, in low risk nulliparas in a South Asian population: a prospective observational study. J Obstet Gynaecol. 2021 May 2:1-5. doi: 10.1080/01443615.2020.1867967. Epub ahead of print. PMID: 33938356.
Khanam Z, Suri J. P0004-Peripartum acute respiratory distress syndrome: Our 5-year experience at a tertiary care hospital in India. Int J Gynecol Obstet. 2021; 155(Suppl. 2): 127-532.
Khanam Z, Bharti R, Suri J, Pandey D, Bachani S. Peritoneal Rupture of Hematocolpos in Distal Vaginal Atresia- A Case Report. Journal of Clinical Obstetrics and Gynecology. 2022;32(2)72:6.
Fellowship
Awarded Fellowship of ICMCH by NARCHI on 25 th sept 2022, New Delhi
Awards
Dr Neera Aggarwal Gold Medal for the Best Paper in Theme Topic Obstetrics at the 37 th AGOD Annual Conference 2015.
Awarded FOGSI prize for the best paper published in the journal at the AICOG, 2022 at AICOG, Kolkata.
Membership of Academic Bodies Societies
Indian Society of Colposcopy and Cervical Pathology (ISCCP)
Federation of Obstetrics and Gynecology of India (FOGSI)
National Association for Reproductive and Child Health of India (NARCHI)
Member Editorial Board AOGD 2021-2022
Invited Talks and Lectures
CME and workshop on Semen preparation and IUI techniques at Matritava Advanced IVF and Training Centre, New Delhi April 6, 2019
Oral presentation in NARCHI DELHI 2019 on 'Uterine artery PI and serum PAPA-A at 11 to 14 weeks of gestation as markers of pre-eclampsia at ABVIMS and RML Hospital.
Free free paper on "Spontaneous rupture of hematocolpos into peritoneal cavity in a case of transverse vaginal septum", in 42 nd annual AOGD conference, 2020
Attended and presented E-Poster in FIGO 2021 World Congress on 'Peripartum Acute- Respiratory-Distress-Syndrome: Our Five-Year Experience at a Tertiary Care Hospital in India.'
Attended and presented poster on 'Aortoarteritis in pregnancy- A series of three case reports' in 43 rd Annual AOGD conference, 2021.
AOGD monthly meet March, 2022
Workshops/ CMEs/ Conference Organised
Organized Online "Comprehensive Clinical Case Discussion" for postgraduates from 30 th March to 3 rd April 2023 as faculty
Organized Online "Comprehensive Practical preparation" for postgraduates on 1 st April 2023 at HIMSR Delhi as faculty
Organized Workshop on Protocol Writing for postgraduates as organizing secretary at HIMSR Delhi on 13 th April 2023
Workshops/ CMEs/ Conference Attended
CME cum workshop on 'Managing Post Partum Haemorrhage: Concept, Practices and Advances' at HIMSR and HAHC Hospital, New Delhi on September 10, 2022
Attended the Annual GyneSurgicon A to V at HIMSR and HAHC Hospital, 2022 as faculty on December 3 and 4, 2022.
Oral presentation on 'Prognosticating maternofetal outcomes using SOFA scores in Acute Respiratory Distress Syndrome' at the 15 th World Congress of NARCHI, 2022.
Presented a paper in non-competitive category on the topic "Are we ready for the battle against cancer cervix?" at the 65 th All India Congress for Obstetrics and Gynaecology, AICOG, 2022, Kolkata
Attended Training of Trainers on Respectful Maternity Care organized by NARCHI in collaboration of Directorate of Family Welfare, Government of Delhi