Dr. Manasa Penuganchiprolu
MBBS, DNB Radio-diagnosis
Senior resident, Department of Radio-Diagnosis
Reg. Number: DMC- 84901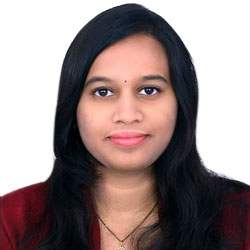 About
: I, Manasa Penuganchiprolu, working as a senior resident in the department of Radio-diagnosis, HIMSR feel  very fortunate to be a part of this institution.
I did my schooling, undergraduation from Andhra and post graduation in Delhi. I have always been passionate towards medicine, focussed and hard working since my undergraduation days. I have decent academic record with distinctions in various subjects and was awarded gold medal in  Microbiology.
Working as a senior resident, now I'm trying to gain expertise in diagnostic imaging involving all the modalities (x-ray, USG, CT, MRI).
Area of Interest
General Radiology
Fetal medicine
Educational Qualifications
| Degree | Year | Name of College & University | Registration Number | Date of Registration |
| --- | --- | --- | --- | --- |
| MBBS | 2017 | Dr. Ntr University of health sciences, vja Siddhartha medical college | APMC/FMR/98974 | 30-08-2017 |
| DNB Radiodiagnosis | 2018 | National Board of education | DMC No- 84901 | 10-11-2018 |
Publications
A spectrum of extracardiac vascular anamolies on CT angiography in pediatric patients of congenital heart diseases and its correlation with intraoperative findings – Research paper in ECR 2021, page number 190, ECR book of abstracts.
Awards
Represented Siddhartha Medical College five times in Chess Intermedics competition and won 2 Gold & 2 Silver Medals
Represented Dr. NTR University of Health Sciences twice in South Zone Inter University Chess Tournament
Represented Hyderabad region thrice in Kendriya Vidhyalaya Sangathan, Chess Nationals.
Awarded Gold Medal for securing highest marks in Microbiology, Siddhartha Medical College, 2013.
Membership of Academic Bodies Societies
Indian Radiological and Imaging Association (IRIA)
Radiological Society of North America: 2019- Present
European Society of Radiology: 2019- Present
Invited Talks and Lectures
Dhar A, Penuganchiprolu M, Aggarwal B Scientific exhibit Prediction of malignancy in thyroid nodules: is elastography useful.2019.
M. Penuganchiprolu, R. Bansal, B. Aggarwal, U. Mukherjee, H. Chaturvedi. Scientific exhibit, oral poster presentation - Depth of tumor invasion on MRI -Potential Predictor of cervical lymph node metastases in oral cavity cancers. European Congress of Radiology 2020.
Dhar A, Aggarwal B, Penuganchiprolu M. CT Spectrum of neoplastic and non-neoplastic diseases of the peritoneum. European Congress of Radiology 2020.
Dhar A, Aggarwal B, Penuganchiprolu M, Saxena V. Thyroid Nodule: clinical applications of US elastography for diagnosis of benign and malignant nodules. European Congress of Radiology 2020