Hamdard Institute of Medical Sciences & Research (HIMSR) situated in Hamdard Nagar, New Delhi, aims to expedite its scope in life sciences & health domains and provide excellent medical education. The institute is supported by HAHC Hospital that provides outstanding healthcare at an affordable cost with over 740 beds. It has 2 blocks- Block  A and B- that provides tertiary level medical care.
HIMSR has been nationally recognized as an institute that demonstrates a high standard of Undergraduate and Post-Graduate Medical Education. According to NIRF ranking 2020, it has been ranked 22nd in the Medical category.
It establishes a philosophy of Hamdard, "Compassion, concern, care and sharing in pain,,' by fulfilling the dream of Hakeem Abdul Hameed to create an institute for suffering humanity. It is a great leap forward in line with the vision of the founders of Jamia Hamdard.
As a centre of excellence in medical education, HIMSR offers courses at Undergraduate, Post-Graduate and Post-Doctoral levels in medical and allied subjects. The first batch of 100 MBBS students were inducted in July 2012 and they passed out in 2017. Last year, Post-Graduation courses also commenced in all the departments.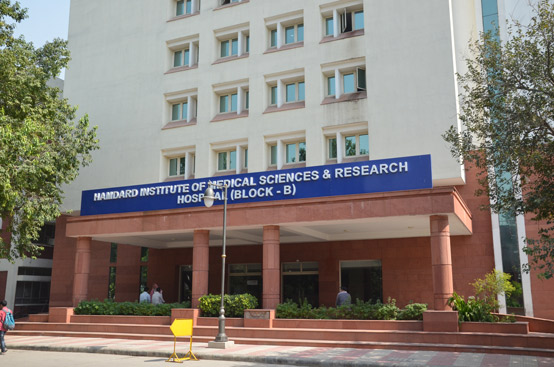 A Vision Takes Shape
Hamdard Institute of Medical Sciences & Research (HIMSR) at Hamdard Nagar in New Delhi is an ambitious project of Jamia Hamdard aimed at furthering its scope in the life sciences and health domains and providing quality healthcare at an affordable cost.
HIMSR brings together educational facilities of the highest order for the training of personnel in all esteemed branches of healthcare; and to attain self-sufficiency in Post-graduate Medical Education.
Deemed as a Self-financing, Unaided Private Institute, HIMSR is affiliated to Jamia Hamdard and is designed to become a parallel private healthcare system in New Delhi.