Dr. Priyanka Rana
MBBS
PG resident, Department of Anatomy
Reg. Number: DMC/R-13130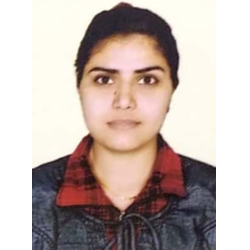 About
A medical Doctor involved in teaching Anatomy with special interest in teaching in both large & small groups, cadaveric dissection, Embalming & Embryology.
Area of Interest
Includes gross anatomy
Microanatomy.
Educational Qualifications
| Degree | Year | Name of College & University | Registration Number | Date of Registration |
| --- | --- | --- | --- | --- |
| MBBS | 2012 | Central American Health Sciences University (CAHSU) Belize Medical College, Belize, Central America. | | |
Research Work & Projects
Morphometric study of human placenta and an insight into its vascular pattern by corrosion cast technique
Membership of Academic Bodies Societies
Anatomical Society of India
Workshops/ CMEs/ Conference Attended
Attended Conference and Workshop on Karyotyping on 20th - 22nd February 2021 during International Virtual Anatomy Conference organized by the Anatomical Society, KGMC UP, Lucknow
Attended 67th National Conference of Anatomical Society of India from 18th-20th November 2019 at VMMC, New Delhi
Attended Workshop on "Preservation techniques of human body chemical and digital (3D printing) and museology on 20-21 Dec. 2019" Department of Anatomy, Maulana Azad Medical College, New Delhi
Attended CME on 07th May, 2018 CME on writing a research paper – MEU Hall, HIMSR, New Delhi.
Attended CME on 15th May, 2018 on "Immunization Update", HIMSR, New Delhi – 110062.
Attended a "Preconference CME Cum Workshop on recent advances in infertility", at AIIMS, Rishikesh conference on 11th November,2018
Attended CME cum awareness programme on "Body and organ donation-life beyond life" on 18th Sep. 2018
Attended "National Conference of Anatomical Society of India" Natcon-66, 12th -14th November, 2018, Department of Anatomy AIIMS, Rishikesh, Uttarakhand.