Dr S S Anand
MBBS, DRM, MD
Professor, Department of Radio-Diagnosis
Reg. Number: DMC-56884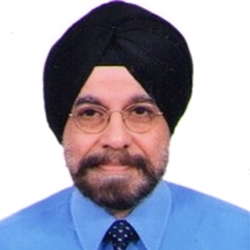 About
Working in HIMSR since Dec 2012 in various positions viz : Professor & Head of Department Radiology, Medical Superintendent HAHC Hospital and Dean HIMSR.
Actively involved in all day to day activities of the department, medical college and its teaching hospital. Have been responsible for establishing the Radiology department from scratch and ensuring its NABH accreditation within 03 years of establishment.
As Dean, HIMSR was responsible for successful PG Course inspections in 12 subjects including all clinical subjects.
Peer Reviewer for PLOS ONE Journal.
Area of Interest
General Radiology
CT
Intervention
Educational Qualifications
| Degree | Year | Name of College & University | Registration Number | Date of Registration |
| --- | --- | --- | --- | --- |
| MD | 1986 | PGIMER, Chandigarh | DMC-56884 | |
| DRM | 1982 | INMAS, Delhi | DMC-56884 | |
| MBBS | 1974 | KGMC, Lucknow | DMC-56884 | |
Deatils of Teaching Experience
| Designation* | Institution | From | To | Duration |
| --- | --- | --- | --- | --- |
| Professor | HIMSR, New Delhi | 29-01-2020 | Till Date | |
| Prof & HOD & Offg Dean | HIMSR, New Delhi | 18-08-2018 | 31-01-2020 | 1 Year 6 Months |
| Prof & HOD | HIMSR, New Delhi | 07-12-2012 | 17-08-2018 | 6 Years 7 Months |
| Prof & Dean | ACMS Delhi | 02-09-2010 | 14-08-2012 | 1 Year 11 Months |
| Professor | AH R&R Delhi | 21-01-2001 | 25-05-2008 | 7 Years 4 Months |
Awards
International Expert for IAEA 2015, Fiji Island
Fellow of Indian College of Nuclear Medicine
Membership of Academic Bodies Societies
Member of Indian Radiological and Imaging Association
Member of Society of Nuclear Medicine India
Member of Association of Nuclear Medicine Physicians India
Workshops/ CMEs/ Conference Attended
Breast Cancer awareness program at HIMSR 2016
HIMSR 1st Clinico Radiology Meet, New Delhi - 2013
HIMSR 2nd Clinico Radiology Meet, New Delhi - 2014
HIMSR 3rd Clinico Radiology Meet, New Delhi – 2015
Advances in Radiological Physics at HIMSR, New Delhi – 2015
CME on Musculoskeletal Imaging -2018
Clearmedi Radiology Update – 2016
Vice Chairman of Asia Oceania Conference of Nuclear Medicine 2008