Dr Afreen Khan
MBBS, MD
Assistant professor, Department of Paediatrics
Reg. Number: DMC-53734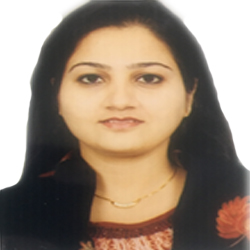 About
Dr Afreen Khan has experience in Pediatrics of over 12 years. She has always been a meritorious students and secured six gold medals while pursuing MBBS from Gandhi Medical College Bhopal. She did her postgraduation(MD Pediatrics ) from prestigious institute VMMC & Safdarjung Hospital, Delhi ; Senior residency from Lady Hardinge Medical College & Kalawati Saran Childrens Hospital, New Delhi and also worked for a brief duration in G B Pant Hospital. She is a lifelong learner and a devoted paediatrician. She emphasises the importance of holistic childhood development(physical, social emotional and mental) and how it is important in shaping up the children of our country into happy , healthy and bright individuals.
Educational Qualifications
| Degree | Year | Name of College & University | Registration Number | Date of Registration |
| --- | --- | --- | --- | --- |
| MD | 2014 | Vardhaman Mahavir Medical College and Safdarjung Hospital, New Delhi | DMC-53734 | |
| MBBS | 2010 | Gandhi Medical College, Bhopal, Barkatullah University | DMC-53734 | 29-08-2011 |
Deatils of Teaching Experience
| Designation* | Institution | From | To | Duration |
| --- | --- | --- | --- | --- |
| Assistant Professor | HIMSR, New DElhi | 03-06-2019 | Till Date | |
| Clinical Research Co-ordinator | VMMC & Safdarjung Hospital/CDSA/WHO | 16th Aug 2019 | 12th Jan 2019 | 6 Months |
| Senior Resident | LHMC & Kalawati Saran Children's Hospital | 28-04-2015 | 27-07-2018 | 3 years 3 months |
| Senior Resident | G.B.Pant Hospital, New Delhi | 24-09-2014 | 21-12-2014 | 3 Months |
Publications
Khan A, Ishani T, Farooq I et al. Rare case of Autoimmune Hemolytic Anemia (AIHA)with Protein S deficiency with Splenic infarct.. Asian Journal of transfusion Medicine(xxxxAccepated for publication on 30th April2023.
Parakh N, Khan A, Sharma S, Chandra J .Clinico-Hematological Profile and Management of Patients With Non-Transfusion Dependent Thalassemia (NTDT) at a Pediatric Center in Northern India. Indian Pediatrics(XXXX) accepted for publication on 12/4/23
KHAN A, CHAKRAVARTY A, NAQISHBANDI R, HARISH R, KAMILI F. Association of Multisystem Inflammatory Syndrome Temporally Associated with COVID-19 (MIS-C) with Coinfections: A Retrospective Cross Sectional Analytical Study from Northern India. Journal of Clinical and Diagnostic Research. 2022 May 1:SC06-10.
Khan A, Chakravarty A, Mahapatra J.Impact of COVID-19 pandemic on childhood immunization in a tertiary health care center.Indian J Community Med 2021;46
Parakh N, Khan A, Sharma S, Chandra J. Clinical profile and management of HbE-β thalassemia in children: Experience from a tertiary care center in North India. Iran J Ped Hematol Oncol. 2021; 11 (3) :183-191
Khan A, Chakravarty A, Mohapatra J. Unusual cardiac manifestation of Hepatitis A virus infection in children–A case report. Indian Journal of Child Health. 2020 Dec 30;7(12):500-2.
Khan A, Yadav J, Debata P, Mohapatra J, Kabi B. Association of Serum Vitamin D levels and recurrent wheezing in children.Journal of clinical diagnostic and research. 2018,10: SC06-SC09.
Khan A, Chakravarty A, Naqishbandi R, et al. Atypical presentation of acquired tracheo-oesophageal fistula in an adolescent girl with pulmonary tuberculosis BMJ Case Reports CP 2022;15:e242384
Khan A, Chakravarty A, Jain A, Harish R, Naqishbandi R, Ishani T. Clinical spectrum of neurological manifestations in pediatric Covid-19 illness: a case series. Journal of Tropical Pediatrics. 2021 Jun;67(3):fmab059.
Research Work & Projects
Worked as CRC in prestigious WHO project entitled " Immediate skin to skin contact (Immediate kangaroo mother care)
Spectrum of pediatric COVID illness and its association with Non SARS-CoV-infection: A Study from North India"
Principal Investigator in Acute Diarrhoeal surveillance and molecular testing for Shigella in India.
Study of WHO- IYCF indicators and association of WHO complementary feeding indicators with the nutritional status of children 6-23 months in an urban setting(as co-guide)
Awards
Certificate of highest marks in Anatomy (Gold medal)
Certificate of merit (Gold medal )
Certificate of honour in Anatomy (Gold medal )
Certificate of highest marks in Pathology
Certificate of Distinction in Pathology
Certificate of Appreciation First Rank March 2007 (Gold medal )
Mr S.H.Mahalaha Medal for Meritorious student of IInd Prof
3rd Prize in Poster presentation North Zone Pedicon(presented by dr Rajni-PG )
Membership of Academic Bodies Societies
Lifetime membership of Indian Academy of Pediatrics
Lifetime member of NCDPA-IAP
Lifetime member of Medical education Chapter MEC- IAP
Executive Board Member IAP-NCDPA(2023-2024)
Invited Talks and Lectures
Member of organizing committee NCD-PED-CON 2022 held on 10-12-22
Delivered a talk on "Diagnosis of obesity in different age groups" as Faculty- NCD Ped Con 2022 (10-12-22)
Presented a poster in Pediatric Hematology Oncology Conference Clinical profile and management of HbE-β thalassemia in children: Experience from a tertiary care center in North India
Workshops/ CMEs/ Conference Organised
Organized ToT on Newborn hearing screening under CIAP action plan
32nd IAP Paediatric Quiz for Undergraduates 2019
32nd IAP Paediatric Quiz for undergraduates in the divisional round
Workshops/ CMEs/ Conference Attended
17th Indian Pediatrics "Workshop on Art & Science of paper writing"/Sep 2019
Training Programme on Good Clinical Practice at VMMC & SJH, New Delhi organised by Clinical Development Services Agency(CDSA)
E- Add On Course with DELHI STATE LEGAL SERVICES AUTHORITY/ 10.8.20 to 14.09.2020
ICH GCP Training Programme conducted by Neogenesis Clinical Research , 25th August 2020
IMAGICON organized by IAP North Delhi, 2020
E- Hematocon organized by IAP North Delhi , July 2020.
Participated in Pediatric Conference of North India & North India pediatric infectious Disease/2-5th December 2020
Revised Basic Course Workshop in Medical Education Technologies/ 6th to 8th April, 2021
2nd Delhi Respicon 2019 organised by pediatrics Respiratory Society/Sep 2019
Pedicon NZ & PCNI 2019 organised by IAP, Delhi/ Sep 2019
CME on Thalassemia and the launch of Thalassemia Transition care initiative/May 2018
Delhi Respicon organized by Pediatrics Respiratory Society Delhi/2018
Certificate course in Pediatric Ultrasonography & Echocardiography(PILSE 2016) organized by Sir Ganga Ram Hospital , New Delhi
28th Annual National Conference of IAP Respiratory Chapter/ Nov 2016
52nd Annual National Conference of Indian academy of pediatrics, New Delhi.
AIIMS Pediatric Pulmonology & Intensive Care Course Module III: Mechanical ventilation