Dr. Anil Kumar Jain.
MBBS, MD
Professor, Department of Medicine
Reg. Number: DMC-11374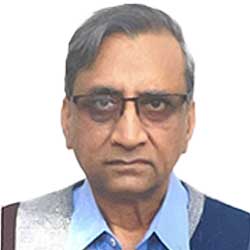 About
Dr Anil Kumar Jain has a vast teaching, clinical and research experience. He has worked as a research officer on RFPP with Dr S Padmavati at All India Heart Foundation. Dr Jain had been involved in GI clinic and Diabetes clinic at Safdarjung and RML hospital. He was also the nodal officer and teacher of practitioners on Avian influenza and Swine Flu.
Educational Qualifications
| Degree | Year | Name of College & University | Registration Number | Date of Registration |
| --- | --- | --- | --- | --- |
| MBBS | 1978 | BRDMC, Gorakhpur | | |
| MD | 1984 | BRDMC, Gorakhpur | 11374 | |
Deatils of Teaching Experience
| Designation* | Institution | From | To | Duration |
| --- | --- | --- | --- | --- |
| Professor | HIMSR, New Delhi | | Till Date | |
| Professor | NDMC medical College, Hindu Rao Hospital | 04/09/21 | 29/3/22 | 6 months |
| Professor | RML, New Delhi | 27/3/2017 | 31/7/2020 | 3 years, 4months, |
| Associate Professor | VMMC | 15/4/2010 | 27/1/2012 | 1 year, 9 months, |
| Associate Professor | VMMC | 02/5/2005 | 14/4/2010 | 4 years, 11months, |
| Supervisor | Delhi University and Safdarjung Hospital | 01/3/1990 | 01/5/2005 | 15 years, 2 months. |