Dr. Bhumika Upadhyay
M.sc, PhD (Medical Biochemistry)
Assistant professor, Department of Biochemistry
Reg. Number: DMC-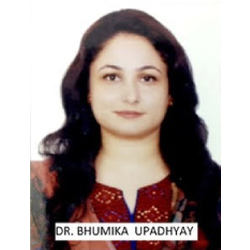 About
Dr. Bhumika Upadhyay has obtained her M.Sc. Medical Biochemistry from Sikkim Manipal Institute of Medical sciences and research , Sikkim and Ph.D. (Medical Biochemistry) from Jamia Hamdard, New Delhi. She has more than 12 years of Post-PG research and teaching experience and has quite a few papers published in National and International Journals of high repute. She is trained in various research techniques used in biomedical research. She has done her PhD research on "Identification of biomarker(s) for Type 2 Diabetes Mellitus and Oral Cancer induced by tobacco abuse". Her area of specialization is Cancer proteomics, non-communicable disease and non-invasive biomarkers. She has co-supervised many MSc students in biochemistry for dissertation research projects. She has also hosted various events at HIMSR as master of ceremony, she is an active member of the lecture theatre team and cultural committee at HIMSR. From teaching MBBS and PG students to handling clinical biochemistry lab in hospital all these years has helped her to gain knowledge various aspects of Biochemistry.
Area of Interest
Proteomics
Non invasive Biomarkers
Diabetes research.
Educational Qualifications
| Degree | Year | Name of College & University | Registration Number | Date of Registration |
| --- | --- | --- | --- | --- |
| PHD (Medical Biochemistry) | 2021 | HIMSR, New Delhi | | |
| M.Sc Medical Biochemistry | 2006 | Sikkim Manipal Institute of medical sciences and research, Sikkim Manipal University | | |
Deatils of Teaching Experience
| Designation* | Institution | From | To | Duration |
| --- | --- | --- | --- | --- |
| Demonstrator | HIMSR, New Delhi | 12-04-2008 | | |
Research Work & Projects
Co-supervised M.Sc thesis dissertation work.
Awards
INSC young researcher award 2020.
Membership of Academic Bodies Societies
Institute of scholars (INSC) member 20202575
Workshops/ CMEs/ Conference Organised
CME on World Diabetes Day organized by Department of Biochemistry & Medicine, HIMSR, New Delhi on 13th November 2017.
UGC-SAP sponsored National Conference on chronic inflammatory diseases 13-15 feb 2014, Department of Biochemistry, HIMSR, New Delhi
Indian society for atherosclerosis research & CME (ISARCON -2015), Department of Biochemistry, HIMSR, New Delhi, 29TH-31ST October 2015.
Workshops/ CMEs/ Conference Attended
I have completed my basic course in Biomedical research from NPTEL SWAYAM
Completed Medical Education technology workshop on 29.11.2019.
Presented paper and attended workshop on Systems Biomedicine and Network Pharmacology in NCCS Pune on 27.03.2019.
Presented a paper in Proteomic Based Biomarker for animal and plant disease-UGC SAP (DRS-1) National Seminar, Jamia Hamdard on 2.3.2013.
Attended workshop on Research paper writing 29.10.2017.
CME on metabolic syndrome and tumor marker –AMBI CME 19.09.2014.
Attended 4 day workshop on Basic Molecular Biology techniques relevant to cancer research on 4.04.2016, NICPR NOIDA.
Participated in pharmacovigilance: A tool to ensure drug safety –HIMSR on 21.11.2019.
Attended symposium on Advances in Cardiac Biomarkers: An Update. GB Pant institute of medical education and reseach New Delhi on 23.04.2016.
CME on immunization updates – HIMSR on 27.04.2016.
Attended Recent advancement in food fortification conference on 16.09.2018.
Attended workshop on clinical research and bioethics at HIMSR on 24.02.2015.
Attended CME on elimination of hepatitis – HIMSR on 17.12.2016.
Emcee of event for ISARCON -2015.
Organising member of ISARCON -2015.
Attended CME on Clinical Research –HIMSR 16.05.2017.
Attended CME on Tuberculosis-Jamia Hamdard. 27.03.2018.
Attended CME on neurophysiology-HIMSR 12.09.2017.
Organising member of world Diabetes day- HIMSR 13.11.2017.
Attended Symposium on Tobacco free campus-HIMSR on 20.7.2011.
Executive member of National Medical M.Sc Teachers association.