Dr. Gurdeep Singh Sabhikhi
MBBS, MD
Professor, Department of Radio-Diagnosis
Reg. Number: DMC-34983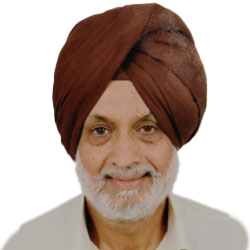 About
I am graduate and post graduate from AFMC Pune. Did my MD radiology 1990. Served
as radiologist in AFMS till Aug 2007. Professor of radiology since 1999. In service
inter-venational radiology experience for 5 year from 1995-1999.
I have been professor of radiology of various medical colleges, rama medical collage,
Al-Flah School of medical science and research and Sharda Medical college/ Sharda
university.
Now am professor in radio-diagnosis in HIMSR from 6.02.2023.
Area of Interest
I have interest in cross sectional anatomy.
Educational Qualifications
| Degree | Year | Name of College & University | Registration Number | Date of Registration |
| --- | --- | --- | --- | --- |
| MBBS | 1983 | AFMC/ University of Pune | MCI No 3682 | 21-07-1983 |
| MD | 1990 | AFMC/ University of Pune | DMC 34983 | 24-07-2007 |
Deatils of Teaching Experience
| Designation* | Institution | From | To | Duration |
| --- | --- | --- | --- | --- |
| Professor | HIMSR, New Delhi | 06-02-2023 | Till Date | |
| Professor | Al-Falah School of Medical Sciences | 13-11-2017 | 02-08-2019 | 2 years |
| Professor | Rama Medical College, Kanpur | 30-03-2008 | 09-09-2009 | 1 Year |
| Professor | AFMS | Aug-1999 | Aug-2007 | 7 Years |
| Associate professor | AFMC, Pune | Aug-1995 | July-1999 | 4 years |
| Assistant professor | AFMS | Oct-1990 | July-1995 | 5 Years |
Publications
Co-auther, Bronchial arteriography and transcatheter embolization in Life threatening Hemoptysis Medical journal of armed forces India MJAFI 1999 Vo 55:182-192
Co-author vascular embalotherapy How much we have achieved medical journal of armed forced India MJAFI Jul 2000 volume 56: 110-112
Co-auther Sino nasal Mucormycotic Diagnosis using computed tomography Medical journal of armed forced India MJAFI jul 2003 volu 59 no 03:243-245
Principle author What MRI can do in suspected no degenerative cases of compressive myelopathy GJRA ( Global journal for research analysis ) July 2021 vol 10 issue 07
Corresponding author firbolipmatous hamartoma of median nerve journal of orthopedic case report November 2021 vol 11 page 69-73
Principle author evaluation of diffuselung disease of High resolution computed tomography of chest & its correlation with PFT & DLCO GJRA ( Global journal for research analysis ) June 2022 volume 11 issue 06
Research Work & Projects
Research co worker AGMRC project Bronchial Artery Embolisation Using PVA particles and steel coils in management of severe recurrent hemoptysis 2168/97
Membership of Academic Bodies Societies
Workshops/ CMEs/ Conference Organised
Participant European congress of radiology march 2010, Vienna
Organiser interventional radiology conference 2005 AHRR Delhi