Dr. Kriti Malhotra
MBBS, DMRD, DNB
Assistant professor, Department of Radio-Diagnosis
Reg. Number: DMC-6623
kriti_malhotra51@yahoo.co.in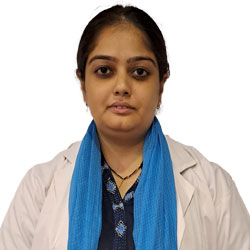 Educational Qualifications
| Degree | Year | Name of College & University | Registration Number | Date of Registration |
| --- | --- | --- | --- | --- |
| MBBS | 2010 | BLDEA'S Shri B.M.Patil medical college RGUHS | DMC-6623 | |
| DMRD | 2013 | Himalayan Institute of Medical Sciences, Dehradun | DMC-6623 | |
| DNB | 2018 | K. J. Somaiya Medical College And Research Centre, Mumbai | DMC-6623 | |
Deatils of Teaching Experience
| Designation* | Institution | From | To | Duration |
| --- | --- | --- | --- | --- |
| Senior Resident | HIMSR, New Delhi | 13-11-2018 | 13-11-2021 | 3 Year |
Publications
Jain A, Shaikh A, Malhotra K. Handshake habit amongst medical practitioners, need to abandon and embrace an alternative: analytical study in view of COVID-19 pandemic. International Journal of Community Medicine and Public Health. 2020 Jun;7(6):2352
Kumari A, Sharma P, Tikku G, Malhotra K. Primary endobronchial carcinoid tumour: Case report and review of literature. Clinical Medicine Journal. 2015;1(2):43-7.
Published Breast Elastography, Our Initial Experience with Strain and Shear Wave Elastography, in IJSRM, vol: 10, Issue:3,Rajiv Ranjan Kumar, Pankaj Sharma, Yasrab Khan, Kriti Malhotra, Yahya Mohsin Ali Khan, Renuka P, September 2018; as a co-author.
Thamba AM, Malhotra K. Peripheral primitive neuroectodermal tumour of the pleura in a young adult-a case report. Journal of Evolution of Medical and Dental Sciences. 2017 Jul 6;6(54):4107-10.
Awards
President Appreciation Award 2018-19, in Delhi Imaging Update-2019, New Delhi by Delhi State Chapter of IRIA
President Appreciation Award 2015-16, in Delhi Imaging Update-2016, New Delhi by Delhi State Chapter of IRIA
Membership of Academic Bodies Societies
Invited Talks and Lectures
Delivered lecture at CME on Basics and Clinical Application Of Radiology at Hamdard Institute Of Medical Sciences And Research,New Delhi on 8th-9th October 2021.
Lecture on fetal spine in Webinar organised by ICRI / IRIA on 20 June 2021.
RICON UK 2018, 10TH Annual Conference of IRIA Uttarkhand State Chapter, on 24-25th March 2018 at Bhimtal.
Workshops/ CMEs/ Conference Attended
Paper on Role of Strain Wave Elastography in Breast lesions during Oncology Imaging & Interventions 2018 held at Delhi State Cancer Institute, Delhi on May 27, 2018 as Main Author
Paper on The Role of B scan Ultrasonography in evaluation of Posterior Segment of Eye in Hazy Media, at The 17th Asian Oceanian Congress and The 71st Annual Conference of the IRIA at Mumbai, 25th-28th January,2018, as Main Author.
Paper on Assessment of 2017 Version of Li-Rads for CT Imaging, at The 17th Asian Oceanian Congress and The 71st Annual Conference of the IRIA at Mumbai, 25th-28th January,2018, as Main Author.
Poster on Lemmel's Syndrome, at The 17th Asian Oceanian Congress and The 71st Annual Conference of the IRIA at Mumbai, 25th-28th January,2018, as Main Author.
Paper on A Prospective Cross-sectional Study for Assessing the Role of B scan Ultrasonography in evaluation of Posterior Segment of Eye in Hazy Media, in monthly meeting of Delhi State Chapter of IRIA, on 23rd December, 2017, at Delhi State Cancer Institute, Delhi.
DR. ML Aggarwal Memorial CME on 14th October 2021 as organizing committee member
CME on Basics and Clinical Application Of Radiology at Hamdard Institute Of Medical Sciences And Research,New Delhi as organizing committee member on 8th-9th October 2021.
Sonosummit 2021, as moderator on 27th-29th Aug 2021.
Fetal Radiology course 2021, as delegate, on 28th-31st January 2021.
Global Radiology conclave 2020, as delegate, on 18th-20th Dec 2020.
Ultravision 2018, as a State Council Member, Delhi State Chapter of IRIA, 6th-7th October 2018.
Interventional Radiology CME, as a State Council Member, Delhi State Chapter of IRIA, 19th August 2018.
Oncology Imaging & Interventions 2018, as a Co-ordinator & State Council Member, held at Delhi State Cancer Institute, Delhi on May 27, 2018
Fetal Radiology Update 2018, by IRIA, as a delegate , at IRIA house, on 13th May 2018
Delhi Imaging Update 2018, as a Organizing Committee member, held at Lady Harding Medical College, New Delhi on Feb 23-25, 2018.
The 17th Asian Oceanian Congress and The 71st Annual Conference of the IRIA, as Delegate, at Mumbai, 25th-28th January,2018.
Star Primar; as a delegate; at Govt Stanley Medical College, Chennai, 19th -21st January 2018.
Hepatobiliary Imaging & Interventions CME, as a delegate, at ILBS, New Delhi on 18th November, 2017.
Ultravision 2017, as an Organizing Committee Member, Delhi, 15th- 16th July 2017.
IREP, as a delegate, at MAMC, New Delhi, 10th-12th September, 2016.
3rd KSR-IRIA Friendship Symposium 2016, as a Coordinator, New Delhi, on 23rd July 2016.
Dr, Harnam Singh mid-term CME 2016, as a delegate, at PGIMER & RML Hospital,21st-22nd May 2016
Delhi Imaging Update 2016, as a delegate, held at AIIMS, New Delhi on Feb 20-21st, 2018.
Specialized Training in Advances in Radiology, by Star India, as a delegate on 27th September 2015
Recent Advances in Breast Imaging, as a delegate, at INMAS, 4th September 2015.
Update on Oncology Imaging and Interventions 2015, as a Member of Organizing Committee, New Delhi, on 30th August, 2015
KSR-IRIA Friendship Symposium 2015, as a Member of Organizing Committee, New Delhi, on 25th July 2015.
Breast Imaging and Interventional Workshop, as a delegate, at Medanta, Gurgaon on 28th-29th March 2015.
Delhi Imaging Update 2015, as a delegate, held at GIPMER, New Delhi, 28th Feb- 1st March 2015.
CME on Genitourinary Interventions, as a Delegate, at IRIA house, on 27th December, 2014.
Update on Oncology Imaging and Interventions 2014, as a delegate, DSCI New Delhi, on 27th July, 2014.
IRIA Uttarkhand Chapter, 5th Annual Conference, 23rd-24th March,2013 Rishikesh
IRIA Resident Education Programme (IREP) , Uttarkhand , 26th- 27th October,2013 Dehradun
IRIA Resident Education Programme (IREP) ,Amritsar, 2012 IRIA
IRIA CME-CUM-WORKSHOP ,2011, Dehradun