Dr. Neel Aggarwal
MBBS
PG resident, Department of Orthopedics
Reg. Number: RRE -93644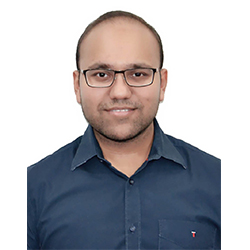 About
Dr. Neel Aggarwal is a PG Resident in the Dept of Orthopaedics at HIMSR and HAHC Hospital, New Delhi.
He maintains a balance between academics and extracurricular activities and has been the Head of Photography of his college's Editorial Board during his under-graduation. He has also been a part of the antibiotic stewardship programme and served as a member of the surgical society "Cutting Edge" at KMC Manipal. He has also attended various workshops and undergraduate conferences during the course of his MBBS studies.
At HIMSR he has participated and won 1st place in the Healthcare Worker safety day poster competition. He has also participated in the DOACON e-poster competition 2020.
He has actively participated in Clinico-Radiological Meetings and presented seminars in the department.
Area of Interest
Orthopaedic Surgery
Trauma
Emergency care
Educational Qualifications
| Degree | Year | Name of College & University | Registration Number | Date of Registration |
| --- | --- | --- | --- | --- |
| MBBS | 2019 | Kasturba Medical College, Manipal, Manipal Academy of Higher Education | KMC-130782 | 28-04-2019 |
Research Work & Projects
Ongoing thesis – "Predictors of Functional Outcomes of Nonoperatively treated extra articular distal end radius fractures in older individuals: A prospective clinical study"
Awards
1st prize in Healthcare Worker Safety Poster competition – HIMSR 2020
Workshops/ CMEs/ Conference Attended
EM Karnataka – National Emergency Medicine Conference , St John's Medical College – 2018
MEDINSPIRE 2019 - Multidisciplinary medical conference, Dr. D. Y. Patil Medical College, Navi Mumbai, Feb 2019
Surgical Skills – Suturing workshop – HIMSR 2021 – organized by the dept of OBGyn