Dr. Pratibha Roy
MBBS, MD
Assistant professor, Department of Obstetrics and Gynecology
Reg. Number: DMC-12039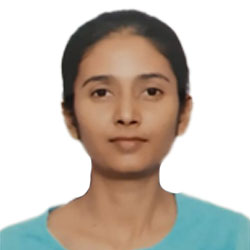 Area of Interest
Reproductive Medicine & Surgery
Educational Qualifications
| Degree | Year | Name of College & University | Registration Number | Date of Registration |
| --- | --- | --- | --- | --- |
| MBBS | 2013 | LHMC & SSKH, New Delhi | DMC-12039 | |
| MS | 2019 | LHMC & SSKH, New Delhi | DMC-12039 | |
Deatils of Teaching Experience
| Designation* | Institution | From | To | Duration |
| --- | --- | --- | --- | --- |
| Assistant Professor | HIMSR, New Delhi | | Present | |
| Senior Resident | LHMC & SSKH, New Delhi | 02-09-2019 | 01-09-2022 | 3 Years |
Publications
Yadav R, Chopra K, Roy P, Vats B. Meticulous management of a case of severe ovarian hyperstimulation syndrome using dopamine agonist and GnRH antagonist: a case report. J Infertil Reprod Biol. 2020;8(3):53-56.
Singh S, Agarwal S, Puri V, Aggarwal S, Roy P, Gupta A, Puri M. Gas gangrene of the uterus following surgical abortion: A rare case report. Int J Gynecol Obstet. 2021;00:1-2.
Research Work & Projects
Thesis work on "OUTCOME OF EXPECTANT MANAGEMENT OF PRETERM PREMATURE RUPTURE OF MEMBRANE IN PREGNANCIES BETWEEN 24 TO 28 WEEKS OF GESTATION" ( 2016 -2018).
Membership of Academic Bodies Societies
Lifetime membership of NARCHI, Delhi.
Invited Talks and Lectures
Laparoscopic findings of pelvis in infertile women with previous extra genital tuberculosiss at 40th annual conference, AOGD, Delhi.
Effect of the duration of latency period on perinatal outcomes amongst women with preterm premature rupture of membrane at 24 to 28 weeks of period of gestation on expectant management in NARCHICON, 2022, Delhi
Workshops/ CMEs/ Conference Organised
Obstetrical Critical Care Course organized by Delhi Gynaecologist Forum & VMMC, New Delhi.
Workshops/ CMEs/ Conference Attended
Workshop on "Intrapartum Skills"-39th annual conference, AOGD, LHMC & SSKH, New Delhi on 17th November, 2017.
PG Academic Programme- AOGD, Delhi in association with FOGSI, Delhi on 5-6th May,2018.
CME cum Workshop on Contraception- AOGD, LHMC & SSKH, New Delhi on 20th July, 2018.
Post graduate training programme in infertility- Infertility Committee, AOGD, Delhi at LHMC & SSKH on 1st September.
21st Practical course & CME in Obs & Gynae- MAMC & LNH, New Delhi on 7th-9th September.
CME on Diabetes in pregnancy- LHMC, under aegis of AOGD & DDF on 1st November, 2018.
Workshop on Ovulation Induction and Follicular tracking- 40th annual conference, AOGD, Delhi at LHMC & SSKH on 23rd November,2018.
40th Annual Conference- AOGD, Delhi on 24th & 25th November,2018 at Indian Habitat Centre, Lodhi Road, New Delhi.
CME cum Public Forum on Diabetes in Pregnancy- LHMC & SSKH, New Delhi on 15th November.
CME on Maternal Fetal Medicine- at AIIMS under aegis of AOGD Fetal Medicine Subcommittee.