Dr. Qazi Jameel
BDS, MDS (ORAL AND MAXILLOFACIAL SURGERY)
Senior resident, Department of Dentistry
Reg. Number: A-3130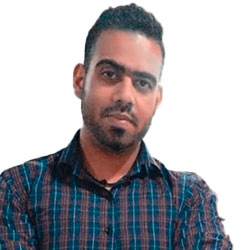 About
I graduated from M.A.RANGOONWALA COLLEGE OF DENTAL SCIENCES & RESEARCH CENTRE, PUNE in the year 2016. Then I did junior residency in dentistry from HAMDARD INSTITUTE OF MEDICAL SCIENCES and  HAHC HOSPITAL from 2017 to 2019. Then I went to pursue my MDS in ORAL AND MAXILLOFACIAL SURGERY from HYDERABAD in 2019 which I completed in December 2022 with 73% marks.
Area of Interest
Oral And Maxillofacial surgeries.
Root canal treatment
Implantology
Educational Qualifications
| Degree | Year | Name of College & University | Registration Number | Date of Registration |
| --- | --- | --- | --- | --- |
| BDS | 2016 | M A Rangoonwala College Of Dental Sciences & Research Centre | A-3130 | 12-10-2016 |
| MDS | 2022 | Kamineni Institute of Dental Sciences Hyderabad | A-3130 | 04-03-2023 |
Membership of Academic Bodies Societies
Member of Association Of Oral Maxillofacial Surgeons Of India.
Workshops/ CMEs/ Conference Attended
CDE programme in Prosthodontics And Implantology. "Rehabilitation of Atrophic Edentulous Arches with Tilted Implants." in department of Prosthodontics And Implantology at Kamineni Institute Of Dental Sciences (Sreepuram, Nalgonda, Telangana)
CME And Cadaveric Workshop, Hands on Training in Surgical Skills on Cadaver. In collaboration with the Department of Anatomy And Forensic Medicine at Kamineni Institute Of Medical Sciences (Narketpally, Hyderabad) of Dental Sciences (Sreepuram, Nalgonda,Telangana)
Workshop on Enigma of Mandibular Condyle Fractures at Jubilee Ridge, Hyderabad.
Workshop on Facial Esthetics conducted by the department of Oral And Maxillofacial Surgery at Kamineni Institute Of Dental Sciences (Sreepuram, Nalgonda, Telangana)
44th Annual Conference, Bengaluru, 2019.
4th Annual Conference Of Telangana State chapter, Vikarabad 2020.
Annual Conference of AOMSI (MIDCOMS) 2021.