Dr. Sana Salim Khan
MBBS, MD Pediatrics
Assistant professor, Department of Paediatrics
Reg. Number: DMC-75864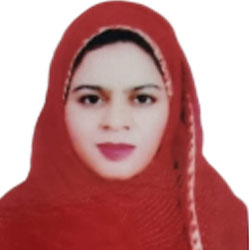 About
Dr. Sana Salim Khan is working as an Assistant Professor in the Department of
Pediatrics.She completed her Post Graduation in Pediatrics from Deccan College of Medical
College,Hyderabad. She has worked as a senior resident in the dept of neonatology at the
prestigious ABVIMS and Dr. RML hospital. She has completed her Senior residency from
NDMC college and Hindu Rao hospital. She is also a medical writer for a national
newspaper,the Rising kashmir where writes articles regularly regarding the health of
children and its community implications.
Area of Interest
Pediatric Critical care,neonatology ,teaching of undergraduates and postgraduate students.
Educational Qualifications
| Degree | Year | Name of College & University | Registration Number | Date of Registration |
| --- | --- | --- | --- | --- |
| MBBS | 2009 | Khaja Banda Nawaz Institute of Medical Sciences,Rajiv Gandhi university of health Sciences | DMC-75864 | 30-06-2016 |
| MD | 2015 | Deccan college of medical sciences.Dr. NTR university of health sciences | DMC-75864 | 30-06-2016 |
Deatils of Teaching Experience
| Designation* | Institution | From | To | Duration |
| --- | --- | --- | --- | --- |
| Assistant Professor | HIMSR, New Delhi | 15-12-2021 | Till Date | |
| Senior Resident | North Delhi medical College,Hindu Rao hospital | 07-05-2018 | 07-05-2020 | 2 Years |
| Senior Resident | ABVIMS,Dr. RML and teaching hospital | 02-11-17 | 06-05-2018 | 6 Months |
Publications
Accidental poisoning its magnitude and implications in children..Naseem A, Khurram S. A, Khan S. S, Khan S. K. A, Lalani N Int J Pediatr Res.2016;3(6):400-409.doi:10.17511/ijpr.2016.i06.06
IMPACT OF MATERNAL RISK FACTORS ON THE INCIDENCE OF LOW BIRTH WEIGHT NEONATES IN SOUTHERN INDIA U.N.Reddy , Vamshi Priya , Swathi Chacham , Sana Salim Khan, J Narsing Rao , Mohd Nasir Mohiuddin
"Mixed glial choristoma of tongue and gastro-intestinal heterotopia of oral cavity in a newborn with cleft palate." Journal of Evolution of Medical and Dental Sciences, vol. 3, no. 21, 26 May 2014,S. Pratap Rao, B. Jyothsna, Sana Salim khan.
Infantile pompe's disease in a female neonate with a significant family history : A case report . Sana salim khan,Swathi Chacham,S. Pratap Rao,UN Reddy. sch j med case report 2014,2(5),333-335
A Rare Case of Pseudotrisomy-13 in a Male Neonate with Alobar Holoprosencephaly, Ethmocephaly and Postaxial Polydactyly International Journal of Research in Health Sciences,2014,2,3,879-883.Published:July 2014.Authors:Swathi Chacham, Uppin Narayan Reddy, Madhavi Noori, J.Narsing Rao, Sana Salim Khan, Jakkampudi NagaSravani, and Afreen Mahmood
Membership of Academic Bodies Societies
lifetime member of Indian Academy Of Pediatrics
life time member of National Neonatology forum
member Indian Academy of Pediatrics, Delhi
member IAP National Respiratory Chapter
Workshops/ CMEs/ Conference Organised
UG and PG quiz poster competition during breastfeeding week at himsr and hahc hospital.
Workshops/ CMEs/ Conference Attended
Basic life saving(BLS),advanced life saving(als)
Pediatrics advanced life savings(PALS),
Advanced neonatal resuscitation (NRP),
Ventilation workshop (National Pedicon).
poster and paper presentation at national neocon
paper presentation at state pedicon