Dr. Yasmeen Abdullah
MBBS
Demonstrator, Department of Community Medicine
Reg. Number: 36731
yasmeentariq@rediffmail.com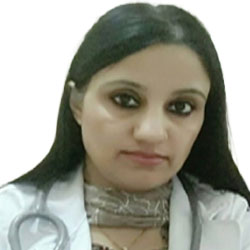 About
I have working as LMO at RHTC since 2016. My responsibilities include.
1. Diagnosis and management of patients in OPD and IPD
2. Overall supervision of various activities at the center which includes:
Field survey, health talks, counseling of patients, referral of patients to HAHC and other
administrative services at the center.
3. Training of interns, MPH students and nursing students by involving them into various
activities and proceed at the center.
4. Participation in immunization session at RHTC.
Area of Interest
Working in coordination with the nearby anganwadis
Encouraging females to visit hospital for Antenatal treatment and deliveries.
Organizing different health education programs and free health camps at the center.
Educational Qualifications
| Degree | Year | Name of College & University | Registration Number | Date of Registration |
| --- | --- | --- | --- | --- |
| MD Physician | 2002 | Kazakh National Medical University | 36731-DMC | |