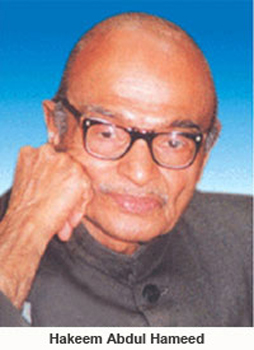 The founder of Jamia Hamdard was a multi-dimensional personality, a dreamer, a visionary and more than anything else, a philanthropist, who always had public service as his driving force. Even during the traumatic events of partition of the country, he had a dream of setting up a complex of educational institutions, which would revive interest in India's enormous contribution to the world of medicine and science. The first institution in the Tughlaqabad campus was Institute of History of Medicine and Medical Research (IHMMR), whose foundation stone was laid on November 15, 1962 by Pandit Jawaharlal Nehru, former Prime Minister of India. Pandit Nehru, in his speech had said that this unique institution for research on history of medicine would provide a new insight into India's unique contribution to the development of Unani-tibb in the subcontinent.
Hakeem Abdul Hameeed had realized that Unani-tibb is a unique heritage of interaction between Indian and Central Asian knowledge streams and it was only in India that tibb had flourished under the patronage of great Mughals.
He continued the mission of Hakeem Ajmal Khan in providing new dimensions to Unani-tibb by way of research on different aspects of its healing potential.
The institutions set up by him over a period between 1962 and 1989 were later amalgamated into Jamia Hamdard which was granted the status of a 'Deemed University' by the ministry of Human Resource Development, Government of India.
Jamia Hamdard has made rapid strides in the field of higher education by providing quality education at affordable cost, and has evolved as an institution of excellence which lays emphasis on research in emerging areas of herbal, pharmaceutical and biological sciences. It has been accredited by the National Assessment and Accreditation Council (NAAC) as an 'A' grade University, the only one in Delhi, so far. With the humble, the University now consists of Nine faculties, namely, HIMSR, Pharmacy, Science, Medicine (Unani), Management, Engineering & Technology, Social Sciences and Humanities, Nursing and Interdisciplinary Sciences and Technology
Hakeem Abdul Hameed aimed at all-round growth and happiness to the society by providing opportunities for education and development of services and health care. It was his pioneering spirit that has always inspired Jamia Hamdard to successfully undertake multi dimensional projects in the service of society and nation at large.