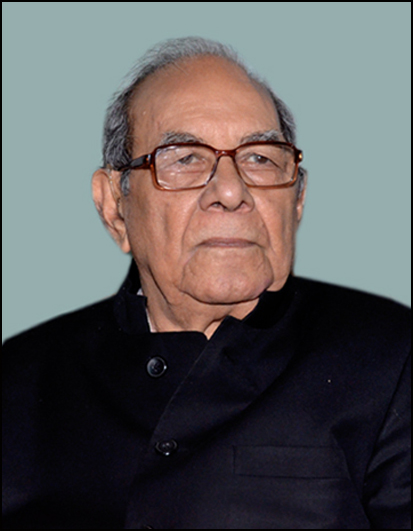 Mr. Syed Shahid Mahdi
Mr Syed Shahid Mahdi has taken charge as the fourth Chancellor of the Jamia Hamdard. He follows into the footsteps of Dr. Habil Khorakiwala , Chairman , Wokchardt Ltd who recently completed his tenure as the Universty's Chancellor . An alumnus of the prestigious Aligarh Muslim University , he did his MA in History with Political Science and joined the Indian Administrative Service (IAS), in 1963 attaining the second position in the batch. Ahead of joining, Jamia Hamdard's top most position, Syed Shahid Mahdi had had a long and an illustrious career as an Indian bureaucrat who had served in different coveted positions both at the state and centre. He is amongst the few who served as India's Alternate permanent Representative to the Food and Agriculture Organization of the United Nations (FAO), Rome.
He has a rare distinction of getting a chance to serve for over 10 years in the senior-most D-2 professional grade of UN. Syed Shahid has travelled many countries across the globe and represented India in different executive roles. He elicits a keen interest in Education, UN System, Environment, Agriculture, Rural Development, Urdu Persian & English Literature, and is a connoisseur of various forms of arts. He had also been the Chairman, Delhi Education Society and Dr. Zakir Husain Memorial Welfare Society.He also served as member of different organization working in the area of education and development .
Some of these include the Council of National Institute of Educational Planning and Administration (NIEPA),the Finance Committee of National Institute of Education Planning and Administration (NIEPA)Member of the X Plan Committee on Higher Education of Ministry of Human Resource Development (MHRD), Jamia Hamdard Society (Deemed University) Distance Education Council (IGNOU).Academic Council of Maulana Azad National Urdu University, Hyderabad and Governing Body of Zakir Husain College (Delhi University) to name a few. He also served as the Vice Chancellor of Jamia Millia Islamia ,a central university , from 2000-2004.With him at the helms of the affairs and enriched by his variegated experience, Jamia Hamdard, is indeed poised to enter into higher echelons of success in the fields of academics ,research and professional experience.