Dr. Safia Rana
MBBS , DCP, DNB
Associate professor, Department of Pathology
Reg. Number: DMC-11480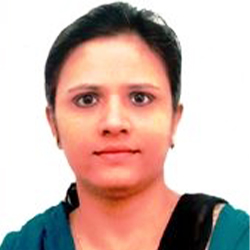 About
Working as full time faculty (Associate Professor) in Department of Pathology, HIMSR & HAHC hospital, multispecialty teaching hospital affiliated to University of Jamia Hamdard. Over twelve years' experience in practising and teaching  pathology to undergraduates and post graduate medical students. Graduated from Nalanda Medical College, Patna followed by  Junior residency from Safdarjung hospital New Delhi. Pursued Diploma in clinical Pathology from PMCH Patna and DNB from Hindu Rao Hospital, New Delhi. Worked as senior resident in Kasturba Hospital before joining HIMSR.  Doing diagnostic work in FNAC,  sputum, pap smears, fluids cytology , histopathology and hematology. Publications in 63 peer reviewed national and international journals Reviewer for  ICMR Short Term Studentship (STS) programme and  Editorial Board Member, Indian journal of Pathology-Research and Practice, International Journal of Clinical Oncology and Cancer Research Reviewer for  Journal of Laboratory Physicians, Iran J of Pathology, Indian Journal of Pathology, Research and Practice
Area of Interest
Oncopathology
GI pathology
Gynaecological pathology
Educational Qualifications
| Degree | Year | Name of College & University | Registration Number | Date of Registration |
| --- | --- | --- | --- | --- |
| DNB | 2008 | Hindu Rao Hospital, New Delhi, national board of examination | DMC-11480 | 27-07-2001 |
| DCP | 2006 | Patna Medical College & Hospital, Patna | DMC-11480 | 27-07-2001 |
| MBBS | 1999 | Nalanda Medical College & Hospital, Patna, Magadh university | DMC-11480 | 27-07-2001 |
Deatils of Teaching Experience
| Designation* | Institution | From | To | Duration |
| --- | --- | --- | --- | --- |
| Associate Professor | HIMSR, New Delhi | 7-01-2021 | Till Date | |
| Assistant Professor | HIMSR, New Delhi | 12-09-2014 | 6-01-2021 | 6 years 4 months |
| Lecturer | HIMSR, New Delhi | 12-03-2014 | 11-09-2014 | 6 months |
| Demonstrator | HIMSR, New Delhi | 27-12-2010 | 11-03-2014 | 3 years 2.5 months |
| Senior Resident | Kasturba hospital Delhi university | 23-03-2009 | 27-12-2010 | 1 year 11 months |
| Junior Resident | Hindu Rao Hospital New Delhi/NBE | 11-09-2006 | 10-09-2008 | 2 years |
| Junior Resident | PMCH/Patna University | 25-05-2004 | 24-05-2006 | 2 years |
Research Work & Projects
A Clinicohematological study of Acute Febrile illness in Indian Paediatric Population ( Guide in STS- ICMR project, 2018)
An Analysis Of Clinicopathological Profile Of Dermal Amyloidosis (Co-Investigator)
Membership of Academic Bodies Societies
Member of National Academy of Medical Sciences (MNAMS)
Life Member of Indian Association of Pathology and Microbiology, Delhi Chapter
Life Member Indian Academy of cytology, Delhi Chapter
Workshops/ CMEs/ Conference Attended
Annual conference of Tamil Nadu and Pondicherry chapter of IAPM ,TAPCON 2020 Virtual conference held on 10th-12th July 2020.
Completed online course on Competency Based Medical Education (Pathology) April 2020 to July 2020 conducted by MEU India
7th Annual Conference of UP Chapter of Indian Academy Of Cytology Held on 28-29TH September 2019
International Conference on Demystified Transgender healthcare: Addressing the felt need,held in Jamia Hamdard on 1st and 2nd November 2019
29th Annual Conference, Delhi Society of Hematology, 23rd September,2018 at University College of Medical Sciences & GTB Hospital, New Delhi
VIIth Annual Conference of Delhi Chapter of Indian Academy of Cytologists,15th Sep 2018,organized by Army Hospital(R&R), Delhi Cantt, New Delhi
8th Dr V Ramalingaswami Oration Hepatopathology Meeting, 2019 held on 7th August 2019 held at Institute of Liver and Biliary Sciences
Quaterly meeting and Scientific session organised by The Association of Practicing Pathologists held at Inspire Hall, Hotel Le Meridian, New Delhi on 15th July 2019
Revised Basic Course Workshop in Medical Education Technologies/AETCOM sensitisation program (9th-12th July,2018) at HIMSR, Jamia Hamdard under the Observer ship of Regional Centre, MAMC, New Delhi.
CME on "Immunization Updates" on 15th May, 2018 at HIMSR, Jamia Hamdard
CME on Cervical Lesions and Management guidelines, 11th April,2018, HIMSR.