Dr. Anwar Habib
MBBS, MD Medicine
Professor, Department of Medicine
Reg. Number: DMC-9377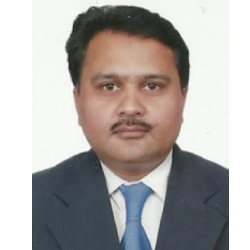 About
Dr. Anwar Habib completed his M.B.B.S. in 1994 and M.D. Internal Medicine in 1998 from the prestigious J.N.Medical College A.M.U., Aligarh.
Dr. Habib has a vast teaching experience both at undergraduate and post graduate level and has been an examiner for M.B.B.S and post graduate final exams at various medical colleges.
He also has several publications in both national and international journals, especially related to his field of interest Nephrology.
Educational Qualifications
| Degree | Year | Name of College & University | Registration Number | Date of Registration |
| --- | --- | --- | --- | --- |
| MD/MS | 1998 | JNMC,AMU,ALIGARH | DMC-9377 | 11-07-2001 |
| MBBS | 1994 | JNMC,AMU,ALIGARH | DMC-9377 | 11-07-2001 |
Deatils of Teaching Experience
| Designation* | Institution | From | To | Duration |
| --- | --- | --- | --- | --- |
| Professor | HIMSR,New Delhi | | Till Date | |
| Assoc. Professor | HIMSR,New Delhi | 01-03-17 | | |
| Asst. Professor | HIMSR,New Delhi | 29-06-12 | 28-02-17 | 4 Year, 8 month |
| Senior Resident | JNMC,AMU,Aligarh | 01-01- 98 | 15-05-98 | 5.6 Month |
| Junior Resident | JNMC,AMU,Aligarh | 01-01-1955 | 03 -12-1997 | 3 Years |
Publications
Khan NA,Saxena S,Handa S,Habib A,Abid M,Patra A,Kamal Kishore. Impact of councelling on diabetic patients. International Journal of Pharmaceutical and Clinical Research 2010; 2(2): 72-75.
Farooqui H, Khan HN, Gupta R, Habib A, Akhtar P, Mir SR. New Trends of Diabetes Therapy type II of animal model. International Journal of Pharmaceutical and Clinical Research 2010; 2(2): 80-89
Nadeem Siddiqui, Waquar Ahsan, Priya Ahuja, M. Shamsher Alam, Anwar Habib, A Review on Pathology of AIDS and its Treatment Regimens. International journal of Pharmaceutical Sciences Review and Research,Vol.4,Issue 1,Sept-Oct 2010; Article 015.
India Tops World Table for number of Babies who die on day of birth BMJ-16th May 2013
Aslam Mohd.,Maurya Shesh Prakash,Khan Shadab Ahmed,Habib Anwar,Das Ashima,Mehrotra Ginni . Therapeutic Role Of Nemodipin in Acute Ischaemic Stroke. Journal of Pharmaceutical and Bio medical Sciences 2013 Aug.(33):1577-1588.
Birjees Nusrat,Ruhi Ali,Nadeem Siddiqui and Anwar Habib. Review Article: Some Heterocyclics with anticonvulsant properties. Bulletin of Pharmaceutical Research 2014;4(1):21-36
Muhammad Uwais Ashraf, Mohd Aslam, M.R. Ajmal, Anwar Habib. Relationship of serum homocysteine levels with cardiac troponin and ejection fraction in patients admitted with acute coronary syndrome. International journal of Advances in Pharmacy medicine and Bioallied sciences Dec.2014
Mohd.Qayamuddin,Mohd Iqbal,Anwar Habib,Mohd.Akhtar,Shibli Jameel Ahmad,Shah Alam khan. Treatment modalities in Irritable Bowel Syndrome in a tertiary care hospital in North India. International Journal of Pharma Research and Health Sciences, Vol.2(6)2014, page 413-419
Anwar Habib,Mohd.Aslam,Muhammad Uwais Ashraf,Shadab A Khan . Life threatening arrhythmia secondary to hyperkalemia in a patient with chronic kidney disease, ,International journal of Advances in Pharmacy medicine and Bioallied sciences. 2015 Volume 3, Issue 1, Page 55-57.
10) Anwar Habib, Razi Ahmad. Pharmacotherapy of Co morbid conditions in patients on Haemodialysis. European Journal of Biomedical and Pharmaceutical Sciences. 2015
Anwer Habib, Abhinav Jain, Bhawani Singh, Nayer Jamshed. H1N1 influenza presenting as severe acute pancreatitis and multiorgan dysfunction, The American Journal of Emergency Medicine, Volume 34, Issue 9, 2016, Pages 1911.e1-1911.e2.
Ahmad R, Rehman S, Habib A, Naim F (2016) Efficacy of Various Antihypertensive Drugs in the Treatment of Hypertension in the Patients of End-Stage Renal Disease Leading to Haemodialysis- A Retrospective Study. J Nephrol Ther 7: 283. doi: 10.4172/2161-0959.1000283
Razi Ahmad, Anwar Habib, Sana Rehman, Zabeena Saeed. Antihypertensive utilization study in patients undergoing haemodialysis in a tertiary care hospital in south Delhi. Indian Journal of Applied Research, Volume :6 Issue :11 November 2016.
Baluja Z Rehman S, Habib A, Ahmad R. Assessment of IBS symptoms among patients of lower socio-economic strata attending medicine OPD in a tertiary care hospital in South Delhi. International Journal of Advances in Medicine. 2017 Volume: 4, Issue : 4. Pages 1117-1122.
Sana Rehman,Razi Ahmad,Zenis Baluja,Anwar Habib. Role of Various modifiable factors and drugs in the treatment of Isolated Systolic Hypertension in Elderly population. Indian Journal of Applied Research,Vol-7,issue-7 July 2017
Anwar Habib,Razi Ahmad,Sana Rehman. Haematological changes in patients of Chronic Renal Failure and the Effect of Haemodialysis on these parameters. International Journal of Research in Medical Sciences,November 2017,Vol 5,Issue 11,Page 4998
Hussain S, Singh A, Rahman SO, Habib A, Najmi AK. Calcium channel blocker use reduces incident dementia risk in elderly hypertensive patients: A meta-analysis of prospective studies. Neurosci Lett. 2018 Apr 3;671:120-127.
Anwar Habib, Razi Ahmad, Sana Rehman. Prevalence of Associated Psychosomatic Symptoms in Patients of Irritable bowel Syndrome. International Journal of Advances in Medicine,Nov-Dec 2018,Vol 5,Issue6,Page 1515
Jyotsana,Khan Afreen,Vishaka Sharma,Prem kapur,Smita Manjavkar,Vineet Jain,Sunil Kohli,Anwar Habib. Clinical Profile of Patients with Pancytopenia in a tertiary care centre. International Journal of Research in Medical Sciences Apr 2018,6(4):1187-1190
Hussain S, Habib A, Singh A, Akhtar M, Najmi AK. Prevalence of depression among type 2 diabetes mellitus patients in India: A meta-analysis. Psychiatry Res. 2018 Dec;270:264-273. doi: 10.1016/j.psychres.2018.09.037. Epub 2018 Sep 19. PMID: 30273857.
Hussain S, Siddiqui AN, Habib A, Hussain MS, Najmi AK. Proton pump inhibitors' use and risk of hip fracture: a systematic review and meta-analysis. Rheumatol Int. 2018 Nov;38(11):1999-2014. doi: 10.1007/s00296-018-4142-x. Epub 2018 Aug 29. PMID: 30159775.
Hussain S, Siddiqui AN, Baxi H, Habib A, Hussain MS, Najmi AK. Warfarin use increases bleeding risk in hemodialysis patients with atrial fibrillation: A meta-analysis of cohort studies. J Gastroenterol Hepatol. 2019 Jun;34(6):975-984. doi: 10.1111/jgh.14601. Epub 2019 Jan 29. PMID: 30614083.
Anwer Habib,Razi Ahmad. Antimicrobial utilization pattern in Systemic Inflammatory Response Syndrome positive septicemia: A prospective study in an apex hospital in South Delhi. International Journal of Basic and Clinical Pharmacology,2019 Mar;8(3):557-563
Hussain S, Habib A, Najmi AK. Limited Knowledge of Chronic Kidney Disease among Type 2 Diabetes Mellitus Patients in India. Int J Environ Res Public Health. 2019 Apr 23;16(8):1443. doi: 10.3390/ijerph16081443. PMID: 31018581; PMCID: PMC6518175
Sana Rehman,Anwar Habib,Sabina khan. Haematological Profile Of Chronic Renal Disease Patients on Antihypertensive medications undergoing haemodialysis. Global Journal For Research Analysis,Vol-8,Issue-4,April 2019