Dr. Aqsa Shaikh
MBBS, MD (Community Medicine)
Associate professor, Department of Medical Education Unit
Reg. Number: DMC-66477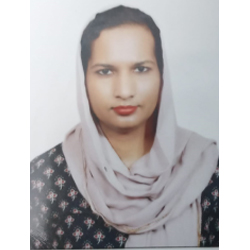 About
Dr. Aqsa is a Community Medicine with interest in Covid-19 surveillance, vaccination and research. She has keen interest in medical education technology and medical humanities. She is India's first and only Nodal Officer of a Covid Vaccination Centre. Aqsa has penned numerous books on subject matters besides contributing essays and chapters. She also blogs on issues of social interest.
Area of Interest
Medical Education
Medical Humanities
Transgender Medicine
Covid-19 Vaccines
Educational Qualifications
| Degree | Year | Name of College & University | Registration Number | Date of Registration |
| --- | --- | --- | --- | --- |
| MD | 2010 | Seth GS Medical College MUHS, Nashik | DMC-66477 | |
| MBBS | 2006 | Seth GS Medical College MUHS, Nashik | DMC-66477 | |
Deatils of Teaching Experience
| Designation* | Institution | From | To | Duration |
| --- | --- | --- | --- | --- |
| Associate Professor | HIMSR, New Delhi | 22-06-2020 | Till Date | |
| Assistant Professor | HIMSR, New Delhi | 07-11-2016 | 21-06-2020 | 3 Years 7 Months |
| Lecturer | HIMSR, New Delhi | 26-02-2015 | 06-11-2016 | 1 Year 9 Months |
| Demonstrator | HIMSR, New Delhi | 22-08-2013 | 25-02-2015 | 1 Year 6 Months |
Research Work & Projects
Integration of Maternal Infant and Young Child Nutrition in Undergraduate Curriculum – Funded by Alive and Thrive, FHI360, 7 Lacs (2018-2019)
Training of Community Service Providers on Health Promotion- Funded by United Nations High Commissioner on Refugees – BOSCO, (Amount: 60,000) 2014
Assessment of Potential Risk Factors for COVID-19 among Health Care Workers in a Health Care Setting in Delhi, India – Funded by WHO, , Amount: 10 lacs, Dec 2020-Jun 2021
An interventional study to assess impact of behavior modification therapy versus brief advise for tobacco cessation among adult tobacco users residing in a resettlement colony of Delhi. Funded by ICMR, Amount: 8 Lacs Dec 2020-May 2022
An epidemiological study of sleep-related disorders and its association with cardiovascular risk factors in the adult population (30-69 yrs.) of South Delhi. Funded by ICMR, Amount: Rs 50,000 2019-2022
A Randomized Controlled Trial to assess the effectiveness of group-based Diabetes Self-Management Education (DSME) program on glycemic control, self-care efficacy and quality of life in individuals with Type 2 Diabetes, Funded by ICMR, Amount: Rs 50,000 2018-2021
Community-based Sero-surveillance and incidence of Dengue among residents of South Delhi, India, Funded by THSTI, Dec 2020- Dec 2022, Amount: 3.8 Lacs
Randomized, Double-Blind, Placebo-Controlled, Parallel-Group, Multi-Centre Phase II/III Adaptive Clinical Trial to Assess the Safety and Immunogenicity of Gam-COVID-Vac Combined Vector Vaccine (Sputnik V) for SARS-Сov-2 Infection in Indian Healthy Subjects, Study Duration: January 2021 to July 2021, Status: Ongoing, Amount: Approximately Rs. 3 Lacs, Funding Agency: JSS medical Research India Pvt Ltd
Transgender persons' experiences in navigating and accessing healthcare during covid-19 in India: an exploratory qualitative research Ongoing, Amount: Rs 11 lacs, Funding Agency: The Thakur Foundation
Awards
Received Youth Ki Awaaz Award for Best Article on Mental Health 2019
Awarded Himalayan Green Award in the Category of Health Education by Himalayan Welfare Organisation, Pahalgam, Kashmir
Best Paper Award - Acceptability of Voluntary Medical Male Circumcision amongst Indian men, e-poster presentation at 61st National Annual Conference of Indian Public Health Association, February 2017, at AIIMS, Jodhpur
Received Woman Achiever Award 2020 by Women's Manifesto
Received Woman of Substance Award 2021 by Society of Menstrual Disorders and Hygiene Management
Membership of Academic Bodies Societies
Life Member, Indian Public Health Association (L/2016/DEL/7314)
Life Member, Indian Association of Adolescent and Youth Health (326/DL/2015)
Life Member, Indian Association of Preventive and Social Medicine (L-4279)
Life member, Indian Professional Association for Transgender Health
Life Member, Society for Menstrual Disorders and Hygiene Management (34023)
Life Member, Society for Menstrual Disorders and Hygiene Management (34023)
Life member, Association of Muslim Doctors
Invited Talks and Lectures
Participated as Panelist in International Conference on Shared Decision Making among Vulnerable Groups at University of Chicago centre, New Delhi, from 16-17 March 2019 and spoke about Shared Decision making in contexts of LGBTQIA+ health
Organiser & Speaker at 1st International Conference on Transgender Health, 1-2 Nov 2019 at Jamia Hamdard, Delhi
Delivered a Talk on Making Medical College and Medical Curriculum Trans-inclusive at IPATHCON2019 at Jamia Hamdard on 1st Nov 2019
Participated as faculty in the Pre-Conference Workshop on Menstrual Hygiene Management, on 21st November 2019 at VMMC and Safdarjung Hospital, New Delhi, as part of 26th Annual Conference NARCHI Delhi
Attended as a Panelist (on LGBT Issues) at Harvard US India Initiative Conference 2020 at Mumbai on 3rd January 2020
Panelist at Youth Jamboree: Youth of India solving their queries with experts, organsied by Rajshree medical Research Institute and Hospital, Bareilly alongwith Society for Menstrual Disorders and Hygiene Management on 11th August 2020
Speaker in Webinar on Gender-Friendly Healthcare Facility organized by Association for Transgender Health in India on 15th August 2020
Panelist, 8th National Bioethics Conference, by FMES, December 2020
Delivered Lecture on Blueprinting in Assessment in pre-Conference Workshop on Assessment in Medical Education – PSI-SAAP 2021 Conference
Workshops/ CMEs/ Conference Organised
Facilitated Workshop on Demystifying Gender: Addressing the Felt Need for Nursing Students of Jamia Hamdard on 23rd September 2019
Facilitated Revised Basic Course Workshop in Medical Education Technologies at HIMSR on 14-16 October 2019
Facilitated Sensitization Programe on AETCOM at HIMSR on 17th October 2019
Organized in the Workshop on Theater of the Oppressed at HIMSR on 10-11 October 2019
Organizing Committee member, CME on Immunization Updates, 2016
Organized CME on "Immunization Update" held at HIMSR on 15th May 2018
Organized Workshop on Biomedical Research Methodology: A hands-on Workshop at HIMSR on 25th October 2019
Organized Workshop on Use of Smart Apps in Health Professions Education on 23rd February 2019.
Organized Orientation program for first MBBS Students for the years 2015 and 2016.
Organized Internship Orientation Program for Internship Batches of 2012, 2013 and 2014.
Workshops/ CMEs/ Conference Attended
Attended CME on Immunization Updates, HIMSR, on 27-4-16
Attended Symposium on Tobacco-A threat to Development 0n 29th May 2017 at MAMC, Delhi
Organized and Attended CME on Diagnosis and Management of Depression and Anxiety Disorders on 7th April, at HIMSR, Jamia Hamdard
Attended State Level Consultation of Project Svetana on 27th March at Delhi
Attended workshop on Biomedical Waste Management & Universal Safety Precautions on 16th February 2017 at HIMSR.
Attended Workshop on Adolescent Friendly Health Services on 15th April, 2017 at International Conference on Youth and Adolescent Health, April, 2017 at Delhi.
MCI Advance Course in Medical Education, First contact session, at CMC Ludhiana, during September 5-9, 2017
National CME on "Uniting to Create Leaders to End Tuberculosis" held at Convention Centre, Jamia Hamdard, on 27th March 2018
MCI Advance Course in Medical Education, Second contact session, at CMC Ludhiana, during April 7-9, 2018
CME on "Immunization Update" held at HIMSR on 15th May 2018
Revised Basic Course Workshop in Medical Education Technologies, at HIMSR on 11th July 2018
Workshop on "AETCOM Sensitization Programme" held at HIMSR on 12th July 2018
Attended Workshop on "How to Frame an effective MCQ?" at University College of Medical Sciences on 4th February, 2019.
Participated as a Panelist Disability-inclusive Compassionate Care: Public Engagement & Faculty Sensitization on Disability Competencies" at University of Chicago Delhi Centre on 9th February 2019
Attended in the workshop on 'Research methodology' organized jointly by Department of Pediatrics, HIMSR and Centre for Health Research and Development, Society for Applied Studies, New Delhi on 9th March 2019 at HIMSR
Participated in Curriculum Implementation Support Program conducted by Maulana Azad Medical College, Delhi at HIMSR from 1-3 March 2019
Guest Speaker at medicus Conventus 2019 at Lady Hardinge Medical College, New Delhi from March 30-31, 2019
Organized and Participated in the Workshop on Theater of the Oppressed: Reclaiming Humanity in Medical Education at HIMSR on 15-16 March 2019
Participated in Workshop on Basic Counselling Skills from 19 August to 5 September 2019 at Sanivini Society for Mental Health, Delhi
Participated as Panelist in 'Towards Wellness for All: Focus on Healthcare Concerns of the gender and sexual minority communities' organized by Sapphos for Equality at Kolkata from 14-15 September 2019
Facilitated Workshop on Demystifying Gender: Addressing the Felt Need for Nursing Students of Jamia Hamdard on 23rd September 2019
Facilitated Revised Basic Course Workshop in Medical Education Technologies at HIMSR on 14-16 October 2019
Facilitated Sensitization Programe on AETCOM at HIMSR on 17th October 2019
Organized in the Workshop on Theater of the Oppressed at HIMSR on 10-11 October 2019
Attended 60th National Annual Conference of Indian Public Health Association, March, 2016 at HIMS, Dehradun
Attended National Conference on Sharing Perspectives in Public Health: Newer Paradigms, ACMS, Delhi on 10th September, 2016
Attended 61st National Annual Conference of Indian Public Health Association, February 2017, at AIIMS, Jodhpur
Attended International Conference on Youth and Adolescent Health, April, 2017 at Delhi.
International Conference on "Critical Public health Consequences of Double Burden of Malnutrition" held at India International Centre, from 28th to 30th March 2018
Participated as Panelist in International Conference on Shared Decision Making among Vulnerable Groups at University of Chicago centre, New Delhi, from 16-17 March 2019 and spoke about Shared Decision making in contexts of LGBTQIA+ health
Attended 6th AMDCON at Jamia Hamdard on October 20, 2019
Organiser & Speaker at 1st International Conference on Transgender Health, 1-2 Nov 2019 at Jamia Hamdard, Delhi