Dr Mohd Alam
MBBS, MD
Senior resident, Department of Community Medicine
Reg. Number: DMC-19429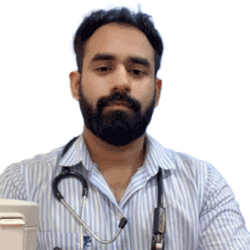 About
A dedicated medical professional and public health physician with a strong educational background and a passion for Community Medicine. I completed my primary education at Columbus Public School in Rudarpur, U.K., which laid the foundation for my academic journey. Graduating in 2018, I earned my Bachelor of Medicine, Bachelor of Surgery (MBBS) degree from HIMSR, setting the stage for my pursuit of higher medical education.
My academic journey continued as I pursued a specialization in Community Medicine, culminating in the successful completion of my MD degree from VMMC & SJH in New Delhi in 2023. During this transformative phase of my education, I had the privilege of engaging in extensive research activities, honing my skills in training undergraduates, and providing essential patient care at various health centers under the department's purview.
This comprehensive training has equipped me with a profound understanding of community healthcare and a commitment to improving the well-being of individuals and communities through evidence-based medical practices. My experiences have instilled in me a deep sense of responsibility and a drive to contribute meaningfully to the field of public health and community medicine. I look forward to leveraging my knowledge and experiences to make a positive impact on healthcare delivery, research, and education, ensuring better health outcomes for all.
Area of Interest
Non communicable Diseases
Epidemiology
Educational Qualifications
| Degree | Year | Name of College & University | Registration Number | Date of Registration |
| --- | --- | --- | --- | --- |
| MBBS | 2018 | HIMSR, New Delhi | DMC-19429 | 23-03-2018 |
| MD | 2023 | VMMC & SJH | DMC-19429 | 01-09-2023 |
Deatils of Teaching Experience
| Designation* | Institution | From | To | Duration |
| --- | --- | --- | --- | --- |
| Senior Resident | HIMSR, New Delhi | 01-09-2023 | Till Date | |
| Junior Resident | VMMC & SJH | 21-08-2020 | 20-08-2023 | 3 Years |
Research Work & Projects
Research Thesis On "A COMMUNITY-BASED STUDY OF TREATMENT COMPLIANCE AND HEALTH SEEKING BEHAVIOUR AMONG DIABETES MELLITUS TYPE 2 PATIENTS IN A RURAL AREA OF DELHI."
Workshops/ CMEs/ Conference Attended
Attended conference on multistake holder dialogue on elderly care and digital equity for all ages, New Delhi on 1st October 2021.
Attended and participated in 49th annual conference of IAPSM & 23rd joint IASPM & IPHA: beyond the pandemic time to move. March 2021
Attended workshop on menstrual hygiene and menstrual health management by SMDHM & HSF. August 2021
Attended workshop on E-international public health management development program. 14th March 2021
Attended conference on Mixed Method Research in public health on 10th March 2021
Attended CME on quantitative data analysis using SPSS. IAPSMCON2021 on 11th March 2021