Dr. Sawdah Shahid
MBBS
PG resident, Department of Anaesthesia
Reg. Number: DMC/R/11403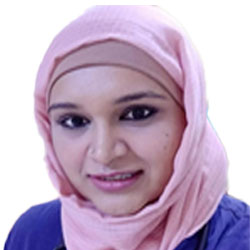 About
Dr Sawdah, joined medical college in pune after completing her schooling in DELHI PUBLIC SCHOOL OF KUWAIT. She is an Enthusiastic, kind hearted, motivated and loves to involve herself in various sports activities. Completed an entire Triathlon with a record position amongst various other nationalities in Kuwait. She has also set a record of completing 55km of road cycling and accomplished a finisher medal. Apart from this in her college, she has been in basketball team in pune in competing with other medical colleges.
In 2013, she has done her observership in renowned hospital in Kuwait. She has also worked in Escorts hospital, in department of Heart Command. In year 2016, on Woman's day, she was awarded junior resident of the year for her hard work.
Now she is a doting mother to a beautiful girl and balancing life as an anaesthesia PG resident.
Educational Qualifications
| Degree | Year | Name of College & University | Registration Number | Date of Registration |
| --- | --- | --- | --- | --- |
| MBBS | 2013 | Bharati Vidyapeeth Medical College, PUNE | DMC/R/11403 | 31-07-2013 |