Dr. Shilpam Sharma
MBBS, MS
Assistant professor, Department of ENT & Head And Neck Surgery
Reg. Number: DMC-80206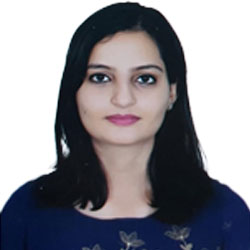 About
I have completed my three years Senior Residency from the prestigious VMMC & Safdarjung Hospital in 2021 and have a keen interest in rhinology, endoscopic sinus surgery and rhinoplasty. I have now joined as an Assistant Professor in otorhinolaryngology department of HIMSR.
Area of Interest
Functional endoscopic sinus surgery
Rhinoplasty
Skull base surgery
Head and neck surgery
Otology
Educational Qualifications
| Degree | Year | Name of College & University | Registration Number | Date of Registration |
| --- | --- | --- | --- | --- |
| MBBS | 2011 | Padmashree Dr. D. Y. Patil Medical College Pimpri, Pune | DMC-80206 | 01-07-2017 |
| MS ENT | 2017 | Rohilkhand Medical College/ M.J.P Rohilkhand University | DMC-80206 | 01-07-2017 |
Deatils of Teaching Experience
| Designation* | Institution | From | To | Duration |
| --- | --- | --- | --- | --- |
| Assistant Professor | HIMSR, New Delhi | 02-09-2022 | Till Date | |
| Senior Resident | VMMC Safdarjung | 25-09-2018 | 24-10-2021 | 3 Years |
| Senior Resident | SGRR MC | 10-08-2017 | 22-09-2018 | 1 Year 1 Months |
Publications
Has mastoid pneumatization any bearing on tympanoplasty? Indian Journal of Otology. 2015;21:266-9
Middle ear dysfunction: Connection to allergic rhinitis. Clinical Rhinology: An International Journal. May-August 2016; 9(2):65-67
Tuberculosis of buccal mucosa: Is it a fading entity?. International Journal of Advanced & Integrated Medical Sciences, January-March 2016;1(1):27-29.
Giant epidermoid cyst: a case report. J Otolaryngol ENT Res. 2018;10(6):322-323.
ENT manifestations of tuberculosis: an important aspect of ENT practice. Pan Afr Med J. 2020;36:295. Published 2020 Aug 17.
Diagnostic and therapeutic endonasal rhinologic procedures generating aerosol during COVID-19 pandemic: a systematized review. Brazilian Journal of Otorhinolaryngol. 2021 Jul-Aug;87(4):469-477
Olfactory and Gustatory Dysfunctions in Patients With Laboratory-Confirmed COVID-19 Infection: A Change in the Trend. Indian J Otolaryngol Head Neck Surg. 2021 Jul 18:1-7.
Antibiogram guided optimized medical treatment in chronic otitis media: A useful interventional strategy before surgery ? American Journal of Otolaryngology- Head and Neck Medicine and Surgery. 2022 .103628
Membership of Academic Bodies Societies
Life member of AOI
Life member of AOI-Delhi
Invited Talks and Lectures
Participated in Poster award presentation "Unusual cases of Primary Head and Neck tuberculosis and review of literature" in RHINOCON 2022
Workshops/ CMEs/ Conference Organised
Attended and Organized first international workshop on endoscopic ear surgery on 16th &17th Oct 2017
Workshops/ CMEs/ Conference Attended
Attended CME and workshop " 2nd Otology Update, 1st Temporal Bone Dissection Course and Live Surgery Workshop 2017" as dissector on 26.03.2017 at Department of ENT, Head & Neck Surgery, Rohilkhand Medical College, Bareilly.
Attended and Organized first international workshop on endoscopic ear surgery on 16th &17th Oct 2017.
Presented paper in USAOICON 2018 held from 6th to 8th April 2018 At HIMS Dehradun.
Attended 42nd annual conference of the association of Otolaryngologist of India Delhi Branch held on 2nd and 3rd March 2019
Attended HAOICON MID TERM SURGICAL WORKSHOP and participated in temporal bone dissection course on 29th and 30th June 2019.
Attended 32 nd annual conference of All India Rhinology society from august 29th to 1st September 2019 in Chandigarh.
Attended 26th annual Haryana AIO Conference from 16th to 17th October 2021 at Sirsa, Haryana.