Dr. Shreshth Khanna
MD Pharmacology
Assistant professor, Department of Pharmacology
Reg. Number: DMC-73700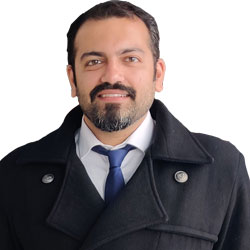 Educational Qualifications
| Degree | Year | Name of College & University | Registration Number | Date of Registration |
| --- | --- | --- | --- | --- |
| MBBS | 2015 | SRHU | DMC-73700 | 27-03-2015 |
| MD | 2019 | Swami Rama Himalayan | DMC-73700 | |
Deatils of Teaching Experience
| Designation* | Institution | From | To | Duration |
| --- | --- | --- | --- | --- |
| Assistant Professor | HIMSR, NewDelhi | 26-08-2022 | Present | |
| Senior Resident | Maulana Azad Medical College | 11-06-2019 | 18-07-2022 | 3 Years |
| Tutor | Swami Rama, Himalayan University | 15-04-2016 | 07-05-2019 | 3 Years |
Publications
Khanna S, Pant S, Khanna H (2021) Linezolid Induced Toxic Optic Neuropathy in Patient of Extensively Drug Resistant Pulmonary Tuberculosis. J Clin Exp Ophthalmol.12:900.
Khanna S, Tayal V, Roy V. (2021) Amoxicillin /Clavulanic Acid Induced Mixed Hepatocellular-Cholestatic Hepatic Injury- A Rare Case Report J Pharamacovigil 9:334. doi-10.35248/2329-6887.21.9.334
Khanna S, Jain A, Kalra BS. Neuropsychiatric aspect of social isolation following a lockdown: A perspective. Indian J Community Fam Med 2021; 7:74-8.
Khanna Shreshth, Bala Suman, Singh Yashpal, Sharma Taruna, Kalra Juhi, Dhasmana D. C., Kohli Saurabh. Comparative evaluation of levetiracetam and valproic acid as monotherapy on cognitive impairment in patients of epilepsy. International Journal of Basic & Clinical Pharmacology. 2019 Apr; 8(4): 674-680
Invited Talks and Lectures
Poster Presentation: "Comparative evaluation of levetiracetam and valproic acid as monotherapy on cognitive impairment in patients of epilepsy AT 6 TH UAE EPILEPSY CONGRESS ORGANIZED BY ELAE , DUBAI, UAE 26 TH – 27 TH OCTOBER 2018.
Poster Presentation: "Rationality of Vitamin Supplements in the Tertiary care Hospital." AT 3 RD INTERNATIONAL CONFERENCE ON "NUTRACEUTICALS AND CHRONIC DISEASES" (INCD-2018) SWAMI RAMA HIMALAYAN UNIVERSITY DEHRADUN, UTTARAKHAND 14 TH – 16 TH SEPTEMBER 2018.
Oral Presentation: "A STUDY TO EVALUATE THE ADHERENCE PATTERN AMONG PATIENTS OF EPILEPSY ON ANTI-EPILEPTIC DRUGS IN A TERTIARY CARE HOSPITAL". IPSCON-2017 15 TH -17 TH FEBRUARY 2018.
Workshops/ CMEs/ Conference Attended
Attended one day workshop on "Biomedical waste management".
Attended 52nd Mini-workshop for SR held from 16-18 October, 2019 in the Department of Medical Education, MAMC. N.Delhi.
2nd CNE workshop on "Pharmacovigilance for our Safety" ADR monitoring centre, December 2019 organised by Department of Pharmacology, MAMC,N. Delhi
Attended a one day webinar on COVID 19 on webex. Held on 22nd August, 2020 from 10:00-12:00 AM organised by Indian Journal of Pharmacology (IJP) & Indian Pharmacological Society (IPS)
Attended a one day National e-workshop on animal handling and experimental pharmacology held on 9th february 2021 organised by Department of Pharmacology Indira Gandhi Institute of Medical Sciences Patna, Bihar and Indian Pharmacological Society, Bihar Chapter.
Attended webinar on "Training program for managing COVID patients in the hospital" online mode organized by H & FW GNCTD from July 6 – July 30th 2021.