Dr Sobia Manaal Siddiqui
MBBS, MD
Senior resident, Department of Anaesthesia
Reg. Number: DMC-109822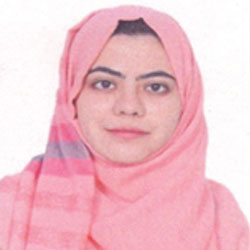 About
I have completed my MBBS and MD from the prestigious Jawaharlal Nehru Medical College and Hospital, Aligarh Muslim University. A dedicated and passionate anaesthetist with an eagerness to learn and sharpen my skills. I have worked hard to learn technical skills in managing the responsibilities in Anesthesiology, with training in multiple specialties including Neuroanesthesia, Pediatric anesthesia, Cardiac anesthesia, and Critical Care. Active participant in research work and academic activities
Area of Interest
High-risk anaesthesia,
Neuroanaesthesia,
USG in Anaesthesia & Critical Care
Educational Qualifications
| Degree | Year | Name of College & University | Registration Number | Date of Registration |
| --- | --- | --- | --- | --- |
| MBBS | 2018 | Jawaharlal Nehru Medical College, AMU | UPMC-87771 | 18-03-2020 |
| MD | 2023 | Jawaharlal Nehru Medical College, AMU | DMC-109822 | 21-09-2023 |
Deatils of Teaching Experience
| Designation* | Institution | From | To | Duration |
| --- | --- | --- | --- | --- |
| Senior Resident | HIMSR, New Delhi | 23-08-2023 | Present | |
Publications
Paper titled 'A Retrospective Analysis of a Methanol Poisoning Outbreak in an Indian Tertiary Care Hospital during the COVID-19 Era: A Pandemic within a Pandemic'Asia Pacific Journal of Medical Toxicology 2022; 11(3):80-84.
Paper titled 'Dilemma Behind Post-Spinal Tetraplegia: Is Conversion Disorder Really the Culprit?'Published in International Journal of Human and Health Sciences (IJHHS) 10.31344/ijhhs.v6i4.487
Paper titled 'Efficacy And Safety Of The Classical Laryngeal Mask Airway Vs Ambu Laryngeal Mask Following Tracheal Extubation' XI National AIRWAY Conference- All India Difficult Airway Association (AIDAA)
Paper titled 'C-MAC VL as saviour following failed intubation attempts in an infant with huge hydrocephalus Published in Sri Lankan Journal of Anesthesiology
Paper titled 'Coronavirus vs existence of human on the earth: A computational and biophysical approach', International Journal of Biological Macromolecules, 2020 Oct 15; 161: 271–281
Oral poster- A comparative evaluation of conventional Macintosh laryngoscope and C-MAC video laryngoscope using an aerosol box: A prospective randomized study.
Awards
Certified ACLS and BLS Provider
American Heart Association
Completed Basic Course in Biomedical Research (BCBR)
As mandated by the NMC
Membership of Academic Bodies Societies
All-India Difficult Airway Association (AIDAA)
Workshops/ CMEs/ Conference Attended
Attended 44th UPISACON Workshop on Regional Anesthesia themed 'Current Trends in Anesthesia- Changing Needs and Needed Changes'ISA Noida, Uttar Pradesh
Award for Poster 'A retrospective analysis of Traumatic Brain Injury patients admitted in a Tertiary Care hospital in Western UP, India, during the COVID 19 pandemic'
44th Annual State Conference, UP- Indian Society of Anesthesiologists
Oral poster- A comparative evaluation of conventional Macintosh laryngoscope and C-MAC video laryngoscope using an aerosol box: A prospective randomized study
CME cum Workshop on Mechanical Ventilation, ABG and Difficult Airway Management, JNMCH, AMU
Attended Workshop- CME cum Workshop on Mechanical Ventilation, ABG and Difficult Airway Management, Department of Anesthesiology and Critical Care, JNMCH, AMU