Dr. Stuti Kaushik
M.B.B.S. M.D.
Assistant professor, Department of Microbiology
Reg. Number: DMC-9455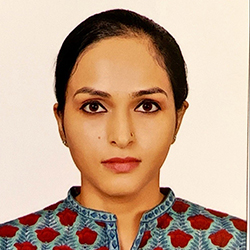 About
I have an experience of 5 years in Clinical Microbiology with keen interests in enteric
infections, mycology and antimicrobial resistance. Teaching is also one of my domains
of interest and I enjoy teaching all undergraduate and postgraduate students.
Area of Interest
Clinical Parasitology
Clinical Mycology
Infection control
Clinical virology
Clinical bacteriology
Educational Qualifications
| Degree | Year | Name of College & University | Registration Number | Date of Registration |
| --- | --- | --- | --- | --- |
| MD in Microbiology | 2017 | University College Of Medical Sciences and Guru Teg Bahadur Hospital, Delhi University, Delhi, India | DMC-9455 | 18-05-2013 |
| MBBS | 2012 | Santosh Medical College, Ghaziabad, Uttar Pradesh, India | DMC-9455 | 18-05-2013 |
Deatils of Teaching Experience
| Designation* | Institution | From | To | Duration |
| --- | --- | --- | --- | --- |
| Assistant Professor | HIMSR, New Delhi | 01-03-2021 | Till date | |
| Senior Resident | Dr BSA Medical College and Hospital, Delhi | 31-07-2017 | 26-08-2020 | 3 Years 26 days |
| PG Resident | UCMS & GTB Hospital, Delhi | 30-06-2014 | 29-06-2017 | 3 Years |
Research Work & Projects
Study on needle stick injury in Health care workers (2015-2016)
Diagnostic techniques for intestinal microsporidiosis(2014-2016)
Etiological profile of UTI in West Delhi(2017-2018)
Outbreaks in ICU-Role of microbiologists as disease detectives(2019)
Hepatitis E in children requiring hospitalization(2021)
Awards
MBBS Gold medalist with distinction in 6 subjects
Membership of Academic Bodies Societies
American Society for Microbiology(2016-2017)
Life member-Indian Association of Medical Microbiology Delhi Chapter
Workshops/ CMEs/ Conference Organised
Anchoring for ASM CME on Antibiotic resistance: renewed fears
Part of organizing members for pre conference workshop on "Role of laboratory in antibiotic choicing" at Dr BSA Hospital in October 2018
Workshops/ CMEs/ Conference Attended
UP-UK chapter workshop of Indian Academy of Tropical Parasitology (March 2015)
Annual conference of CIDSCON (August 2015)
American Society for Microbiology CME on "Antibiotic resistance: Renewed fears"(September 2016)
IAMM-DC Annual conference on Diagnosis of Viral infections: an enigma (November 2016)
IAMM Annual conference (November 2016)
IAMM-DC workshop on optimising antimicrobial stewardship in a public healthcare setting (December 2017)
IAMM-DC (October 2017)
IAMM-DC(April 2018)
IAMM-DC academic meet (April 2019)
IAMM DC Conference (January 2021)
IAMM DC Quarterly meet (August 2022)