Dr. Sushovan Roy
M.B.B.S. M.D.
Professor, Department of Community Medicine
Reg. Number: DMC-23778
sushovanroy@rediffmail.com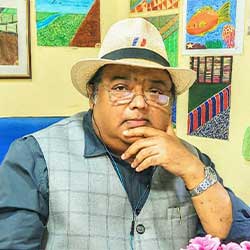 About
Schooling from Modern School, Barakhamba Road, New Delhi. Awarded Science Talent Scholarship, Adjudged as the best annual performance in Vocal Music & English Theatre. Member of School Football Team – Delhi Zonal Champions.
Got MBBS [1989] & MD – PSM [1997] from UCMS, Delhi. Felicitated for performance in Vocal Music, Hindustani Poetry & English Prose. Was Captain of the College Football Team. Research for MD thesis on HIV in Interstate Truckers was a pioneering one in North India, was published by NACO.
Trained in Clinical Psychiatry at Central Institute of Psychiatry, Kanke. Research Fellow in Community Psychiatry at Imperial College School of Medicine, London. Worked on Incarcerated Psychopaths in Nottinghamshire, invited to give opinion on treatment of Personality Disorders by prestigious publication "Current Opinion in Psychiatry", cited internationally.
Taught Community Medicine in a Medical College in Nepal for a year & Have been teaching in India for past almost 13 years.
Area of Interest
Behavioural Sciences; Mental Health
Wild Life, Soccer, History, Military Affairs, Music, Theatre, Arts
Educational Qualifications
| Degree | Year | Name of College & University | Registration Number | Date of Registration |
| --- | --- | --- | --- | --- |
| M.D. | 1997 | University College of Medical Sciences, Delhi University of Delhi | DMC-23778 | 13-06-2004 |
| M.B.B.S | 1989 | University College of Medical Sciences, Delhi University of Delhi | DMC-9104 | 25-12-1990 |
Deatils of Teaching Experience
| Designation* | Institution | From | To | Duration |
| --- | --- | --- | --- | --- |
| Professor | HIMSR, New Delhi | 21-11-2022 | Till Date | |
| Associate Professor | HIMSR, New Delhi | 01-07-15 | 20-11-22 | 7 Years 4 Months |
| Assistant Professor | HIMSR, New Delhi | 26-02-13 | 30-06-15 | 2 Years 4 Months |
| Assistant Professor | Sri Venkateshwara Medical College, Ariyur, Puducherry | 02-01-09 | 30-10-12 | 3 Years |
| Assistant Professor | Adesh Institute of Medical Sciences, Bhatinda, Punjab | 01-03-08 | 24-10-08 | 7 Months |
| Assistant Professor | Bhaskar Medical College, Moinabad, Telangana | 15-05-07 | 28-12-07 | 7 Months |
| Assistant Professor | Universal College of Medical Sciences, Bhairahawa, Nepal | 15-12-99 | 16-12-2000 | 1 Year |
| Postgraduate Resident Tutor | University College of Medical Sciences, Delhi | 30-08-94 | 30-04-97 | 2 Years 8 months |
Publications
Panda M, Islam F, Roy S, Pathak R, Kashyap V. Assessment of frailty and outcome of an ethnogeriatric population in periurban slums of Delhi, India – An interventional strategy in a primary health care setting. J Family Med Prim Care [Internet]. 2021 [cited 2022 Sep 22];10(6):2272. Available from: /pmc/articles/PMC8284218/
Islam F, Roy S, Pathak R, Parashar M, Agarawala R,Kapilashrami M.C, Deb Roy A (2015). Knowledge and Attitude about HIV/AIDS among First Year Medical & Paramedical Students of a University in New Delhi. National Journal of Research in Community Medicine;4(4):336-43.
Roy S. Assessment Of Personality Morbidity In Medical Students Of A College In New Delhi. Global Journal For Research Analysis.2019; 8(9):9-12.
Islam F, Pathak R, Roy S, Agarwalla R,Panda M, Roy AD. Assessment Of Vaccine Wastage In Primary Health Care Settings of South Delhi. International Journal Of Scientific Research. 2018;7(5).
Roy S, Islam F. Prevalence of Psychiatric Disorders in Undergraduate Medical Students of a College in New Delhi". Indian Journal Of Applied Research. 2018; 8(10).
Roy S, Rasheed N. The National Mental Health Programme of India. International Journal of Current Medical And Applied Sciences [Internet]. 2015 [cited 2022 Sep 22];7(1):7–15.
Roy S, Shrivastav T, Rangari K, Roy S. Prospects of Developing Reversible Hormonal Contraceptives for the Male: An Update. IJEM 2009;13(1):11-6
Roy S, Roy S, Rangari K. Comprehensive health care including sexual and reproductive health of adolescents and youths is of vital importance to the nation. Health and Population- Perspectives and Issues. 2007; 30(4): 243-67
Roy S, M.C. Kapilashrami, G. S. Tulsi Das, A. Basu. Recent advances in hormonal male contraception | Request PDF [Internet]. [cited 2022 Sep 22]
"Sexual Dysfunctions in Men" OBS & GYNAE TODAY, 2001
"Prevention & Control of STDs & AIDS – an important component of Reproductive Health Care" OBS & GYNAE TODAY, 1998
"HIV Seropositivity among Truck Drivers plying through the eastern border of Delhi" (Paper/Chapter) in the Book – AIDS RESEARCH IN INDIA, published by NACO, 1997
Research Work & Projects
Sexual Behaviour and HIV Sero-prevalence among truck drivers plying through the eastern border of Delhi. (1996) Finance partly by self, partly by UCMS & AIIMS
Prevalence of 'Dangerous & Severe' Personality Disorders among inmates of a 'Secure' Hospital in Nottinghamshire. (2001) Funded by the NHS of UK & the Imperial College School of Medicine, London
Knowledge & Attitude regarding HIV / AIDS among medical & para-medical students of a university in Delhi. (2015) Privately financed [HIMSR]
Prevalence of Psychiatric Disorders in Undergraduate Medical Students of a College in New Delhi. (2018) Privately financed [HIMSR]
Assessment of Personality Morbidity in Medical Students of a College in New Delhi. (2019) Privately financed [HIMSR]
Chief Supervisor for MD [Community Medicine] Thesis project [2020]: "A mixed method study to assess the economic burden of Tuberculosis and its social impact on patients registered under Revised National Tuberculosis Control Programme and their households in south-east Delhi" [HIMSR]
Chief Supervisor for PhD [Public Health] Thesis project: "A Randomized Placebo-Controlled Trial to study the Impact of Probiotic supplementation on Behavioral and Gastrointestinal symptoms in children aged 2-9 years with Autism Spectrum Disorder from Delhi NCR clinic"
Chief Supervisor for MD [Community Medicine] Thesis project: A Cross-sectional Study to Estimate the Prevalence of Gynaecological Morbidities, Pattern of Contraceptive use and Associated Socio-Demographic Factors in women aged 18-49 years attending Rural Health Training Center of a Medical College in South-East Delhi
Co-investigator in WHO project: "Epidemiological Study for Assessing Household Transmission & Associated Risk Factors for COVID-19 Disease amongst the Residents of Delhi, India"
Chief Supervisor for MD [Community Medicine] Thesis project: "Morbidity Pattern and Healthcare Seeking Behavior Among Geriatric Population Residing in the Field Practice Areas of a Medical College in South East Delhi: A Cross Sectional Analytical Study"
Fellowship
Research Fellow (Community Psychiatry), Imperial College School of Medicine, London
Membership of Academic Bodies Societies
Research Fellow (Community Psychiatry), Imperial College School of Medicine, London
Invited Talks and Lectures
Invited Lecture Series on Behavioral Sciences at the Department of Health & Hospital Management, Jamia Hamdard [2019]
Invited Speaker in a Workshop on Bio-medical Research Methodology for medical professionals, HIMSR [2018] Invited Judge Evaluator of Research Proposals by students of the Department Health & Hospital Management, Jamia Hamdard, at the "International Conference on Innovative Health Financing Mechanisms: Making Healthcare Affordable in India" [2017]
Workshops/ CMEs/ Conference Organised
Organising Committee Member: 28th Annual Conference of the Indian Society for Atherosclerosis Research, HIMSR, New Delhi, 29-31/10/2015
Organising Committee Member: World Health Day 2016, HIMSR, New Delhi, 7/04/2016
Organising Committee Member: CME on Immunisation Updates, HIMSR, 27/04/17
Organising Committee Member: CME on Immunization Updates, HIMSR, 15/5/2018
Organising Committee Member & Speaker: Workshop on Bio-medical Research Methodology for medical professionals, HIMSR, New Delhi, 25/10/18
Workshops/ CMEs/ Conference Attended
Workshop on Assessment of Practical/Clinical Skills, HIMSR, New Delhi, 11/03/2016
CME on Elimination of Hepatitis: A Global Perspective, HIMSR, New Delhi, 17/12/2016
CME on Transfusion Medicine, HIMSR, New Delhi, 8/8/2017R, New Delhi, 17/12/2016
CME on Neurophysiology, HIMSR, New Delhi, 12/9/2017
CME on "Women and Diabetes – Our Right to a Healthy Future", HIMSR, 13/11/2017
Workshop on Handbook of Immunization, by Govt. of Delhi, at HIMSR, from 17/6/19 to 19/6/19
Workshop on Rota Virus Vaccination in Delhi, by Govt. of Delhi at HIMSR, 9/7/19
Delegate - "Ayushman Bharat Arogya Manthan" GOI, Vigyan Bhavan New Delhi, 30/9/19 to 1/10/19
Revised Basic Course Workshop in Medical Education Technologies, HIMSR, from 14/10/19 to 16/10/19
AETCOM Sensitization Programme [MCI Reg. Centre – MET], HIMSR, 17/10/19
Curriculum Implementation Support Programme (CISP II) [MCI Reg. Centre – MET], HIMSR, 23&24/09/20
Delegate – 1st National Conference on Maternal, Infant and Young child Nutrition – National Working Group of IAPSM [POSHACON 2020] – Online – 16&17/10/20
Online Training Participant – Overview of Good Clinical Practice Guidelines and New Drugs & Clinical Trials Rules, 2019 – Centre for Health Research and Development, New Delhi – 26/11/20