Prof. (Dr.) Mridu Dudeja
MBBS, MD, MBA (Gold Medalist)
Dean/Principal
Reg. Number: DMC-21875, MCI-IMR/09/391

011-29901020

dean@himsr.co.in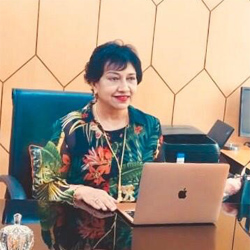 About
Prof. (Dr.) Mridu Dudeja an acclaimed microbiologist, assumed her role as the Dean/ Principal HIMSR & HAHC Hospital in 2020. She is responsible for maintaining and further developing the standards of both Medical teaching and Healthcare services at HIMSR & HAHC Hospital. Prof. Dudeja provides vision and leadership across all aspects of medical activities including research strategy, educational policy, relationships with external agencies, interactions with Foundation Trust, improving diversity and equality and the use of resources. She works closely with the Management, Medical Superintendent and Heads of the 21 Departments to foster strong interdisciplinary links across the spectrum of academic activity and with other medical institutions and hospitals to help maintain excellence in teaching & training for undergraduate and postgraduate courses including other hospital activities.
Prior to her current position, she has served distinctly as the Head Department of Microbiology at HIMSR & HAHCH. Her work at HIMSR spans from diagnostics and medical teaching to clinical research including setting up of an NABL accredited State of Art, Molecular Biology Lab. She initiated the MSc., PhD and PG programs in the Department of Microbiology
As the Director Quality Control & Assurance, Prof. Dudeja was involved in formulating hospital policies and training programs. She also worked in close collaboration with partners both governmental and non-governmental as an NABL & NABH Quality Assessor to ensure that all, patient and organisation centric practices are carried out with internationally recognized best practices. She was instrumental in getting HAHC Hospital, NABH accredited.
Prof. Dudeja also spearheaded the Department of Paramedical Sciences with a wide range of degree and diploma courses with the strength of nearly 1500 students.
International work experience as Associate Dean (Professor) & Head Microbiology at RAK Medical & Health Science University; Ras-Al- Khaimah, UAE adds to her rich and diverse academic profile.
Prof. Dudeja is backed by versatile work experience as Associate Professor (Microbiology) at Maulana Azad Medical College (MAMC) and as Associate Professor/ Assistant Professor / Senior Resident (Microbiology) at Lady Hardinge Medical College (LHMC), the two renowned medical colleges in India.
Trained at the most prestigious institute, Prof. Dudeja has earned her undergraduate medical degree (1975) and master's degree in Microbiology (1981) from Lady Hardinge Medical College. She has also received Post M.D. Training in Biotechnology and Molecular Biology at All India Institute of Medical Sciences, New Delhi in 2001 and was a certified specialist Microbiologist in Public Health & Medical Laboratory from USA. Prof. Dudeja is the proud owner of Gold Medal in MBA (Health Care Administration) from Faculty of Management Studies, Delhi University in 2012.
A pioneering microbiologist-scientist, Prof. Dudeja's research interests are focused on Tuberculosis, Bacterial Gasteroenteritis and Bacterial pathogenesis. She has authored more than 30 research articles in reputed national and international journals.
Area of Interest
Principal area of research includes: Tuberculosis, Bacterial Gastroenteritis and Bacterial Pathogenesis.
Educational Qualifications
| Degree | Year | Name of College & University | Registration Number | Date of Registration |
| --- | --- | --- | --- | --- |
| MBBS | 1975 | LHMC, Delhi University | | |
| MD | 1981 | LHMC, Delhi University | | |
| Residency in Microbiology | 1984 | LHMC, Delhi | | |
| Post M.D. Training in Biotechnology | 2001 | AIIMS, New Delhi | DMC-51335 | 09-11-2011 |
| Certified Specialist Microbiologist Public Health & Medical Laboratory | 2008 | American Society Microbiology, U.S.A. | | |
| NABH Assessor Training: Essential Standards for Medical Laboratories | 2010 | Quality Council of India | | |
| NABL Assessor Training: National Accreditation Board for Laboratories | 2011 | Quality Council of India | | |
| MBA | 2012 | Faculty of Management Studies, Delhi University | | |
Deatils of Teaching Experience
Designation*
Institution
From
To
Duration
Dean
HIMSR, New Delhi
30-01-2020
Till Date
Professor & HOD

(Microbiology Department)

HIMSR, New Delhi
15-01-2011
15-03-2021
10Years, 3Months
Professor & HOD

(Paramedical Sciences Department)

HIMSR, New Delhi
01-01-2011
30-01-2020
9 Years, 1 Month
Director Lab
SLJ Hospital, Delhi
Jan, 2008
Dec, 2010
2 Years, 11 Months
Dean,Professor & HOD
RAK Medical & Health Sciences University, Ras-Al-Khaimah, UAE
2006
2007
1 Year
Associate Professor
LHMC
05-04-1988
18-08-1988
4 Months, 27 Days
Associate Professor
MAMC
18-08-1988
31-08-1991
3 Years,2 Months.
Associate Professor
TMMC
01-02-2008
31-08-2009
1 Year,7 Months
Associate Professor
HIMSR
07-01-2006
08-11-2007
1 Year,10 Months
Assistant Professor
LHMC & Central Govt. Hospitals with Public Health Laboratories, MOHFW, Delhi, India
March, 1985
April, 1988
3 Years,1 Month
Senior Resident
LHMC, New Delhi
01-04-1981
30-06-1984
2 Years, 3 Months,
Junior Resident
LHMC, New Delhi
01-04-1978
31-03-1981
3 Years
Publications: 29
Research work and Projects: 04
Awards and Fellowships: 05
Membership of Academic bodies/ Societies: IAMM, NABL & NABH Assessor, DMC
Invited Talks and Lectures: 07
Workshop/ CMEs/Conference (Organized): 10
Workshops / CME / Conference (Attended last 5 yrs.): 05