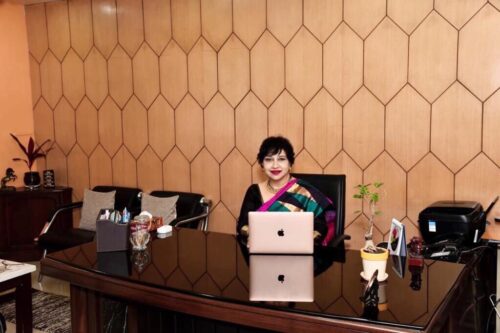 Dear Students and Parents,
After days of silent hallways and empty classrooms, it is a delight again to welcome our students back into the HIMSR & HAH Centenary Hospital buildings for their critical practical/ clinical trainings in small batches under complete safety protocols and supervision w.e.f 10th September, 2021.
Doctors have always played a very important role in the development & health of our society. "Being a doctor offers the most complete and constant union of those three qualities, which have the greatest charm for pure and active minds as quoted by Sir James Paget – "Novelty, Utility and Charity".
The extensive preparation and planning put into making college re-entry safe and welcoming is a testament to the care and commitment of HIMSR & HAHC Hospital management and faculty to our future doctors. Our aim is to normalize the learning environment and have students re-engage in positive connection with students' training modules, all of which are essential for their successful learning and growth.
A medical college, which is a seat of learning and hands on training of human science of the budding doctors, if unable to provide that personal touch might create a have negative impact on confidence in their education and holistic training in medical field. The decision to reopen amidst this pandemic for our medical students is to eliminate that negativity and boost their confidence, while focusing on the following benefits as under:
It allows students to complete their studies including practical aspects of the teaching learning process, when theory is being covered online for enabling them to move to the next level more adeptly.
It provides controlled clinical & practical exposure to essential health services and hands on learning environment, which is a critical part of medical education and without which the learning experience is incomplete.
It promotes access to better learning facilities and opportunities for one to one interaction with the teachers/ faculty under safe environment for doubt clearance as an active learning process.
It enhances social and psychological well-being, which is the key to positive learning.
There will be continuous monitoring of the covid protocols and it will be ensured that they are being followed and implemented strictly. Time to time modifications will be made as and when needed, well in lines with the guidelines issued by the NMC & the other statutory bodies. We at HIMSR will strive and leave no stone unturned to provide students, faculty & staff with the safest environment possible, for which sincere adherence to the laid down protocols is necessary and is expected from every student and faculty/ staff of HIMSR.
As HIMSR family ensures that our college remains a safe and healthy place for students to thrive, we would also expect your cooperation in abiding to the laid down standards and SOPs in the campus including hostels. We expect all students to stick to the COVID appropriate behaviour at all times including their practical/clinical trainings sessions.
All these endeavors are to make our students feel safe and cared. We want their parents and families also to feel the same. I would also like to take this opportunity to thank all the parents and guardians for their help, support and guidance in making this process of reopening a success.
With all my best wishes for a safe and productive learning!!
Prof. (Dr.) Mridu Dudeja
Dean/Principal
HIMSR & HAHCH