HIMSR UNANI CONCLAVE
The HIMSR Unani Conclave was organized on 12th February, 2021. The theme of the conclave was 'Immune-modulatory effect of Unani medication'. The event was organized by Prof. Mridu Dudeja ,Dean/Principal, HIMSR and HAHC Hospital under the patronage of Janab Abdul Majeed, President, HNF(MREC) and Janab Dr. Asad Mueed, Member, Governing Body HNF and under the Chairmanship of  Dr. G. N. Qazi, CEO, HIMSR and HAHC Hospital,. The program was managed by the organizing team lead by Dr. Taskin Khan along with Dr. Faheem, Dr. Nusrat, Dr. Bhumika, Dr. Arpita, Dr. Sana Rehman, Dr. Zenis, Dr. Shoma, Dr. Sana Alam and Dr. Ayan Kumar Das.
The program started with the recitation of the Holy Quran by the Imaam of Rabia Mosque, Jenab A. M. Farooqi.
The Dean, HIMSR & HAHC Hospital, Prof. Mridu Dudeja welcomed the dignitaries, eminent speakers and HIMSR faculty.
Dr. G. N. Qazi CEO, HIMSR & HAHC Hospital, delivered the presidential address. The conclave was presided by Prof. Asim Ali Khan, Director General CCRUM, as the Chief Guest who joined the event online.
Dr. DC Katoch, Ayurveda expert in CGHS, Former Advisor Ayurveda (Ayush), delivered the first guest lecture on "Emergence, scope and potential of Ayush Joshanda for healthcare. This was followed by a passionate lecture by Dr. Sarang Bani, Senior Advisor, R&D, Sami labs Ltd. on "Immunity: The Saviour; Echo of body's response to pathogens". He explained the medicinal properties of Zafran and presented portion of his research work on this topic. Prof. Sunil Kohli from the Department of Medicine, HIMSR and HAHCH made an impressive presentation on "Effects of COVID-19 infection on immune system". This was followed a joint presentation on "Immune modulatory effect of Unani medicine and possible role in prevention of COVID-19" was made by Dr Kailash Chandra and Dr Ayan Kumar Das, faculty HIMSR and HAHCH. They discussed the interim outcome of a project on this topic, that is presently been conducted at HIMSR & HAHC Hospital.
Dr. Ayan Kumar Das concluded the event by a vote of thanks and conveyed the gratitude to the dignitaries for gracing the occasion. All heads of the departments and faculty and students of HIMSR and HAHC Hospital attended the occasion with great enthusiasm.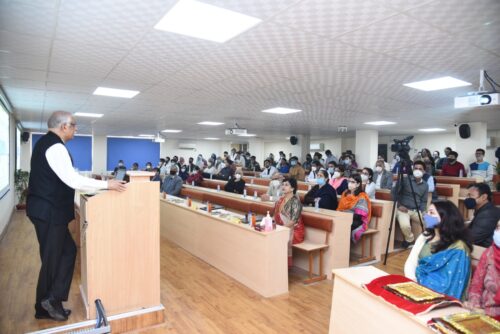 Presidential Address by CEO HIMSR Dr. G.N. Qazi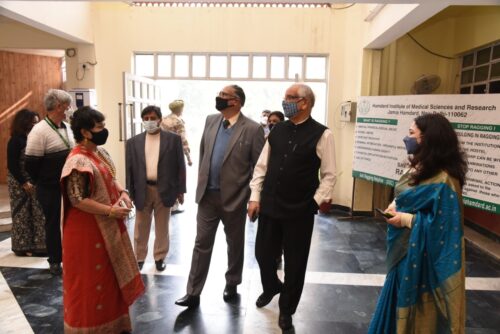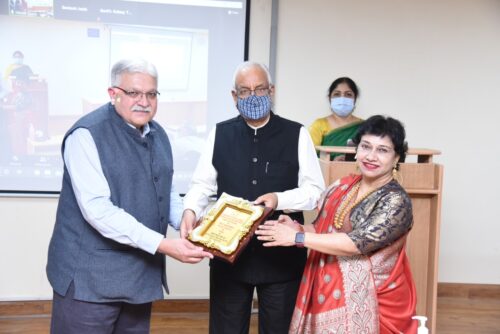 CEO HIMSR Prof. G.N. Qazi & Dean HIMSR Prof. Mridu Dudeja felicitating Prof. S. Kohli.