Inauguration Central Skills Lab, HIMSR
Clinicians are defined by their professionalism and the skills they acquire. Current medical education has more emphasis on outcome and acquisition of competencies.  Acquisition of cognitive, procedural and communication skills require dedicated teaching learning practice in a supervised environment. There is an intense need to focus on observable and measurable skill acquisition for the Indian medical graduates and post graduates.
The paramount priority of HIMSR & HAHC Hospital is to give world class treatment to its patient which emphasizes patient safety and necessitate the practice of skill acquisition by its students in safe environment under supervision.
On the auspicious day of Vasant Panchami, February 16th 2021, a new feather in the cap was added when the state of the art Central Skills Lab, HIMSR was inaugurated by our Chief Guest Prof. Arun Agarwal, Ex Dean and Prof of Excellence, Maulana Azad Medical College, Guest of Honour Prof. Ved Prakash, Ex-Chairman, UGC and Chief Patron Dr G N Qazi, CEO HIMSR & HAHC Hospital. The formal inaugural ceremony, a proud moment for HIMSR was attended by the Dean Prof. Mridu Dudeja, Medical Superintendent Dr. Ajaz Mustafa, Administrative Officer Mr. Mushtaq A. Zargar, eminent faculty members, resident doctors, post graduate and undergraduate students, as well as administrative and supportive staff of HIMSR.
Prof. Ajay Thakral H.O.D. Central Skills Lab, briefed the audience about the facilities and provision of skills training available in the skills lab. HIMSR central skills lab is fully equipped with the latest equipment and mannequins to learn the art of cognitive, procedural and communication skills in the field of medical education.
Following is the list of few procedural skills which can be acquired and practiced:
Basic nursing care like sponging, IV cannulation, IM injection, Ryle's tube insertion, Foley's catheterization, IV blood transfusion
Suturing, knotting, splinting, first aid to patients of trauma and emergency patients
Managing sick patient in ICU setting, basic life support, air way management training, cardiopulmonary resuscitation
Antenatal management, normal delivery, management of obstetrics complications and gynecological procedures
Neonatal and pediatric resuscitation.
Along with these procedural skills, training on team work, values, responsiveness and communication are very well taught, practiced, observed and assessed by the eminent faculty here at HIMSR. Students of HIMSR will have the great opportunity to observe and practice the clinical skills in the safe environment on the world class mannequins and equipment.
Not only the students but also the faculty will be benefited by this initiative. HIMSR regularly organizes sessions for the upgradation of faculty clinical skills. HIMSR will always be ready to embrace latest development in the field of medical education and skills training for their students and faculty.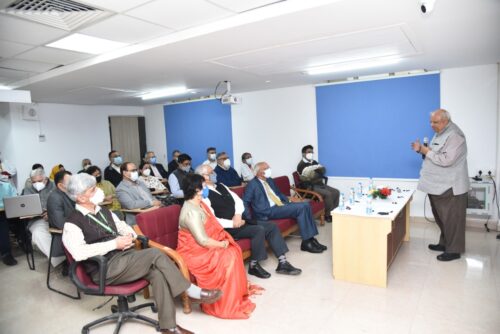 Chief Guest Dr. Arun Agarwal addressing the audience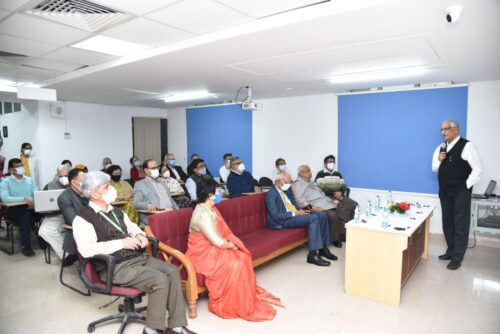 Dr. G.N. Qazi Delivering Presidential address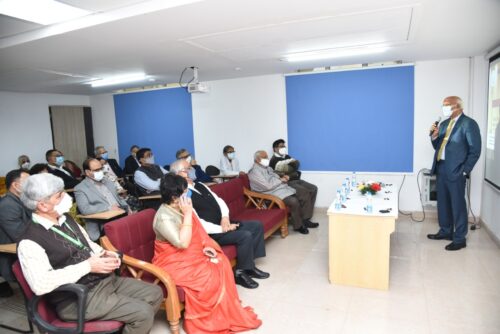 Guest of Honour Prof. Ved Prakash addressing the audience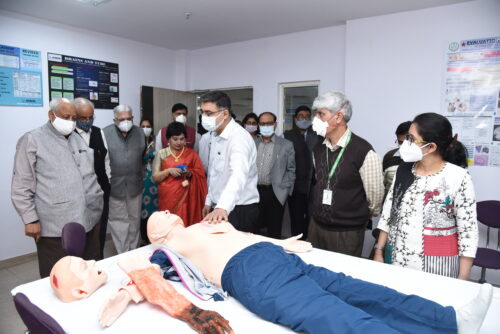 Prof. Ajay Thakral , HOD Central Skill Lab breifing about Trauma Care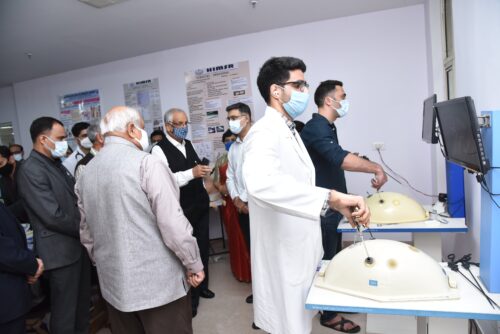 Senior Residents performing activity on Laparoscopic Endotrainers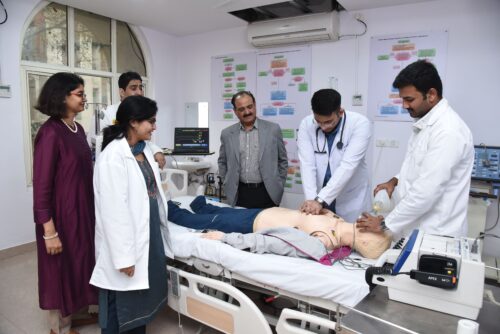 Post Graduate Students Performing CPR activity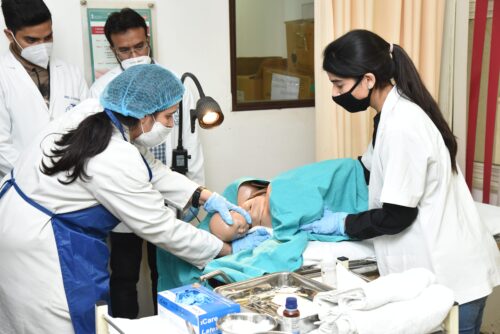 Under Graduate Students Observing Normal Delivery