WORLD HEALTH DAY 2021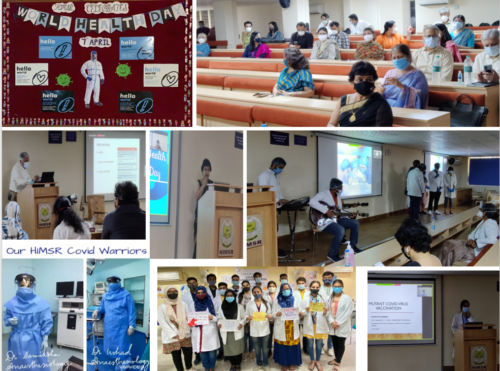 The world health day 2021 was celebrated at HIMSR and HAHC Hospital on 6th April, 2021 with the WHO theme of "building a fairer, healthier life for all". Due to the surge in COVID 19 cases the event was celebrated in two separate halls, one for faculty and the other for the MBBS 2020 batch students, maintaining all COVID preventive measures like face mask, hand sanitization and social distancing. COVID 19 was deemed as the appropriate topic for deliberations.
A team of 20 MBBS students of batch 2019 and 2020 were supervised by Dr. Bhoomika Upadhyaya (Department of Biochemistry) and coordinated by Prachi Bansal (MBBS 2019 Batch) for presenting an Art Integrated Program on World Health Day dedicated to the COVID warriors of HIMSR & HAHCH.
The program started by a joint presentation on Introduction to World Health Day by Dhriti Saxena and Vaibhav Sharma (students of MBBS 2020 Batch). The Dean HIMSR & HAHCH, Prof Mridu Dudeja delivered the welcome address while conveying the best wishes of Hon'ble CEO on this occasion  and elaborated the idea behind organising the event at such difficult times was actually to acknowledge the efforts of our Healthcare Professionals and cheer them for the tough times ahead. Prof. Dudeja highlighted that the pandemic has exposed the weaknesses in our health systems, making the task to build healthier and more sustainable societies even more urgent.
Dr. Ruchi Sharma, PG 1st Year, Medicine made a presentation on "Mutant COVID 19 Virus Vaccination" mentored by Dr. Vineet Jain (Associate Professor, Medicine), which was followed by an in-depth talk on "COVID 19 Prevention" by Prof. Sunil Kohli (Dept. of Medicine), reinforcing the COVID appropriate behavior. The soul of the event was a heartening "Musical Tribute to Healthcare Professionals: The Frontline HIMSR Soldiers" by the students of 2020 MBBS batch which moved the audience. The event ended with a vote of thanks by the coordinator, academic events at HIMSR, Dr. Nusrat Nabi.
World Health Day- Welcome Address