Faculty Members of the Pharmacology Department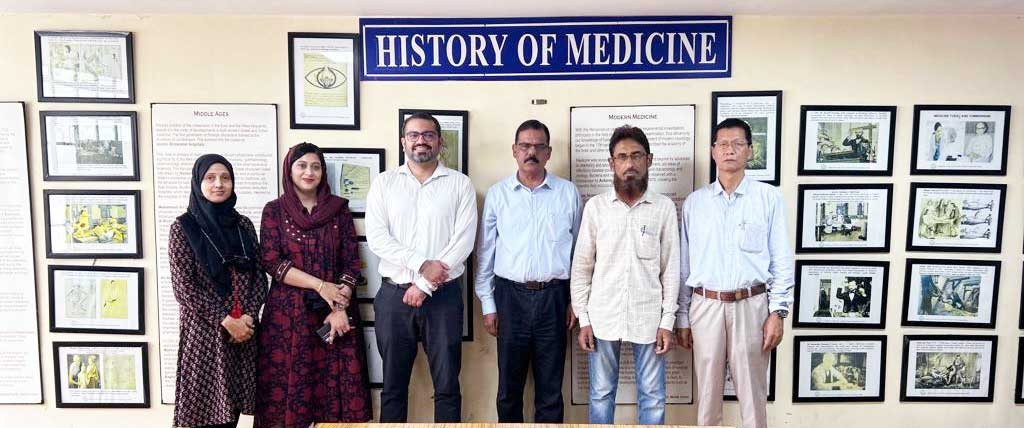 The Department of Pharmacology, HIMSR, Jamia Hamdard is actively involved in teaching and research activities of medical and paramedical students with emphasis on their applicability to patient care.
Teaching: Both undergraduate and postgraduate courses are conducted in the department. They are-: MBBS, BPT, BOT, DDT, DXE and postgraduate/doctoral courses like M. Sc., MPT and PhD. During teaching of these courses, faculty members of the department apprise students of these various courses on different aspects of basic, clinical and applied pharmacology. The teaching and training module consists of lectures, tutorials, practicals and case discussion sessions. There is post graduate programme where faculty and post graduates make presentations on topics on contemporary interest and meaningful interaction follow.
COURSES IN THE DEPARTMENT :
M.B.B.S
MD (Pharmacology)
PhD (Pharmacology)
MSc. (Pharmacology)
Research: The department has several well equipped research labs adequate for conducting basic and applied biomedical research in the field of Pharmacology, toxicology and allied sciences. In pursuance of their research interest the faculty members participate in scientific meetings/conferences/seminars/symposia in India and abroad to further refine and expand their research domain and skills. Several faculty members have extramurally funded research projects/ grants (ICMR, DST, UGC, AYUSH, NIF etc) which facilitate the work of various research projects of the department. The faculty members also collaborate with biomedical scientists of reputed institutions/universities and such interactive studies which further boosts the research activity of the department. Areas of research interests include Neuropharmacology, Immuno- pharmacology and Immunotoxicxology, Respiratory Pharmacology and Toxicology, and Gastrointestinal Pharmacology, with emphasis on a translational approach. Interactions between traditional and modern medicine in the interest of rational therapeutics is also a major thrust area for research. The above mentioned research activities have resulted in several significant symposia/conference presentations and scientific publications in leading national and international journals.
In addition, the Department of Pharmacology at HIMSR is recognized as an Adverse Drug Reaction Monitoring Centre (AMC) of the Pharmacovigilance Programme of India (PvPI) under the aegis of Ministry of Health and Family Welfare, Govt. of India, for ensuring drug safety in hospital patients at HIMSR. The department is also on the verge of initiating an Antibiotic Stewardship Programme in collaboration with several clinical departments to ensure the rationale use of antibiotics at HAHC Hospital.